I'm a College Kid Looking for a Practical and Fuel Efficient Ride! What Car Should I Buy?
Dylan goes to college in Montana and his 2008 Ford Taurus is too old and not great on gas. He wants something affordable with some level of practicality, better fuel efficiency, and can handle winter weather. What car should he buy?
Nate Bargatze's $1,500 Mazda Was a Beater That Wouldn't Die
(Welcome back to What Car Should You Buy? Where we give real people real advice about buying cars. Do you want us to help you find a car? Submit your story on our form.)
Here is the scenario:
My 2008 Ford Taurus, while a great highway car, is getting a bit long in the tooth and with rising gas prices, it's not super economical to daily around town anymore. I'm a college student in Bozeman, Montana and looking to strike a balance between fuel economy, practicality (ie cargo & passenger room), and snow capability (it snows quite a bit here!). My budget is around $10k, which I think can get me something reliable and practical, if a bit dull.
I need something with a good mix of fuel economy, cargo space/people hauling abilities, and the ability to handle the snow of a mountain town. Block heater & heated seats would be nice to haves, but I don't need anything with an infotainment screen, as I plan on putting in an aftermarket head unit anyways.
BOGO 50% OFF
Baked Bags Coned Edibles
Mellow out with these grown-up treats
Baked Bags stuff 25mg of Delta-8 THC into each cone, and 100mg per "extra strength" cone. So if you're looking to mellow out, relax, and have a good time, these treats should do the trick nicely.
Quick Facts:
Budget: up to $10,000
Location: Bozeman, MT
Daily Driver: Yes
Wants: Good MPG, can handle the snow, decent space
Doesn't want: Something too big or too thirsty
Expert 1: Tom McParland – Check Out This Rare Gem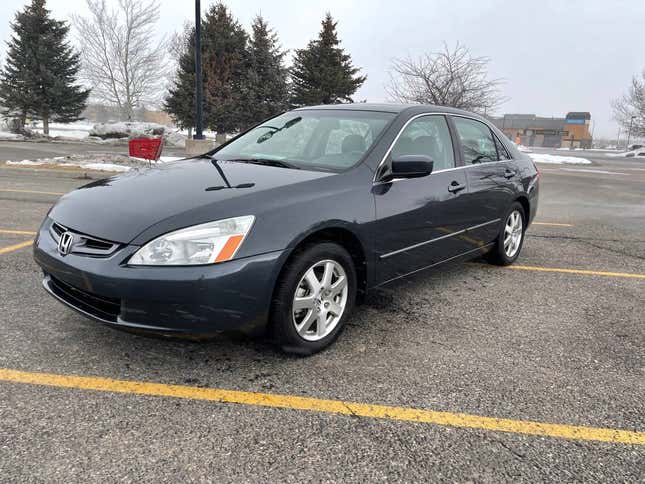 Image: Craigslist
Getting the right car for your college years can be tricky. Since most college kids are on a pretty tight budget, unexpected vehicle repairs can wreak havoc on your finances. You are wise to aim for something practical in addition to keeping your fuel costs down. Unfortunately, most of what is available in your region either has a lot of age or a lot of heft.
There was one car that stood out in a sea of rusty trucks and super high-mileage imports. It was this 2004 Accord Sedan with only 29,000 miles. I did a double take when I saw the ad. The seller claims this is a legit ultra-low mile Accord with the original V6 motor. While the V6 isn't quite as fuel efficient as the four-cylinder, it returns a respectable 28 mpg on the highway and will give you a little more punch when passing.
The owner claims he bought this car with some hail damage and made the repairs to get it looking "like new." This Honda is probably older than you were hoping for, but it could be a good opportunity for an Accord time capsule that should last well beyond graduation.
Expert 2: Collin Woodard – A Small Upgrade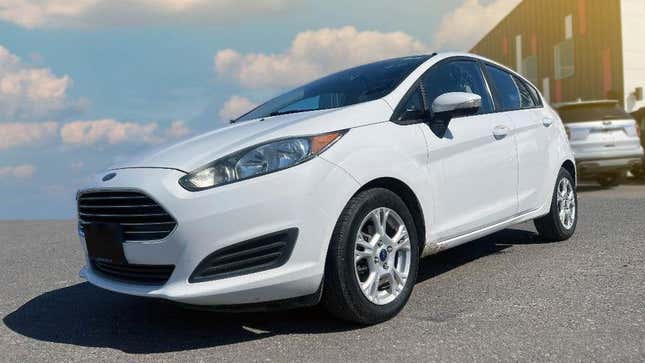 Photo: Snyder Motors
As I'm sure you're already aware, Dylan, you don't get a whole lot of car for less than $10,000 these days. Especially if you want one that meets your very reasonable list of wants. It's just rough out there. And looking at available cars in your area, it seems like Bozeman is even rougher than a lot of other cities. Tom may have cracked the code with the hail-damaged Accord, but assuming you want something newer, why not consider this 2014 Ford Fiesta?
Sadly, it doesn't have heated seats, but since it's a hatch, it should have enough space to haul a few things around. It's a front-wheel drive car, so it should do OK in some snow — and it's a manual, so you don't have to worry about the transmission issues the automatic is known for having. Plus, it should average around 30 mpg and will likely get the same gas mileage around town that your Taurus gets on the highway.
Since it's currently priced at a little less than $9,000, you're getting close to the top end of your budget. But it may be worth it to get a car with only 106,000 miles on it. From what I saw, a lot of what's available in your price range has much higher mileage. Or you could always go for the weirdly low-mile Honda Accord.
Expert 3: Owen Bellwood – Come to the Subie Side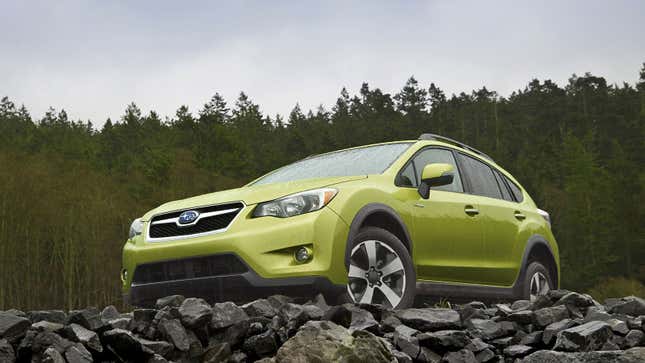 Photo: Subaru
Dylan, you've had a couple of compelling suggestions from my colleagues already, but neither of them really scream "Bozeman college student" to me. It's for that reason that I think you need to embrace your inner adventurist and opt for a car from the automaker of choice for anyone looking for winter capabilities and oodles of practicality: Subaru.
If you do that, you've got a few nice, practical and more than snow-capable cars to choose from in your budget, if you're happy to opt for something that can be delivered to your door. If you are, then can I draw your attention to the Subaru Crosstrek.
Sure, it's not the most exciting car Subaru makes, but the Accord isn't exactly Honda's most enthralling option either. But what the Subaru does have that you'll miss out with the other suggestions is ample trunk space, all-wheel drive for those snowy days, better fuel economy than your Taurus and some pretty fun color options – especially if you opt for this orange one from 2013.
Expert 4: Andy Kalmowitz – Be a Man With a Van
Dylan, sweet, beautiful Dylan. This isn't the answer you're really going to want, but it is the one you need. If I know one thing about college and long highway trips, it's that they are better with your buddies alongside you. Nothing will allow you to have more of your buds in the car than a minivan. Plus, if you don't have any buds, you can put the seats down, throw a water bed back there and make the worst mistake of your entire life.
Anyway, I've long been a minivan defender on this website, and it's with good reason. They are really excellent vehicles for almost everyone, especially you. I've spent a decent amount of time behind the wheels of these people movers, and let me tell you, they really aren't bad to drive, and are fun in their own way.
Because I'm a great guy, I took the time to find the perfect van for you: a 2015 Dodge Grand Caravan. It may not look like too much on the outside, but this baby is clean. It's got a tick over 100,000 miles on the clock, a clean CarFax and Stow 'n Go seats. There are plenty of other vehicles you could choose from, Dylan, but for the love of Christ I don't know why you would.