Insurer Protects its Insured with a Settlement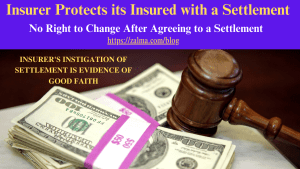 INSURER'S INSTIGATION OF SETTLEMENT IS EVIDENCE OF GOOD FAITH
See the full video at https://rumble.com/v37vbgy-insurer-protects-its-insured-with-a-settlement.html  and at https://youtu.be/-78ab8np6n8
After parties to a suit resolved the suit by settlement one or more of the parties tried to renege on the agreement and appealed the trial court's order to enforce the parties' settlement agreement. The parties' settlement agreement required them to dismiss all claims, counterclaims, and crossclaims  with prejudice.  In Shorewood Forest Utilities, Inc. v. Rex Properties, LLC and Don Blum, No. 22A-PL-2345, Court of Appeals of Indiana (August 11, 2023) the Court of Appeals resolved the claims concerning the Settlement Agreement.
FACTS AND PROCEDURAL HISTORY
Shorewood is a nonprofit corporation that provides sewer service to more than 1000 residents in Porter County. Rex Properties is a property developer, and Blum is the sole managing member of Rex Properties. In 2017, Shorewood and Rex Properties entered into an agreement for Shorewood to expand into a new Rex Properties development and service the homes there according to certain terms, rates, and fees. Not long thereafter, Shorewood concluded that its agreement with Rex Properties was not enforceable, and Shorewood declined to participate in the project.
By mid-2019, the only claim remaining in the instant cause was Rex Properties' approximately sixteen-million-dollar counterclaim against Shorewood for breach of contract. Shorewood sought to amend its complaint to allege claims of fraud, fraud in the inducement, unjust enrichment, and criminal deception against Rex Properties. In March 2020, the trial court permitted Shorewood's requested amendment.
In the spring and summer of 2020, the parties attempted to settle out of court. On June 8, counsel for Shorewood sent counsel for Rex Properties an email stating that Shorewood's insurance carrier, Stratford Insurance, had agreed to pay Rex Properties $950,000 for Shorewood and Rex Properties to settle and dismiss all claims, counterclaims, and crossclaims in this cause.
Mr. Blum approved the settlement with the terms set forth in the offer email.
Over the next several weeks, the parties' attorneys worked on drafting a Settlement Agreement.  Counsel drafted an agreement but Shorewood refused to sign it. Accordingly, Rex Properties filed a Motion to Enforce Settlement Agreement on the ground that the June 8 email exchange represented an enforceable agreement between the parties whereby Stratford Insurance would pay Rex Properties $950,000 and, in exchange, Shorewood and Rex Properties would dismiss all claims in this cause with prejudice.
THE ISSUES
The central issue in this appeal is whether the email exchange between the parties on June 8 represented the offer and acceptance of an enforceable settlement agreement. The trial court concluded that the parties' June 8 email exchange created an enforceable settlement agreement.
Shorewood had made an offer, Rex Properties accepted the offer, there was more than ample consideration between them and Stratford Insurance, and all parties had a meeting of the minds over definite and certain essential terms.
Shorewood claims that Stratford Insurance colluded with Rex Properties and somehow kept Shorewood "in the dark and uninformed" about the "terms, conditions, requirements, and payments" to be made to Rex Properties.
The trial court's denial of Rex Properties' motion for judgment on the pleadings and its motion for summary judgment resulted in a settlement agreement between Shorewood and Rex Properties, and their settlement rendered the trial court's prior judgments moot.
The trial court's judgment was affirmed.
Courts invariably prefer settlement agreements. Insurers, like Stratford, prefer settlements. In this case Stratford put up almost $1 million to settle, the parties agreed by e-mail and an agreement to memorialize the agreement with a formalized agreement. The contract was made by the e-mail exchange of offer, acceptance and consideration. The formalized agreement was not necessary and the good work of the insurer resulted in a solution to an extensive case and protected its insured.
(c) 2023 Barry Zalma & ClaimSchool, Inc.
Please tell your friends and colleagues about this blog and the videos and let them subscribe to the blog and the videos.
Subscribe and receive videos limited to subscribers of Excellence in Claims Handling at locals.com https://zalmaoninsurance.locals.com/subscribe.
Consider subscribing to my publications at substack at https://barryzalma.substack.com/publish/post/107007808
Go to Newsbreak.com  https://www.newsbreak.com/@c/1653419?s=01
Follow me on LinkedIn: www.linkedin.com/comm/mynetwork/discovery-see-all?usecase=PEOPLE_FOLLOWS&followMember=barry-zalma-esq-cfe-a6b5257
Daily articles are published at https://zalma.substack.com. Go to the podcast Zalma On Insurance at https://podcasters.spotify.com/pod/show/barry-zalma/support; Follow Mr. Zalma on Twitter at https://twitter.com/bzalma; Go to Barry Zalma videos at Rumble.com at https://rumble.com/c/c-262921; Go to Barry Zalma on YouTube- https://www.youtube.com/channel/UCysiZklEtxZsSF9DfC0Expg;  Go to the Insurance Claims Library – https://zalma.com/blog/insurance-claims-library
Like this:
Like Loading…
Related
About Barry Zalma
An insurance coverage and claims handling author, consultant and expert witness with more than 48 years of practical and court room experience.