Kayla Yaakov: MotoAmerica's Teenaged Riding Phenomenon
This decade of motorcycle racing is for the ladies. It's been much more common to watch most pro series races with at least one or two female riders amid the sea of bikes. Most inspiring is a young 15-year-old rider whose resumé reads like a well-seasoned pro rider twice her age — a resumé that includes becoming the first female winner of a MotoAmerica race. This year, after a pre-season injury took her out of the first few races, she came back in full force with one win and a second-place finish in Twins Cup. Just this month she won back-to-back races in the 2023 Yamaha bLU cRU R7 Cup Championship in Spain.
The GR Corolla Morizo Edition Is The Most Exciting Car From Toyota In Years
I sat down with the young motorcycle racing star, Kayla Yaakov, who pilots the No. 131 Wagbar MP13 Racing Yamaha in this year's MotoAmerica Twins Cup class, to talk about her influence on riders, young and old, and what she has her sights on for the future.
This interview has been edited for brevity and clarity.
Lalita Chemello: You're the first female winner of a race for a very big series in the U.S. What are your thoughts on that achievement?
Kayla Yaakov: To click off that milestone is huge. And I mean, not only a milestone for me, but for everyone. I think in [this] sport it's super important for girls out there as well. You know, showing that it can be done. And it's definitely possible, you just have to put your mind to it. I've been told so many times, I wouldn't be able to do it, I can't do it. And I like proving people wrong. So, I go out there and I do my best [and] try my hardest. I put in the effort, I put in the time, and I'm able to get it done. And that's something that I hope other girls can look up to and know that the work will pay off if they really, really care and dedicate themselves to the sport.
Photo: Brian J. Nelson / MotoAmerica
LC: You sound like a much more seasoned rider than a standard 15-year-old. But I'm sure that comes with the territory. You started fairly young, correct?
KY: Well, I started riding bikes when I was three and a half. I [had] gotten to flat track, which is a type of motorcycle racing, when I was four. Then into motocross and then into road racing at seven. I was doing all three at the time. My dad basically told me you've got to pick two. So, I picked road racing and I think motocross. … I've been racing since I was little, and at the time, there weren't a ton of young kids coming up. [Now], you have a platform for those kids on a pretty national stage. But back then it was just me and a couple of other riders, which is cool now because I'm riding with some of the kids.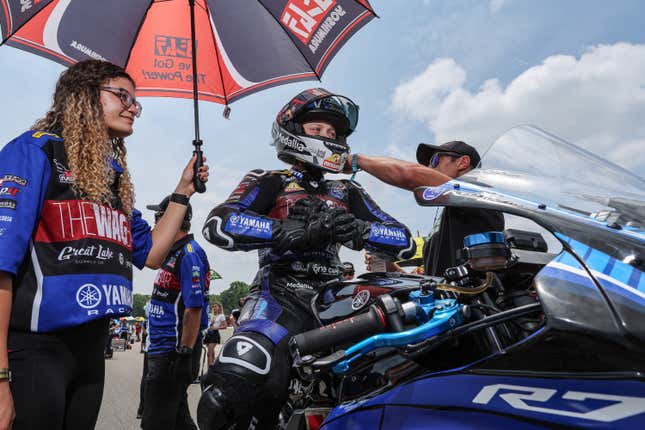 Photo: Brian J. Nelson / MotoAmerica
But yeah, I matured in the paddock from being around adults from a really young age due to the fact that there weren't as many kids right. …that's good in a lot of ways, because I got to see a lot of things, a lot of parts of the racing business stuff that not a lot of kids get to see. And obviously, being around adults, you kind of learn how to speak better, you know, get better with marketing. And obviously, that's something that kids don't really get to do.
LC: How did you get into racing? Are your parents into racing? Because starting at three and a half, somebody had to be into it. I don't feel like at that age you naturally out of nowhere say 'yes, I would like to do this now.' I feel like there's a little bit of influence in there.
KY: My parents … my dad raced for 15 years.
LC: Wow, what did he race?
KY: He raced motorcycles. And he raced in a big, national series in the U.S. called [Formula] USA. He raced there for a while. And a lot of WERA. And yeah, [he] won two national championships and things. He [also] did a couple of AMA rounds back in the day. Once he was doing that, he got into car racing. And that's when I was born.
He did motocross as well. Obviously, not on a national stage. You know, [he was just] super big into motorsports.
I actually started in go karts when I was three. I liked it, but I didn't have the drive. Obviously, as a three-year-old, you can't say you have the drive to do something. My interest was really piqued with cars. [But] I always wanted to ride bikes. Every time I wanted to ride and that was something I wanted to do on my own. That's what was really cool about it. Of course they wanted me to be in motorsports. I was never really pushed to the point where I was forced to go race and I didn't want to. I always wanted to ride. I fell in love with it right away [when I] started flat track, and like I said, worked my way up.
LC: So, you've already got a hell of a racing resume already at 15. I interviewed Melissa (Paris, her team owner) a few weeks back, and we talked about you. She's so impressed with your drive, and you're definitely a very rare, talented individual. What are your sights set on and what is the trajectory that a young 15-year-old wants to hit?
KY: I'm glad you're able to talk to Melissa because I've shared some stuff with her too about my future. And to hear her say I have that drive is really awesome because I hope I show that to everyone.
I'm trying super hard to reach my goals. Like I said to many people, I will do whatever it takes to get to that spot. I'm gonna go out and put my heart on the line and ride with my heart. My trajectory right now is to keep improving over the next few years. Obviously, I want to do well in Twins Cup this year — keep progressing. I'm in a spot where I can't move up yet, but I'm still progressing in my riding and getting better and better each time I'm out.
In the next few years I'm gonna go up to 600, supersport bikes and then in the 1000s. Once I get to that point, hopefully as I continue to progress, I would still be at the top of my game. Top of the class would be the goal. Outside of Moto America, I'd love to go overseas again. My goal you know, a lot of people want to go to MotoGP. But I think World Superbike is the way I want to go. I've been lucky and fortunate enough to race there and in the bLu cRU European Cup, and I did the bLu cRU SuperFinale on an R3 last year. And I was the first American to get a podium there in that class, in that category. It was pretty awesome to end the year off of that in Portugal. And yeah, I'd love to be back over there. Again. I love the paddock and obviously MotoAmerica builds great riders. I [just] want to do kind of what Garrett Gerloff did. That's kind of my goal in the next in next 10 years.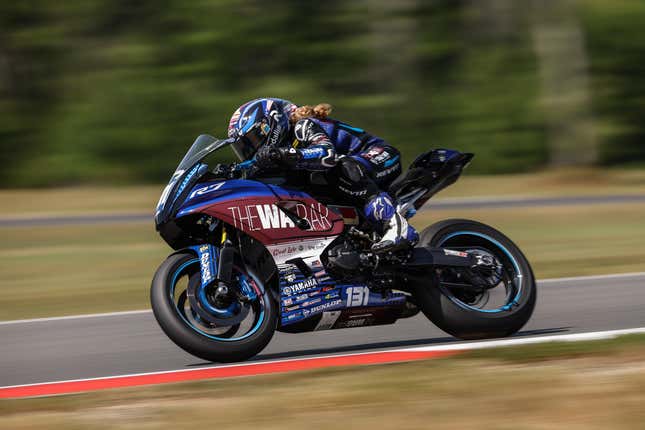 Photo: Brian J. Nelson / MotoAmerica
LC: Do you ever realize how accomplished you are for how young you are?
KY: It's crazy. You know, but I never really think about it. Obviously, you envision yourself in spots, but when it actually comes true, it's a lot different. I was just thinking, three years ago I was riding minis — racing mini cup. I would try my best there to just improve, and I knew that's not really where I wanted to be. I wanted to keep going. But you know, I learned so much over the last three years. And to get to where I am now — I'm so happy about it. I'm honestly speechless about how far I've come. And my riding just over the last year has been the biggest step. I just want to keep improving. I think as we ride even over this off-season, I've seen a huge step in my own personal drive. And the way I'm riding — it's just been really awesome to see my progression from the last two years. I'm so happy about everything.
LC: You're becoming more of a prominent figure these last couple of years. These girls that are coming up to you are close to your age, or maybe even half — which is not saying there's a lot of distance in between those ages — but are you seeing any difference in how these young girls see racing or see the possibilities that are out there?
KY: I really do. I get people [coming] up to me a lot or, DMs on social media saying how I've inspired people to start riding — inspired young girls to start riding. And that's really all you can ask is to inspire people with your work, whether it's through something like music or racing a motorcycle. Being able to have that connection and being able to inspire and empower people to do something that they really love is awesome.
LC: And last thing, if MotoGP did offer you an opportunity, I know you said World Superbikes, but if that opportunity did come, would you take it?
KY: It all depends on the timing. I'm pretty close with some ex-professional racers [and] I've gotten some really important and super intelligent tips from people like Ben Spies. He's awesome. He's helped me a lot in understanding my path and where I want to go. And you know, we had talked about it before, what would happen if we got to that point. It all depends when the time comes. They're two completely different bikes from Worlds to MotoGP. But if the offer's there, it's always good to consider it. …if I'm getting MotoGP offers, I think we're in a pretty good spot.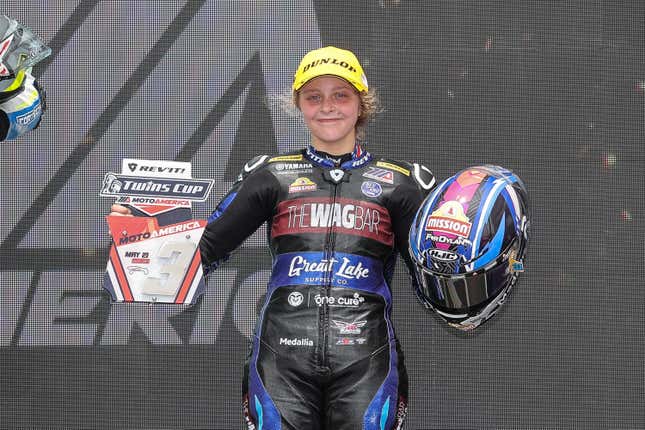 Photo: Brian J. Nelson / MotoAmerica