Looking Back at 2022: A Year in Construction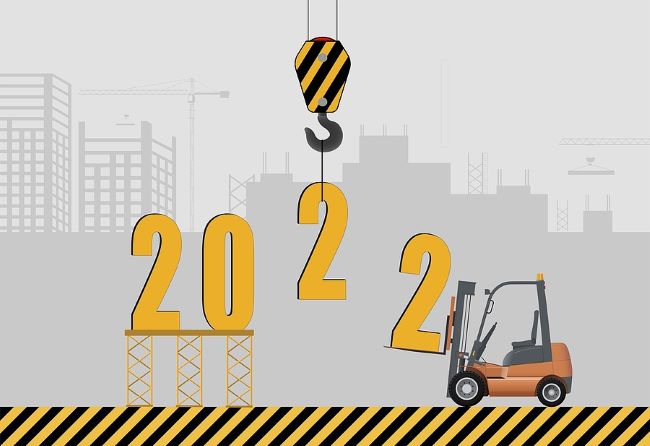 The construction industry has been thriving in 2022, but the year has also brought its share of challenges. Issues related to environmental impact, labor shortages, material costs, COVID, and safety are all top concerns for contractors. Let's take a look back at the developments that have shaped the construction industry in 2022.
The Construction Industry Grapples with Its Environmental Impact
Construction is a major source of carbon emissions, which has led to a call for increased sustainability.
In New York City, Local Law 97 was passed in 2019 as part of the New York City Green New Deal. The law requires most buildings over 25,000 square feet to meet new energy efficiency and greenhouse gas emission limits. Although the requirements don't take effect until 2024, The City says building owners are already starting to focus on compliance – with the threat of large fines motivating them to take this issue seriously.
Other requirements will also go into effect soon. New York City Local Law 154 will phase out fossil fuels, requiring new buildings to be all electric by 2024, according to Urban Green. The New York State Senate says the All-Electric Building Act would introduce similar requirements to the state as a whole.
On the federal level, the Executive Order on Catalyzing Clean Energy Industries and Jobs Through Federal Sustainability (issued in late 2021) established a net-zero emissions building goal for 2045. Additionally, the U.S. General Services Administration (GSA) issued new carbon standards on March 30, 2022, under the Facilities Standards for the Public Buildings Service. These new standards require the use of lower carbon concrete products and asphalt paving.
Labor and Material Costs and Shortages Continue
Inflation, supply chain issues, and skilled labor shortages continue to squeeze the construction industry.
According to CoreLogic, U.S. building material costs increased by 13.6% on average and wages by 0.6% in the second quarter of 2022. In some cases, problems securing materials may have led to project delays. For example, the Wichita Business Journal says supply chain issues delayed the opening of WSU Tech's new culinary school, whereas Out There Colorado says several major commercial construction projects in Colorado Springs have been delayed due to soaring material and labor costs and rising interest rates.
Worker shortages – particularly skilled worker shortages – have been a big issue for the construction industry. Associated Builders and Contractors says the construction industry would need to attract close to 650,000 workers above the normal pace of hiring to keep up with labor demand. Turner Construction Company says the shortage of skilled workers is allowing contractors to be more selective in the projects they pursue.
COVID No Longer a Reason for Delay
According to data from nPlan, large-scale construction delays increased by more than 100% because of the pandemic.
COVID is still spreading – ABC News recently reported that Los Angeles County might bring back its mask mandate in response to rising cases. However, Construction Dive says owners are pushing back against COVID-19 force majeure clauses that cite the virus as an excusable delay. As one attorney pointed out, a force majeure event is supposed to be unforeseeable – and at this point in the pandemic, COVID is a foreseeable factor.
Preparing for a Global Recession
CNN warns that experts expect a global recession to occur in 2023. In fact, research firm Ned Davis says there's a 98% chance we'll see a global recession.
This raises the question: what would a recession mean for the construction industry?
Anirban Basu, chief economist for Associated Builders and Contractors, says a recession could reverse the trend of demand exceeding capacity, forcing contractors to compete more aggressively. However, a recession could also boost retention. Companies that are worried about the impacts of a recession should preserve cash and focus on financial relationships with banks and insurers.
Fall Safety Remains a Concern
In November, a New York City construction worker died after falling from a 15th floor scaffold, according to Construction Dive. The New York City Department of Buildings is currently investigating the site. At the time of reporting, it was not clear whether the worker was wearing fall protection equipment. This may be critical because New York's Scaffold Law holds contractors and owners 100% liable for falls that occur when construction workers are not wearing proper safety equipment. OSHA says falls are responsible for one in three construction worker deaths.
Protect Your Company Against Today's Risks
In 2022, many existing construction industry risks evolved and new risks emerged. You need a strong insurance program to protect your business. BNC provides custom-built construction insurance packages to meet your needs. Learn more.