Show Stopper: 2024 Ford Mustang GT Tested
From the October 2023 issue of Car and Driver.
There we were, that Vapor Blue Ford Mustang GT and me, at a Pasadena stoplight, windows down, waiting to enter a freeway. A black Tesla Model 3 rolled up alongside. The driver, in his late 20s, smiled at the Ford through an open window. "Nice," he offered.
"Thanks," I said. "Wish it were mine. Just on loan."
A pause, followed by a gesture toward the Mustang's dash, unsure. "Is that . . . a giant screen?"
I blinked, wondering whether this was a setup. The Model 3's touchscreen is famously humongous. The GT's wide glass display, new for 2024 and as long as your arm, is more tasteful, but it still tumors off the dash like a hat on a hat.
"Works fine," I said, shrugging. "But looks tacked on, you know?"
A shrug of his own, a friendly nod at his dash. "Yeah. Everyone's doing it though, right? Kind of the standard now."
Change comes for everything, even cars that rarely change much. When the light turned green, we waved goodbye. I made a hard left onto a tight on-ramp, and the rear tires slithered a bit on exit, and there was a deeply satisfying blast to redline in first gear, the 5.0 spewing torque and brap as the San Gabriel Mountains behind arced skyward under golden light, and I found myself thinking not at all of pixels but definitely of why every person in America should want at least one V-8 Mustang and probably two or three, especially on blue-sky days in rolling land during what we're told is the time of the petro-muscle sunset.
HIGHS: A healthy shot of power, soul, and feedback in a budget-friendly package; rev-happy V-8; and (hallelujah!) a standard clutch pedal.
Then, naturally, we came to a screeching halt in stop-and-go traffic. Southern California: great but imperfect, as ever. And a new Mustang for 2024, the sixth major revamp in 60 years, same-same.
Greg Pajo|Car and Driver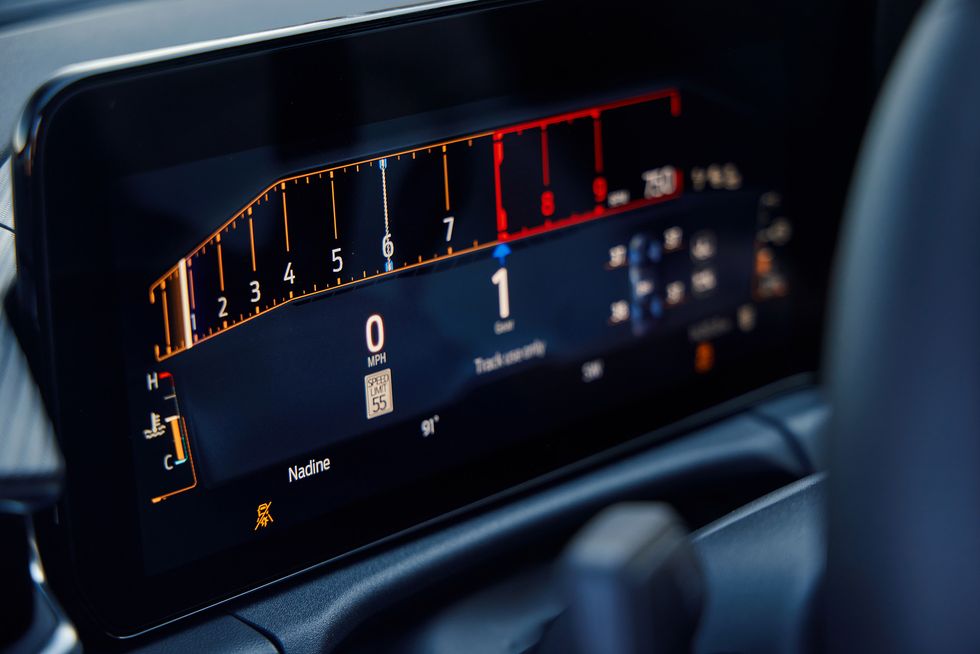 Greg Pajo|Car and Driver
Big changes matter with cars like this, but small ones can matter more. Months back, when Ford unveiled that glassy cockpit, with a 13.2-inch infotainment touchscreen and a 12.4-inch digital instrument cluster, loyalists scowled; Mustangs had never worn anything like it. Gone was the old double-brow dash, a family hallmark.
Other details are more critical. Ford calls the new platform S650. It's a moderate update of the outgoing Mustang, the S550, which first met dealers for 2015. Just as last year, there are three variants: the EcoBoost turbo 2.3-liter four, the 5.0-liter V-8 GT, and the track-focused GT-based Dark Horse. Key updates include a bit more power, a stiffer structure, a retuned suspension, and a quicker ratio for the electrically assisted power steering, from 16.0:1 to 15.5:1. The vacuum-operated brake booster gets replaced by an electronic unit that's a bit grabby at parking-lot speeds but otherwise nicely transparent.
Cosmetically, little carries over. The new styling is essentially S550 with less fillip and more sneer. The taillights and trunklid now form a concave V deep enough to hold shadow in daylight. The net effect is a car that looks smaller but isn't. The GT receives a larger and more fish-mouthed grille than the EcoBoost, as well as hood extractor vents. In coupe form (a convertible remains available), the new GT is as wide as the old but 0.9 inch longer and 0.7 inch taller, its wheelbase 0.1 inch shorter. Our manual-equipped Premium GT with the Performance package crosses the scales at 3947 pounds, 69 pounds heavier than an identically equipped S550.
Thank all that is Henry—that six-speed manual remains standard. A 10-speed automatic is a $1595 option that comes with remote start and the ability to rev the engine from the key fob. The GT badge has long represented peak Mustang bang for buck, but inflation is real. To the $44,090 base price, our test car added the $4995 GT Performance package, which includes larger Brembo brakes, Pirelli P Zero PZ4 summer rubber, and a 3.73:1 Torsen limited-slip rear axle. We also got the GT Premium package, Equipment Group 401A High (upgraded interior materials, 12-speaker Bang & Olufsen stereo, Co-Pilot Assist+), Recaro seats, the Mustang Nite Pony pack (black mirrors, badges, 19-inch wheels), magnetorheological dampers, the active performance exhaust, and floor mats. The total: $62,425. Reasonable for today's market, given what those options bring. Still, don't Google what a 2015 Mustang GT cost new unless you need a good cry.
LOWS: Not a ground-up redesign; enthusiast options add up quickly; try-hard dash screen doesn't fit the vibe.
Eight cylinders are a tradition here, going back to the '60s. The double-overhead-cam, 32-valve Coyote V-8 is a light revision of its former self, virtually identical in manner and appearance. The highlight is the addition of a second throttle body—the intakes now front the engine bay like a pair of fangs—and new exhaust cams to boot. The result is more power, 480 horsepower at 7150 rpm, to be exact. Add the performance exhaust, and the GT's output rises to 486 horses at 7250 rpm. The torque peak—415 pound-feet, or 418 with the active exhaust—arrives at 4900. This is, of course, on 93 octane. The Coyote has always had a divisive sound: low-end burble, barky midrange, and raspy, rat-a-tat hammer up top. This one is no different, boasting the trademark creamy response and smooth wave of torque. It's happier at high rpm than its forebear and unhappy nowhere. The theme here is balance, a hallmark of the best modern Mustangs, no component outweighing another. As with the S550, blasting around town feels like an event. The manual is easy to be smooth with. Back roads and fast freeways fall into a rhythm. The car is comfy when loping along and predictable when wrung out.
If you use that digital display (or the steering-wheel buttons) to play with the drive modes, you will find that the interface is intuitive, and also that those modes make a difference. In steering feel, Normal is fine, if boring and effort-light. Track brings more self-centering but occasional woolliness under load. Sport is the most naturally weighted. Suspension adjustments in those modes are similar, taking advantage of the dampers' talent for compromise: Track is workable for imperfect two-lanes but too stiff for maintaining high speeds, trading cohesion for response. Normal adds a smidge of ride comfort but can take impractically long to settle the body in quick transitions. Sport is just right for fast road use, precise and compliant. Drag is, well, for drag racing.
While on that topic, launch control is available, and no-lift shifting is new to the GT. To extract maximum performance, don't use either. By taking matters into our own hands, we saw a 4.2-second sprint to 60 mph and a 12.5-second quarter-mile at 114 mph, or roughly the same as the previous generation's performance. The GT held to the skidpad with a 0.99-g average, and stops took 153 feet from 70 mph and 312 feet from 100 mph.
Other strengths and weaknesses recall the outgoing Mustang: all-day highway comfort and stability that won't put you to sleep, fit-everyone stock seats that are a tad too spongy on a winding canyon road, a trunk that's sizable, a rear seat that's useful only for short trips or children. The refreshed interior features more soft-touch materials, though the plastic rear shelf still throws an annoying reflection onto the back glass, glaring out traffic in the rearview.
Rationally speaking, most people don't need a $62,425 Mustang GT. They do not ache for all-singing, all-dancing dampers or a Torsen's creamy corner exit, and deleting those options saves big cash while losing little. Yet machines like this are bought mostly on emotion, and those parts deliver more of it. Trying them makes you want to hunt fancy German cars in the hills until your face hurts from grinning. So equipped, the Ford lands that best of all fast-car tricks: It somehow produces the feeling that you're doing everything right.
Pixel cancer, the faithful will grumble. And not a redesign from the ground up—valid complaints. But how many new cars of this ilk remain? How many do this much this well, with this much character and history, for this price or less?
VERDICT: Imperfect but still a stout dose of that old-time rock 'n' roll.
A rear-drive, three-pedal, four-seat, V-8 pony car that's new and big of heart, attainable, at home in commute or canyon, and more than the sum of its parts. Yes, please—forever, all day long. Sign us up.
Arrow pointing downArrow pointing down
Specifications
Specifications
2024 Ford Mustang GT
Vehicle Type: front-engine, rear-wheel-drive, 4-passenger, 2-door coupe
PRICE

Base/As Tested: $44,090/$62,425
Options: GT Performance package, $4995; GT Premium package, $4520; Equipment Group 401A High package, $2900; MagneRide dampers, $1750; Recaro seats, $1650; active-valve performance exhaust, $1225; Mustang Nite Pony package, $1095; floor liners with carpet mats, $200
ENGINE
DOHC 32-valve V-8, aluminum block and heads, port and direct fuel injection

Displacement: 307 in3, 5038 cm3

Power: 486 hp @ 7250 rpm

Torque: 418 lb-ft @ 4900 rpm 
TRANSMISSION
6-speed manual
CHASSIS

Suspension, F/R: struts/multilink

Brakes, F/R: 15.4-in vented disc/14.0-in vented disc

Tires: Pirelli P Zero PZ4

F: 255/40R-19 96Y
R: 275/40R-19 101Y
DIMENSIONS

Wheelbase: 107.0 in

Length: 189.4 in

Width: 75.4 in
Height: 55.0 in

Passenger Volume, F/R: 55/30 ft3
Trunk Volume: 13 ft3
Curb Weight: 3947 lb
C/D TEST RESULTS

60 mph: 4.2 sec

100 mph: 9.5 sec

1/4-Mile: 12.5 sec @ 114 mph
130 mph: 16.5 sec

150 mph: 23.5 sec

Results above omit 1-ft rollout of 0.3 sec.

Rolling Start, 5–60 mph: 5.0 sec

Top Gear, 30–50 mph: 10.0 sec

Top Gear, 50–70 mph: 9.0 sec

Top Speed (gov ltd): 155 mph
Braking, 70–0 mph: 153 ft

Braking, 100–0 mph: 312 ft

Roadholding, 300-ft Skidpad: 0.99 g 
C/D FUEL ECONOMY

Observed: 18 mpg

75-mph Highway Driving: 24 mpg
75-mph Highway Range: 380 mi 
EPA FUEL ECONOMY

Combined/City/Highway: 17/14/23 mpg 
C/D TESTING EXPLAINED

Freelance
Sam Smith is a freelance journalist and former executive editor at Road & Track. His writing has appeared in Esquire and the New York Times, and he once drove a Japanese Dajiban around a track at speed while being purposely deafened by a recording of Taylor Swift's "Shake It Off." He lives in Tennessee with his family, a small collection of misfit vehicles, and a spaniel who is scared of squirrels.