At $38,888, Is This 2002 Mercedes SL 500 Silver Arrow A Sharp Deal?
According to the ad's description, today's Nice Price or No Dice SL 500 is "A car for a fine lady, a gentleman of distinction." Let's see if this special final model year edition R129 still has a price that even the rest of us schlubs can afford.
What Is The Most American Car? | Jalopinions
"If you build it, he will come." That haunting line from the 1989 film A Field of Dreams is ranked number 39 of the top 100 most memorable film quotes by movie ranker The American Film Institute. Another less memorable line that can be found in the automotive world is, "If you mod it, they will leave." That was the case with the 2003 Ford Crown Vic LX we looked at yesterday. Modded with a new coat of paint, a padded vinyl roof, big wheels, and a loud stereo, it lost a good bit of the following that Panther platform cars generally gather. A $6,900 price tag didn't help overlook the questionable additions, earning the car a 70 percent No Dice loss.
Fortunately, there doesn't seem to be anything not factory about today's 2002 Mercedes-Benz SL 500 Silver Arrow. That's not to say this car doesn't stand out from your run-of-the-mill R129, as it does have several notable and unique features, all part of its special edition blast from the past trim package.
The basic car isn't anything to sneeze at either. The R129 is arguably one of the best-looking of Mercedes' long-running SL line and is the last to be reasonably analog and, hence, fairly reliable in the long term. Coming with both a hydraulically-actuated canvas convertible top and an aluminum-skinned hardtop, it's also a four-season grand tourer for two. Several engines were available in the car throughout its run, from DOHC six cylinders to V8s and a massive but silky-smooth V12.
As denoted by the 500 part of this car's name, it's powered by Mercedes' rock-solid M113 5.0 liter V8. In the SL that engine makes 302 horsepower and 339 lb-ft of torque and is mated to a four-speed automatic parsing those ponies to the rear wheels in traditional fashion.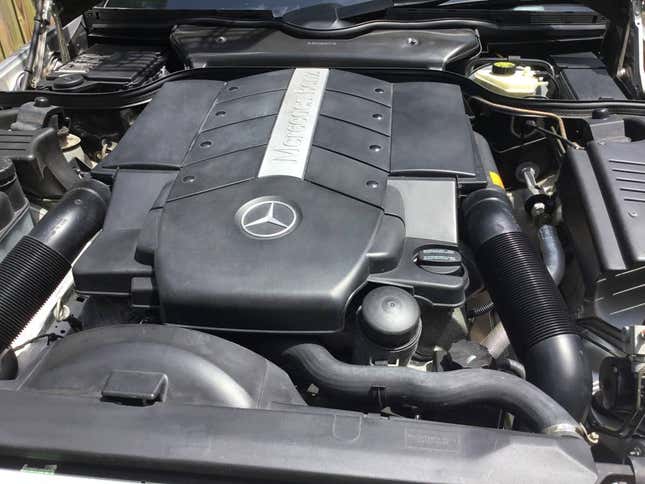 On top of that is a special Silver Arrow package, which Mercedes intended as an homage to the silver-painted race cars it ran in the 1930s. The package includes unique silver metallic paint, special badging and illuminated sill plates, an engine-turned dash appliqué, BBS wheels, and two-tone black and gray leather in the cabin. In total, Mercedes built around 1,450 SL 500 Silver Arrows for the U.S. market. The V12 special edition is even dearer, with only 100 produced for the U.S.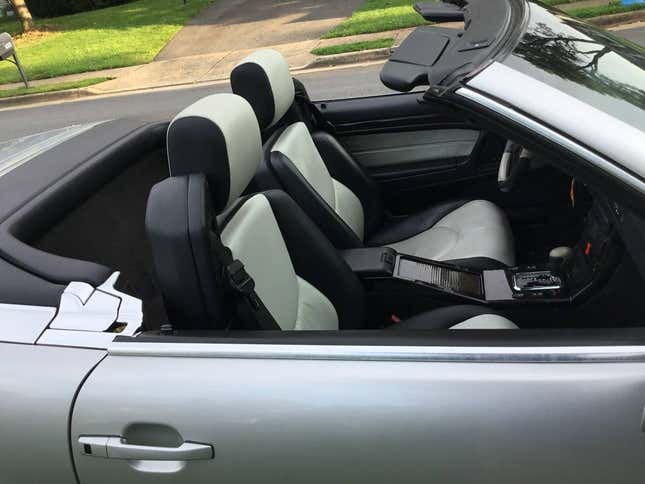 Amazingly, this Silver Arrow has only done a mere 22,500 miles, even though it's now fully old enough to drink. According to the seller, who has owned the car for 18 years, it originally lived in Florida before moving to its current location in Virginia. Over those years, it is alledged to have always been garaged and to have been packed away when road conditions were unfavorable. That has left it in what the seller claims is concourse condition both visually and mechanically, suffering no issues or warning lights with which to contend.
Everything is original on the car, seemingly right down to the tires. Since no one wants to roll on twenty-year-old meats, the seller is offering a second set of brand-new Continental tires along with the purchase. It'll be up to the new owner to figure out how to get them home.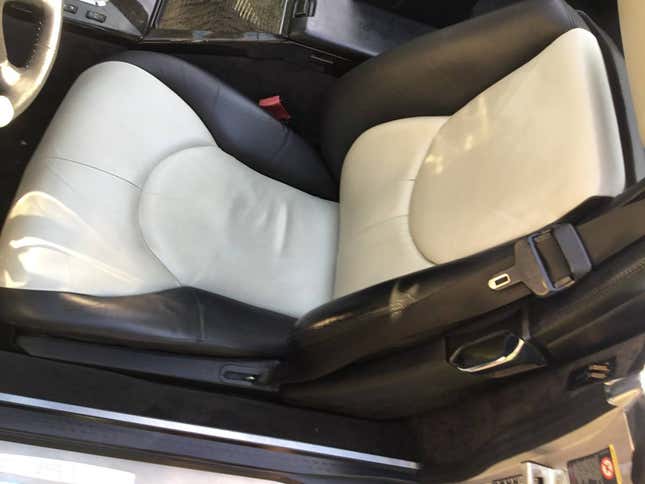 A couple of things to note here — the seller says the car is a pleasure to drive with the top down but doesn't show any pictures of the car with the top up. That's a very expensive repair to undertake if anything is amiss with the mechanism's complicated hydraulics and electronics, which do tend to wear simply from age. There's also no mention of the standard equipment hard top, which would be a pricey thing to source if not included. Both of these top tips should be considered before any negotiations are begun. To whet our whistles until such time, let's have a look-see at this Silver Arrow's $38,888 asking.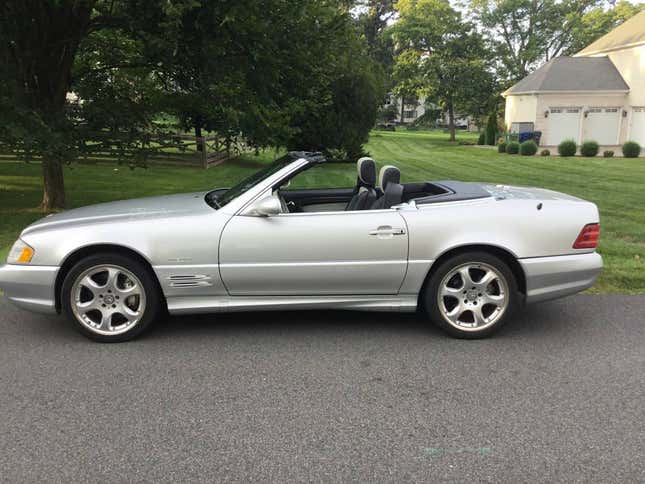 That price tag gets the new owner a clean title car that appears almost as new. It's also one of the rarer editions of a model line that is arguably on ascension price-wise. The R129s are still generally a decent value on the market, but they seem to be following their R107 predecessors in increasing in value every year. Neither is as crazy expensive as the Pagoda Roof SLs of the '60s, but maybe someday they will be.
What's your take on this Silver Arrow and that $38,888 price in today's dollars? Does that seem like a prudent investment once the top questions have been answered? Or, is it still too early in the R129's life for even so special an edition to ask so much?
You decide!
Washington DC Craigslist, or go here if the ad disappears.
H/T to S.R. Gooch for the hookup!
Help me out with NPOND. Hit me up at remslie@kinja.com and send me a fixed-price tip. Remember to include your Kinja handle.