Tesla Wins Autopilot Fatality Court Case By Arguing Human Error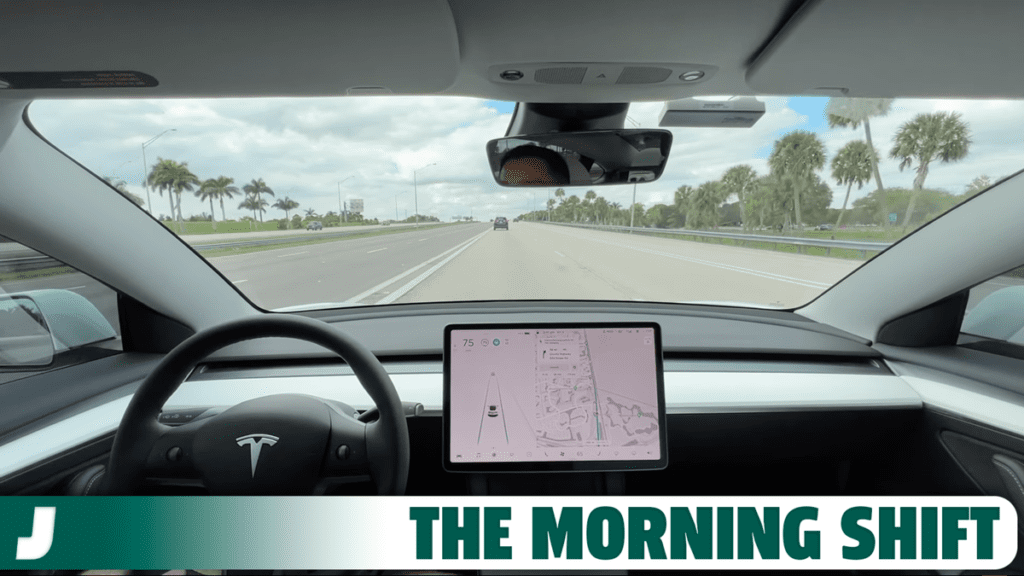 Good morning! It's Wednesday, November 1, 2023, and this is The Morning Shift, your daily roundup of the top automotive headlines from around the world, in one place. Here are the important stories you need to know.
Nick Offerman On The Freedom Of Getting An Airstream RV
1st Gear: Tesla's Autopilot Death Trial Win
This is just about the biggest win Tesla has ever had. The automaker won a U.S. trial over allegations its Autopilot driver assistance feature led to a death. It's a major victory as the automaker faces a number of other lawsuits and a federal investigation related to the same technology.
The result of the civil court trial shows Tesla's argument that when something goes wrong on the road, the driver is ultimately responsible, is gaining traction. From Reuters:
The verdict represents Tesla's second big win this year, in which juries have declined to find that its software was defective. Tesla has been testing and rolling out its Autopilot and more advanced Full Self-Driving (FSD) system, which Chief Executive Elon Musk has touted as crucial to his company's future but which has drawn regulatory and legal scrutiny.
[…]
The civil lawsuit filed in Riverside County Superior Court alleged the Autopilot system caused owner Micah Lee's Model 3 to suddenly veer off a highway east of Los Angeles at 65 miles per hour (105 km per hour), strike a palm tree and burst into flames, all in the span of seconds.
The 2019 crash killed Lee and seriously injured his two passengers, including a then-8-year-old boy who was disemboweled, court documents show. The trial involved gruesome testimony about the passengers' injuries, and the plaintiffs asked the jury for $400 million plus punitive damages.
Tesla denied liability, saying Lee consumed alcohol before getting behind the wheel. The electric-vehicle maker also argued it was unclear whether Autopilot was engaged at the time of the crash.
The 12-person jury said they found the Model 3 didn't have a manufacturing defect. They came to that verdict after four days of deliberating, but it was not an unanimous vote. Instead, it was 9-3. An attorney for the plaintiffs said that Tesla was "pushed to its limits" during the trial, and the prolonged deliberation suggests the verdict "still casts a shadow of uncertainty."
Tesla said its cars are well designed and make the roads safer. "The jury's conclusion was the right one," the company said in a statement.
Back in April, Tesla won a similar Los Angeles trial by saying it tells drivers its technology requires constant human monitoring, despite the "Autopilot" and "Full Self-Driving" names.
2nd Gear: Ford Workers Are Back To, Well, Work
All 16,613 striking Ford workers have returned to work, and the automaker is still in the process of calling back laid-off workers. Since taking a $1.3 billion hit during the 41-day United Auto Workers union strike, Ford has been eager to get its three impacted factories up and running again. Ford and the union reached a tentative contract agreement on October 26. From The Detroit Free Press:
Here's where things stand:
Kentucky Truck Plant in Louisville, which went on strike Oct. 11, has all 8,700 hourly employees back at work, building the Super Duty, Ford Expedition and Lincoln Navigator
Chicago Assembly Plant in Illinois, which went on strike Sept. 29, has all 4,613 employees back at work, building the Ford Explorer, Ford Police Interceptor Utility and Lincoln Aviator.
Michigan Assembly Plant in Wayne, which was the first to strike on Sept. 15, has all 3,300 employees back at work, building the Ford Bronco and Ranger midsize truck.
Meanwhile, here's the latest on getting laid-off hourly workers back on the clock:
Chicago Stamping Plant in Chicago Heights, Illinois: 210 of 255 workers have been called back. The plant employs 1,044 workers to produce aluminum body structure components for the Super Duty, Expedition, Navigator and stamped parts and sub-assembly for Explorer and Aviator.
Dearborn Stamping Plant: 100 of 100 employees have been called back. The plant employs 1,565 workers to build body structure and surface panels for Super Duty, Expedition and Navigator.
Dearborn Diversified Manufacturing Plant: 65 of 65 employees have been called back. The plant employs 724 workers to do hydroforming and heat treat for Super Duty trucks.
Lima Engine Plant in Ohio: 184 of 184 employees have been called back. The plant employs 1,403 workers to produce engines for the Explorer and Aviator.
Livonia Transmission Plant: 10 of 391 employees have been called back. The plant employs 2,703 workers to produce transmissions for Explorer and Aviator.
Sharonville Transmission Plant in Cincinnati, Ohio: 660 of 660 employees have been called back. The plant employs 1,601 workers to produce Super Duty transmissions.
Sterling Axle Plant in Sterling Heights: 120 of 485 employees have been called back. The plant employs 2,171 workers to produce rear axles for Super Duty and front and rear axles for Expedition and Navigator.
Two plants had not called back more than 400 Ford hourly employees by late Monday:
Rawsonville Components Plant in Ypsilanti had 55 employees off. The plant employs 579 workers.
Cleveland Engine Plant in Ohio had 372 workers off. The plant employs 1,607 workers.
It's a similar story for the other two members of the Big Three. A spokesperson for Stellantis told the outlet that formerly-striking UAW members began returning to work with the third shift on Sunday eveing.
A General Motors spokesperson said the automaker's manufacturing plants and parts distribution centers that were shut down are working to "safely restart operations" on Wednesday.
3rd Gear: Aston Martin Cuts Sales Target, Blames Production
Aston Martin just posted a bigger-than-expected quarterly loss and dropped its 2023 sales volume outlook because of production issues with its new DB12 grand tourer. Shares of the British automaker had fallen around 12 percent at the time of publication. From Reuters:
Aston Martin started delivery of its first next-generation sports car, DB12, last quarter and expects 2023 volume to be 6,700 units, down from an earlier forecast of about 7,000 units.
Production was affected by "supplier readiness" and delays in integration of its new platform that supports the redeveloped infotainment system, it said.
These issues are now resolved, with demand staying strong and orders well into the second quarter of next year, it added.
"The launch of the DB12, which has seen extraordinary demand, is driving a reappraisal of Aston Martin amongst new audiences, with 55% of initial DB12 customers new to the brand," Executive Chairman Lawrence Stroll said in a statement.
Aston Martin has apparently retained the rest of its 2023 outlook, saying demand is still strong. It also plans to shore up cash and margins by rolling out next-generation sports cars and limited edition vehicles this year and next.
Other automakers over the last week had painted a much bleaker image, with Mercedes-Benz saying inflation and other factors had weighed on its earnings in recent months and Porsche AG warning the luxury sector was also feeling the hit of dampened consumer spending as interest rates rise.
"Having come cap-in-hand to investors in the summer, it's crucial that Aston Martin comes good on its plans to fire up its profit and cash flow engines," Hargreaves analyst Sophie Lund-Yates wrote in a note.
The London-listed company reported an adjusted operating loss of 48.4 million pounds ($58.82 million) on revenue of 362.1 million pounds in the three-month period ended Sept. 30.
On average, analysts have expected an adjusted operating loss of 38 million pounds ($42.02 million) on net revenue of 370 million pounds ($448.16 million).
4th Gear: Toyota Cuts EV Forecast For Better Profits
Toyota is cutting back on its plans for battery-electric vehicles and pushing hard on hybrids to help the automaker hit record profits for its fiscal year. The world's largest automaker is now expected to sell just 123,000 full EVs in the current fiscal year, ending March 31, 2024. That number represents a 39 percent cut from its original plan to sell 202,000 EVs. From Automotive News:
But the EV downgrade isn't expected to dent overall volume because Toyota aims to make up the difference in higher sales of traditional and plug-in hybrid vehicles.
The shuffle comes as the industry's transition to EVs slows in market such as the U.S., with inventories of battery-electric piling up and companies rethinking ambitious investment plans.
General Motors recently said it no longer will provide EV production targets so it can build to market demand, while Ford said it would delay about $12 billion in EV spending.
Speaking Wednesday during Toyota's financial results announcement, CFO Yoichi Miyazaki did not mention U.S. demand for EVs but cited the intensifying EV price war in China as a trigger for his company's revision. As rivals race to slash stickers in China and margins begin to erode, Toyota aims to bolster profitability there by ramping up supply of gasoline-electric hybrids instead.
"That is one of the ways we can avoid the price competition," Miyazaki said, calling the "fierce competition" in the Chinese EV market a major factor. Hybrids offer an alternative, he said.
"Actually, in the eyes of customers, they have more choices and options," he said of hybrids.
Miyazaki actually recited Toyota's less-than-bullish approach to EV investment as helping shore up solid financial fundamentals at the automaker.
"Another major point is the careful timing of our investment decisions," he said. "Our comprehensive assessment of investments in BEVs and batteries while considering the energy situation and infrastructure in each country, the evolution of technology, and changes in actual customer demand," he said, "has enabled us to achieve a strong financial foundation upon which we can promote investments for the future."
Toyota's outlook calls for production of Toyotas and Lexuses to climb to a record 10.1 million vehicles in the current fiscal year. Meanwhile, it expects consolidated global retail sales to rise over a record 11,38 million units for the fiscal year. Globally, Toyota delivered a 12.6 percent operating profit margin in the latest quarter. That's up big from the still-strong 6.1 percent from a year earlier.
Reverse: The Knicks Will Kill Me One Day
Neutral: You Know What Day It Is
It Is Wednesday My Dudes Vine
On The Radio: Ryann – "Andrew"
Ryann – Andrew (Official Video)