Thank The Lord, The Classic Steelies Are Back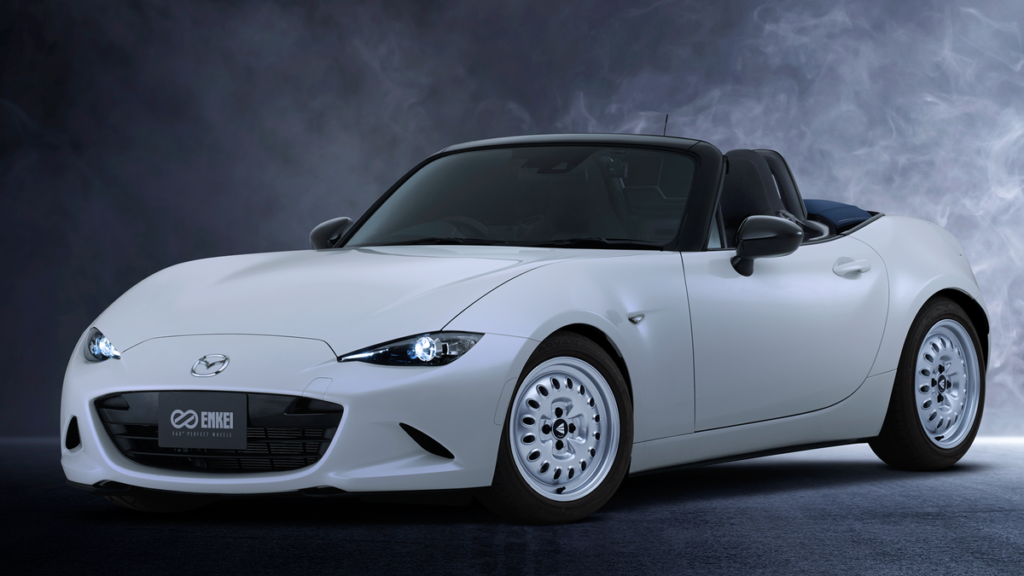 Enkei is releasing a set of aluminum cast wheels in Japan this October called the Al'Vita. These new wheels are part of Enkei's "NeoClassic" lineup, which draws inspiration from the past with designs that recreate classic wheels, such as the steel wheels that are usually standard equipment on base models and work vehicles.
My Mini Is Getting A Bit Cramped For Me And My Dogs | What Car Should You Buy?
But there's something undeniably appealing about these "stock" wheel designs, especially in the bright finish of the new Al'Vita, which were also inspired, in part, by Enkei's "Al'Life" wheels from the '90s. Steel wheels are diametrically opposed to the wheel designs of most modern cars, which pursue complexity in the name of performance or, simply put, the appearance thereof.
Photo: Enkei
That's why we get modern family vehicles — crossovers and SUVs — with huge, razor sharp wheels that look sporty while having zero claim to sports car performance. It seems modern designers are under the impression that wheels have to look complicated in order to look good; modern wheels are a mess of angry lines, a geometric hodgepodge that is often too big and too complex to let cars be their happy selves. And all the dark-finished wheels aren't helping.
What ever happened to chrome wheels, or bright silver wheels, or gold wheels? Gone are the classic five spoke designs of yore, like Porsche Fuchs wheels or BMW style 18 wheels, though I admit I'm a little biased as the owner of an E36. But off-roaders suffer from this, too. There are no more basic Mickey Thompson lookalikes — not stock at least.
Mickey Thompson wheels actually look a lot like stock steelies, which is a good thing. It might seem like a waste of money to buy aftermarket wheels that tone down the appearance of a car, but not everything has to beg for attention. That's what makes understated steelies so cool. And it's why these new Enkei wheels from Japan are so rad. Not to mention, they come in a reasonable 16-inch size. From Enkei and Car Watch, it seems these are four-lug wheels only, and they'll start at a price of ¥44,550, or about $304 per wheel.
I know a flatter profile would probably look better and make for a more modern interpretation of steel wheels. But that would be a betrayal of the spirit of the steel wheel, which looks so cool because it isn't actually trying. The steel wheel is the ultimate expression of indifference to style, which then ends up looping back around and looking awesome. Long live the basic steel wheel.
Photo: Enkei
Photo: Enkei