The Bronco Badlands Isn't Made For Road Trips, But Will Always Reach The End
The Ford Bronco is a big car built for big adventures, and the Badlands edition takes that up a notch with extra features to keep you out on the trails. It's not billed by Ford as a luxurious road tripper, but that doesn't mean it can't soak up the miles when you decide to head to the mountains or visit the best diners New Jersey has to offer.
The Ford Bronco II Is an Underappreciated JV Bronco
Full disclosure: Ford lent me a Bronco Badlands for a few days to drive out of Manhattan and into the hills of New Jersey and Pennsylvania. It was meant to be a leisurely weekend hiking and kayaking, until the weather had other plans.
What Makes The Ford Bronco Badlands Different?
Bucking Bronco.Photo: Jalopnik / Owen Bellwood
Revived in 2020, the Bronco is Ford's latest attempt at a rugged, go-anywhere truck to take on the likes of the Jeep Wrangler. With a base price around $47,000, the Badlands Bronco sits roughly in the middle of Ford's range, thanks to a few performance and interior upgrades. In my review unit, the upgrades were a 2.7-liter EcoBoost V6 engine producing 330 hp and 415 lb-ft of torque, and an optional 10-speed automatic transmission. There were also heated black vinyl seats and a few extra niceties inside the cabin like dual-zone climate control and adaptive cruise control, which brought the on-the-road price up to $60,010 including destination.
For all that, you also get a boat load of off-road equipment, like electronic front and rear locking differentials, front stabilizer bar disconnect and Ford's advanced 4X4 system. Importantly, my test unit also came with a folding canvas roof, which I thought would make this a great candidate for best drive-in movie car… right up until the moment the heavens opened and most of eastern Pennsylvania flooded. I guess I'll test this theory next time I get behind the wheel of a Bronco.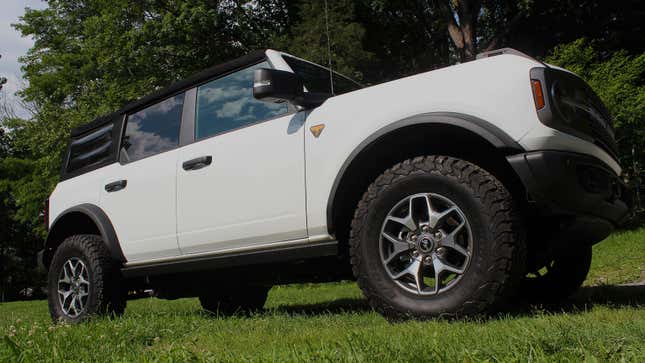 Rugged and ready to go. Photo: Jalopnik / Owen Bellwood
How Does The Bronco Drive?
But if you aren't taking this car to the drive-in, what are you doing with it? Well, obviously, driving it. This car is billed as a fully-prepped off-roader, and that's clearly what it was designed for with its massive tactile buttons inside and its rugged styling out. But, if we're honest, most Broncos will probably spend a fraction of their lives actually on dirt roads and rocky trails. Instead, prospective owners will mostly navigate this car's 199" by 86" girth around city streets and across America's enormous network of highways. So that's what I did.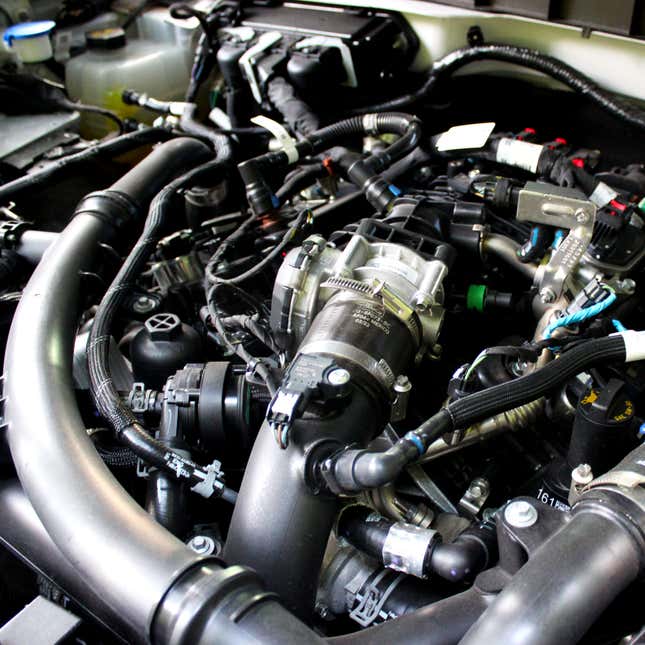 There's a V6 in there somewhere. Photo: Jalopnik / Owen Bellwood
Because of its size, pulling out the Manhattan garage I parked in was daunting. This car is easily the biggest thing I've driven (WHAT? –ED), so it initially felt like I had to creep down New York's narrow streets. But once I settled in, and realized that America's roads are (on the whole) built for big cars like this, things got easier. For starters, the steering is light and works well at lower speeds – that's probably a pleasing side-effect of its off-road focus – controlled, precise movements are key off-road. But in New York, this meant it could easily navigate the traffic, avoid pulled up taxis and merge into the correct lane for escaping the city with ease. Heck, it was even practically enjoyable navigating the hellscape that is the Lincoln Tunnel, which I usually avoid at all costs.
Once out of town and able to go more than 10 mph, the truck came alive. When you mash the gas, there's a pleasing rumble from the V6 that reverberates through the cabin. At the same time, there's a slight lurching sensation as that 330 hp motor works to move this near-5,000-pound truck up to highway speeds. What's more, unlike its chief rival the Jeep Wrangler, there's far less play in the steering of the Bronco and it doesn't feel like hard work keeping this thing in a straight line. Then, when the road gets a bit more twisty, it handles tighter corners well. There isn't too much roll when you tackle a corner, and my often travel-sick driving partner wasn't triggered in the Bronco. Always a positive.
On the hills of Eastern Pennsylvania, the Bronco Badlands had plenty of power and even though we loaded the back with adventuring gear, it never seemed to struggle on an incline. It was the same story when joining a highway, a dab on the gas and you were flying at the same speed as everyone else around you. While playing with the power, the car's 10-speed automatic does a good job at cycling through the gears. I was never left waiting for a change to come, and when the shifts did happen they were buttery smooth.
Lots of rugged touchpoints in there. Photo: Ford
What's It Like Inside?
Inside the Bronco, the rugged aesthetic is plain to see. Every touchpoint is huge so that you'll be able to manage it with gloves – things like the center console controls, auxiliary switches and window controls. Rather unexpectedly, the window switches and mirror controls are in the center of the car, which did take some searching to locate when I first hopped in.
To remind you of this car's off-road origins, there are heavy duty handles strapped to either side of the dash, and a third in the center next to two large cup holders. Presumably these would come in handy if you're tackling a steep incline, but they are also just a nice feature that comes with a fun contrasting orange color that matches the stitching on the seats.
That utilitarian styling doesn't mean the interior is sparse, there's a 12-inch screen on the center console that handles more complex controls like navigation, wirelessly pairing your phone and all manner of vehicle settings. A second eight-inch display makes up the instrument cluster behind the wheel, which is super bright and nicely visible at all times.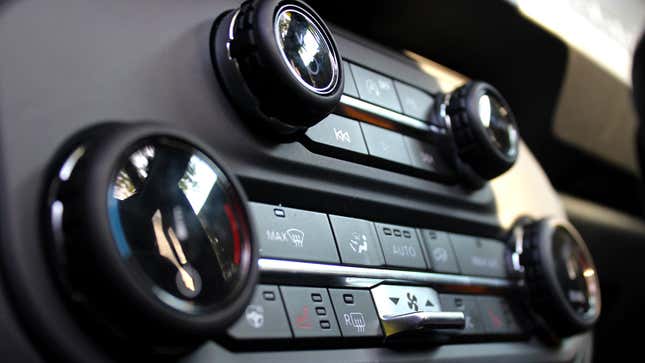 Big buttons for big cars. Photo: Jalopnik / Owen Bellwood
The front seats in the Bronco are comfy, with my review car getting a pair of black vinyl heated seats in the front, each with plenty of electrical adjustment. These had ample support for both driver and passenger on a long ride, and were very easy to mold around my lanky frame. However, it was in the second row where I was getting complaints, and a hop back there quickly showed why. Despite this being a big car, space in the rear is snug if you're a passenger with longer legs.
A good way to distract back seat riders from their lack of legroom is to take the roof off the Bronco, which was simple to do in my canvas-clad Badlands. On this model, the front section of the soft top can fold back to uncover the driver and front passenger, or you can take the whole thing off and fold it away into the trunk.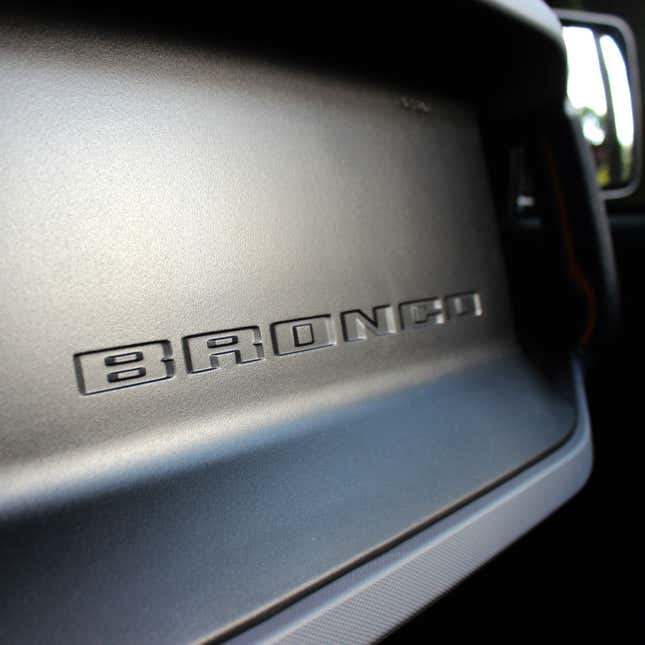 Count the Bronco logos with me. Photo: Jalopnik / Owen Bellwood
If you want to do this, there are just a couple of quick steps. First, the rear windows and windscreen are unbuckled and slid out. They can then be stored in the trunk while you unlatch the front and middle of the roof, before the whole assembly folds back into the trunk. It all takes a matter of minutes and leaves you and your passengers feeling free. Just warn any backseat riders that the windscreen doesn't protect them from the breeze as effectively as it does for anyone in the front seats.
But whether the roof is up or down, the inside of the Bronco definitely isn't the quietest place to be. With the canvas roof back up, a lot of noise gets into the cabin while you're driving. Sure, you can get all manner of aftermarket sound-deadening kits for the Bronco and Ford did its best to keep cabin noise down, but it is a loud place to be – especially at highway speeds. Thankfully, the stereo comes with plenty of power to drown out most of the highway rumble.
On the subject of loud things on this car, we've got to give an honorable mention to the blinkers. Whether you're indicating a turn or flashing on the hazards to warn of a flood in the road ahead, the Bronco's blinkers are very clicky and it's maybe the first car where I've actively noticed their volume.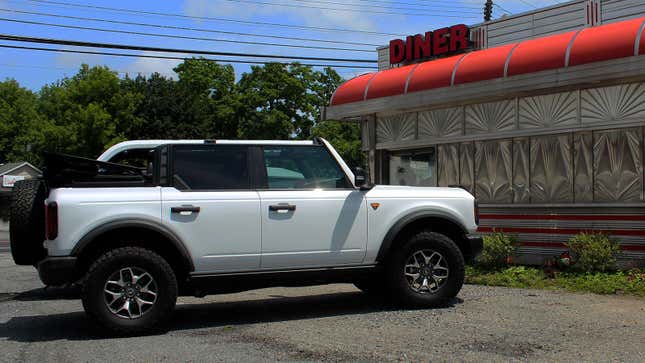 Hey, isn't that the diner from "Friday The 13th"? Photo: Jalopnik / Owen Bellwood
What About When The Going Gets Tough?
But why did I have my hazards on, I hear you asking? Well, on almost every day that I had the Bronco there was some kind of torrential downpour. Whether it was the sudden shower that caught me off-guard when I was looking for a space to park up, or the flash flood that hit Eastern Pennsylvania while I was searching for my stay for the night, rain seemed to follow me and the Bronco everywhere.
It was while traversing one of these particularly torrential showers that I realized the big appeal to cars like this. While the road was covered in a good few inches of water, low-lying cars were starting to get abandoned by the side of the road, or drivers were turning to find an alternative route. The Bronco, meanwhile, was just getting started. It could crawl through the water in a super controlled manner and its 8.6 inches of clearance meant the water never came close to getting inside. This left me and my passengers warm and dry while still slowly progressing towards our destination.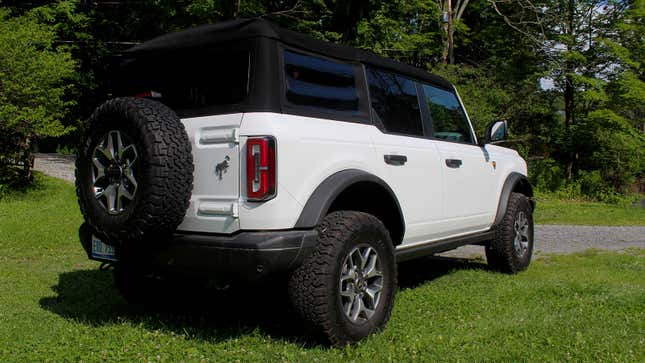 A wild Bronco down on the farm. Photo: Jalopnik / Owen Bellwood
Then, as the river subsided and the flotsam carried onto the tarmac began revealing itself, the Bronco took this in its stride as well. So, while the rain might have meant that I couldn't check out the Bronco's drive-in movie capabilities, it meant I found something that's probably more helpful to most buyers: You can rely on this car.
This was the overall impression I was left with after a few days behind the wheel of the Bronco Badlands. For $60,000 there are much more comfortable cars to get for a drive out across state lines, ones that might come with vented seats to keep you cool or a more refined cabin that shelters you from the noise outside.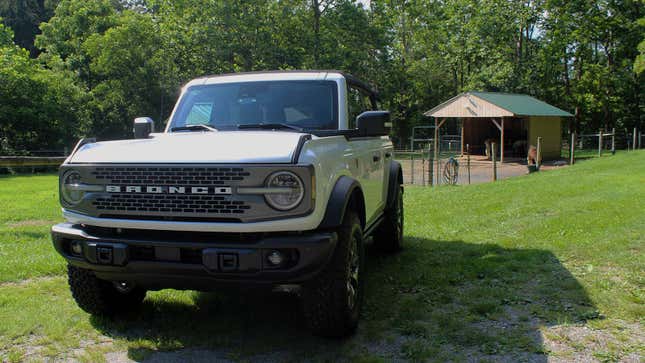 Spot the alpaca. Photo: Jalopnik / Owen Bellwood
But that's not why people buy a Bronco. Instead people buy a Bronco because they know that while it might not be made for covering hours-long road trips across the country, it's built in a way that means no matter what adversities you face along the way, you're always going to reach your destination. Whether that means navigating a dirt trail that Google leads you down by mistake, a flood that covers the highway or a swampy field at an alpaca farm that you stopped at on the way home, the Bronco is prepared for anything and everything.
2023 Ford Bronco Badlands 4 Door Advanced 4×4 Specs
Engine type
Intercooled Turbo Regular Unleaded I-4
Transmission/Drive
Manual w/OD