The GFC Camper Is So Much More Than A Rooftop Tent
If you're the kind of person that takes their truck camping but is sick of putting up a tent every night, then you've got a few options to make your life easier. You could buy a ready-made camper shell that fits snugly into the bed and gives you a kitchen and sleeping space, or you could strap a rooftop tent to your truck and be on your way. Thankfully, the GFC Camper offers a third option that's much better than both
An Inside Look at Conor Daly's RV
Full disclosure: GFC lent me a Jeep Gladiator fitted with one of its campers for a week to drive around the national parks of the Pacific Northwest. It then put me up in a hotel in Montana for a night, showed me around its factory and flew me home.
All set up and ready for adventure. Photo: Jalopnik/Owen Bellwood
What Is It The GFC Camper?
Launched in 2017, GFC Engineering is a Montana-based company that builds truck toppers, rooftop tents and this, the GFC Platform Camper. For $7,700, the company will sell you a bespoke camper that's made specifically for your truck and comprises a truck topper portion that fits over the bed of your vehicle and a pop-up tent section that's attached up top.
The truck-topping section comes with three panels that can open out to reveal your truck bed. They can also be locked to keep any possessions you store back there safe. Then, there's the pop-up portion on the roof, which isn't like a regular rooftop tent as it includes a removable floor that GFC calls the "transform-a-floor." This allows you to mix up the way you use the upper portion, with options to keep it covered for sleeping or you can open it up to create a nine-foot-tall standing space.
The whole thing is solid, with joints made from milled aluminum, and reinforcement across the structure keeping your truck rigid once the camper is attached. What's more, each camper that leaves the factory in Bozeman is made to order specifically for the truck you're fitting it to. In order to do this, GFC has 3D scanned every truck that it builds a camper for, and will even scan your truck if it's one that it hasn't made a topper for in the past (the team assures me there's no extra cost if this is the case). On top of that, buyers can also customize their camper by choosing the color of the fabric on the tent, the sleeping area's width, the number of windows on the tent and even the color of the panels that make up the truck topper.
When is a tent not a tent? When it's a camper. Photo: Jalopnik/Owen Bellwood
That Sure Sounds Like A Tent?
I'll admit, it does sound a lot like a fancy tent, and before I got my hands on a Jeep Gladiator with a GFC Camper strapped to the back, I assumed it was like a every other rooftop tent. But GFC has thought of so many little tweaks and details that make this much more.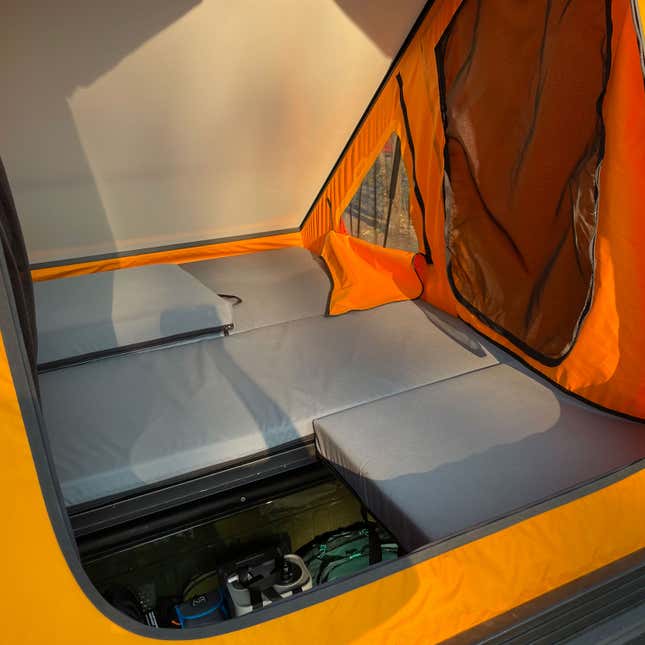 The transform-a-floor in action. Photo: Jalopnik/Owen Bellwood
The biggest difference is that the GFC Camper offers direct access to your truck bed, making it feel a bit like a two-story camper. There are three segments of the topper's transform-a-floor that can be removed – two small squares and one larger rectangle, which equates to roughly two-thirds of the 90″ x 50″ floor area. This means that you can strip out most of the floor and use the whole space as a standing room if you need to get changed, you can take out some of the panels and create a standing desk area, or cover the whole space over.
This system is great, and means that every time you get comfy up top and remember you've forgotten your book or snacks in the bed below, you don't have to clamber down the ladder, open up the trunk, get your bits then climb back up. You can just pop out one of the squares, jump down and hop up again. It really is very handy.
What's more, that floor is also fitted with a mattress. The built-in mattress covers the whole sleeping area, which on my standard camper offered ample space for two adults. But, if you want more room and have a bigger truck, GFC offers a slightly larger 90″ x 56″ camper. The mattress in the tent is about four inches thick, and provides a nice amount of support for your sleep. My partner found it really comfy, but I think me and my bony shoulders would appreciate a little more padding, so if I was to have a camper like this of my own I'd definitely invest in an extra mattress topper.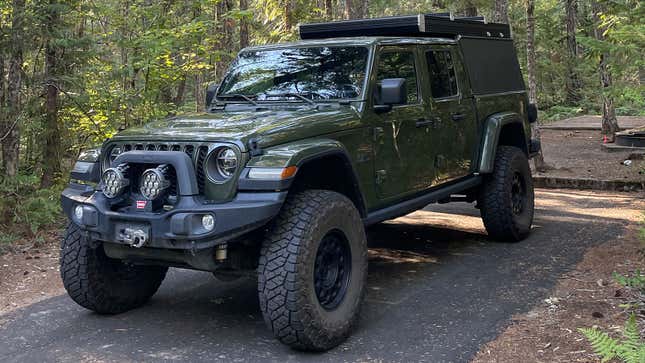 All packed up and ready for adventure. Photo: Jalopnik/Owen Bellwood
The other big advantage over rooftop tents I've used is the way this thing opens up to the elements. There's a huge opening at the top, as well as two openings on each side of the camper – one that acts as an entrypoint and another as a small vent. This means you can leave a gap open for ventilation while you sleep, or you can throw open the whole camper to the world and, if you're camping somewhere with a lot of critters, there are layers of mesh on each opening to keep the wildlife firmly outside.
Is It Easy To Use?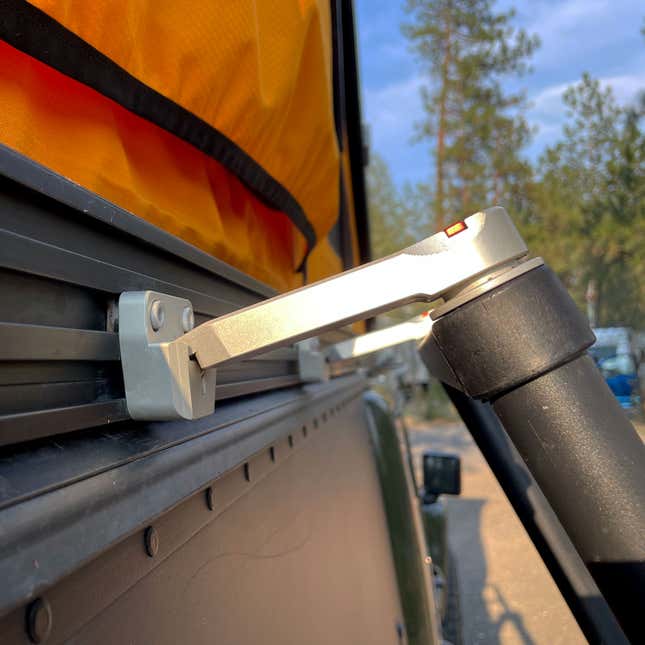 Latched and loaded. Photo: Jalopnik/Owen Bellwood
All of those features might make this sound like a complicated camper to operate, but it really isn't. When you reach camp, it takes a matter of seconds to get the roof popped up as there are just two latches to undo before you push the tent up. It hinges from the front and opens up really wide. If you opt to spec your camper with a ladder, which adds $250 to the price, it is a telescopic one that latches securely to either side of the camper. I'd recommend getting the ladder as it's nice having the option to hop out the side of the camper, or exit through the floor like a magician's assistant.
With the top opened up and the ladder fitted, you then have the option to open up the side panels on the topper, which GFC calls "Cabana Mode." This gives you easy access to everything stored in the bed, and offers a little bit of shelter if the rain sets in. However, on my one rainy evening with the camper, I did note that the side panels aren't quite big enough to offer real shelter from the elements. While cooking dinner on the Jeep's tailgate, I found that the panel covered my cooking but left me exposed to the rain.
One clever feature I liked about these panels, though, was that they can be locked from the outside and unlocked from the inside. This means that if you lock the camper up for the night and climb into the top via the ladder but then decide you need to exit through the truck bed, you aren't stuck inside. Two latches inside the panels allow you to unlock them and push them open, then it's just a case of unlocking the tailgate and hopping out. Very handy.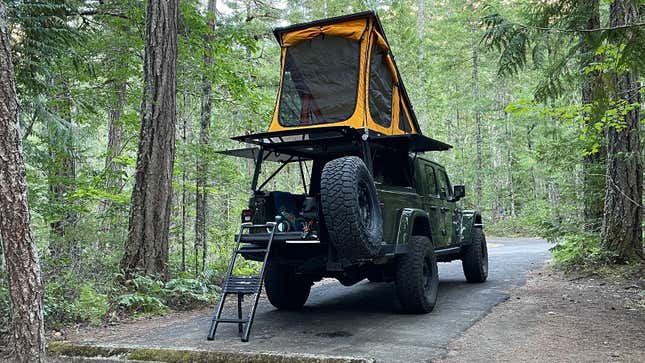 Cabana mode, anyone? Photo: Jalopnik/Owen Bellwood
Having two spaces to use and a distinct divide between the sleeping space and the truck bed was a really nice feature, and definitely a highlight of the camper. It meant that we could keep our muddy hiking gear clear of our sleeping area, and made organizing our equipment a breeze.
When the camper was fully set up and the truck loaded with our gear, I started to notice the potential of a camper like this. Yes, you could keep everything standard and leave the truck bed with enough space for all the hopes and dreams you carry around with you. Or you could also use this as a blank canvas to create the off-road camper of your dreams. In fact, GFC told me about customers who have done just that, with some even building kitchens into the beds of their truck, and others that have added bathrooms back there.
Stop! Hammock time. Photo: Jalopnik/Owen Bellwood
So How Would You Set Yours Up?
All these options for customization got me thinking that if this was the topper to my truck I'd definitely make some modifications.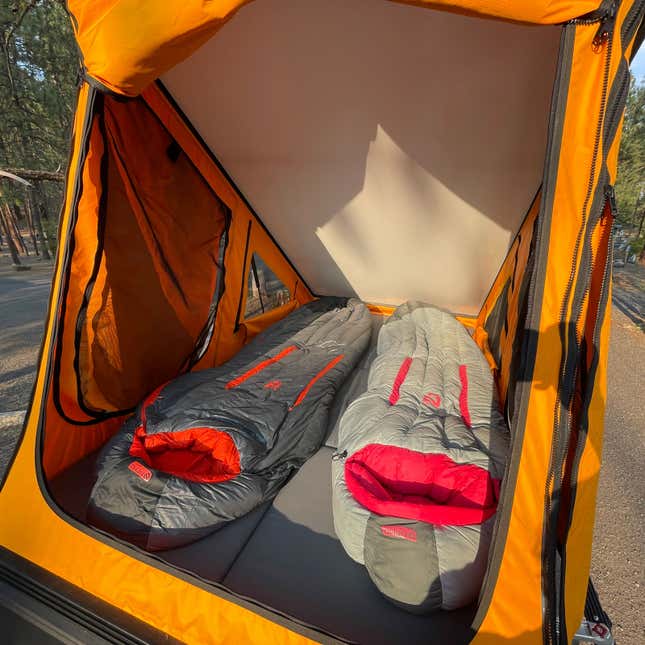 In this camper that's made for two. Photo: Jalopnik/Owen Bellwood
First, I'd add an awning to the side of the truck for sure, some extra protection from the rain or the relentless heat of the sun would be nice to have at camp. I'd also install a set of dedicated storage bins in the bed of the truck, which would be a good place to store clothes, a cooking kit and maybe even a small cooler to keep your drinks cold. My review camper also came with a small fold out prep area on the back of the spare wheel, this was a really nice touch and is definitely something I'd want on my truck.
Inside the sleeping space, the standard camper is comfortable but sparse, so I think some kind of storage pouch to keep my keys, wallet or phone while sleeping would be a big improvement. Also, while there are loops to hang flashlights and lamps in the standard camper, that solid roof would be a great place to stick a strip of lights to keep the place illuminated when the sun goes down. Modifications like this would be pretty easy to make, especially as the GFC Camper has an avid following of makers who are prepared to 3D print all manner of accessories for your camper.
This, of course, isn't to say that the GFC Camper is in need of improvement. It's ready to serve whatever purpose you have for it, meaning that if you want a lightweight topper that's not going to impact your truck's practicalities or performance, it's there for you. Or if you want to get to work building the ultimate overlanding rig, then it's a start in setting up the space for all your creature comforts.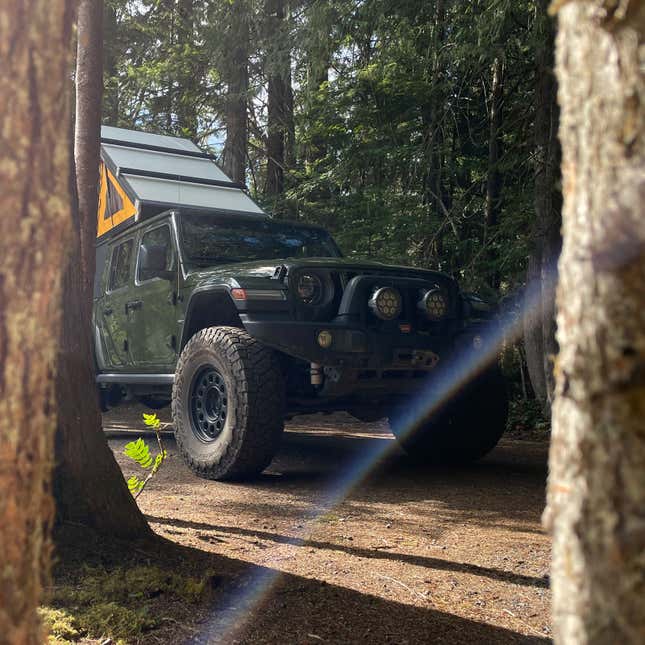 Stealth camper. Photo: Jalopnik/Owen Bellwood
Would You Buy One?
All in all, I was pleasantly surprised by the GFC Camper. It was ridiculously easy to set up, and just as simple to pack away – with a fellow camper even popping over to tell me how impressed they were that we'd packed up quicker than he'd brushed his teeth. The sleeping space was nice and comfy, and being able to open up the whole area to see the views around you as you're drifting off is a lovely touch.
What's more, the way the topper retains the practicality of your truck will be a huge selling point to many. When you're not camping, you can still throw your gear back there, or complete a dump run. And the camper even comes with a set of roof rails installed, which are capable of carrying up to 500 lbs. On a similar note, the way it will perfectly fit your personal truck is a big plus, with GFC even showing me a camper built for the tiny Ford Maverick while I was at its base.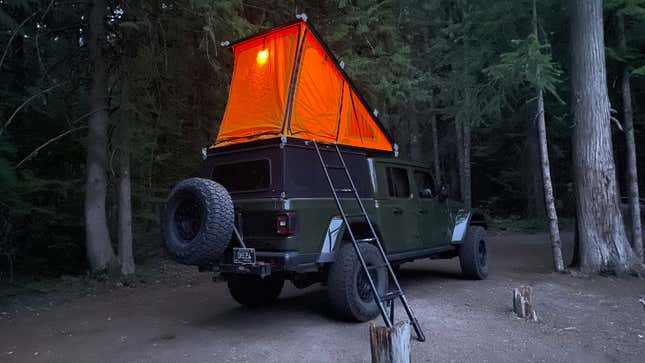 Goodnight! Photo: Jalopnik/Owen Bellwood
So, in my mind, when you look at the fiberglass campers and rudimentary rooftop tents the GFC Camper is competing against, it's an easy sell. It's just a shame I'm still not a truck guy.