Colonial Penn Life Insurance Review for 2023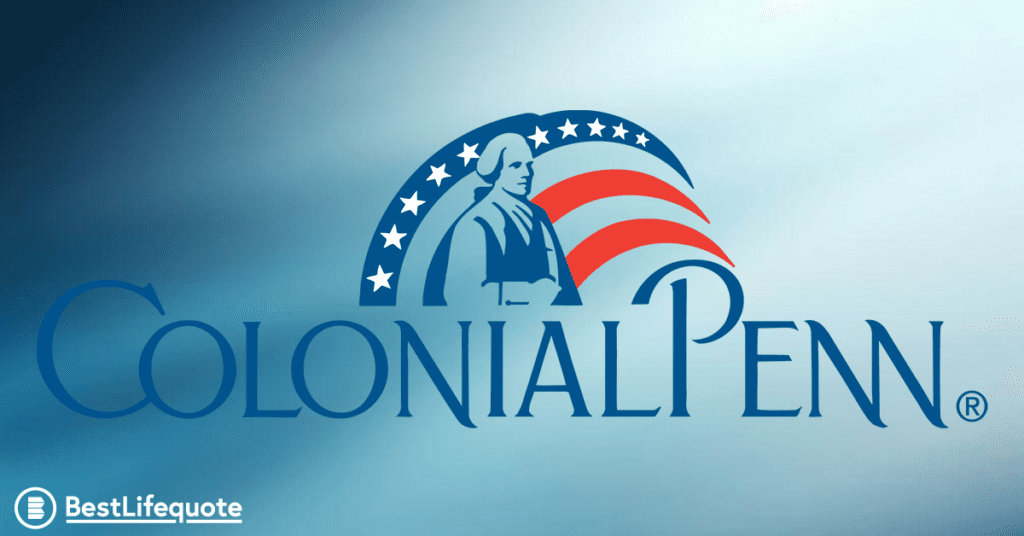 Summary of this Colonial Penn Life Insurance Review
Here's the bottom line lifted to the top for your convenience. Unless you truly can't qualify for a simplified issue life insurance policy or a final expense policy, you'll pay too much with Colonial Penn.
Full review of Colonial Penn Life Insurance
Most people who watch any television have likely been exposed to advertising by the Colonial Penn Life Insurance Company. As an independent insurance agency representing many life insurance companies, we think life insurance advertising on television is a good thing. In fact, we're delighted that the American public is routinely exposed to the need for life insurance. Our only concern is that misunderstanding a life insurance offering is easy to do, especially in the short space of time of a TV ad.
Life insurance is very important and we believe buyers should understand the pros and cons associated with any offer so they can make an informed purchase decision.
This article is written to educate you about Colonial Penn and the products they offer. We do not represent Colonial Penn and have no affiliation with this insurance company.
About Colonial Penn Life Insurance Company
Colonial Penn was founded and established back in 1968 by Leonard Davis. They are owned by CNO Financial Group and their headquarters is in Philadelphia, PA.
Colonial Penn offers their life insurance products using direct mail, internet advertising, and with television commercials. They claim that by selling directly to the consumer, they can offer life insurance cheaper than companies who depend on commissioned agents to sell their products.
Their most popular product is guaranteed acceptance life insurance that they market to people aged 50 to 85. This is the product shown in their TV ads which is quoted and sold by the unit rather than by a particular face dollar amount.
Colonial Penn's insurance rating is currently A-(Excellent) by A.M. Best (the world's largest insurance agency credit rating company). This means Colonial Penn is financially stable and will not have difficulty paying claims or their business operating expenses.
Many insurance shoppers — especially older adults — consider Colonial Penn a good option for final expense insurance.
It may be the best insurance option for some shoppers; however, most people can find better coverage at lower monthly premiums.
Should you choose Colonial Penn, or can another company provide more coverage for less?
We'll cover the following topics, feel free to click directly to any that interest you:
Colonial Penn Guaranteed Acceptance Life Insurance
Colonial Penn spends millions of dollars each year on marketing campaigns aimed at senior citizens who don't have life insurance and who may not easily qualify for full coverage.
With Colonial Penn, just about anyone within the right age range (50-85) is guaranteed coverage.
But this guarantee comes at a cost: higher premiums and small face amounts.
These policies don't require a medical exam, making them convenient to buy. However, many other leading insurers also have no-exam options that cost less and give greater coverage.
In most states, applicants ages 50 to 85 can qualify for this policy.  The maximum coverage is going to be around $25,000.
Like most guaranteed issue policies, Colonial Penn requires a two-year waiting period before your full coverage level is available to your beneficiary. If you died within the two-year limited benefit period, your death benefit amount would be a fraction of its value unless your death was considered an accidental death.
Pros
Easy to qualify for
Can add additional accidental death benefit rider
Cons
Expensive for such a small death benefit
Confusing rate schedule
Colonial Penn famously sells this product by the unit for $9.95 per month. What consumers are not told in the television commercials is how much life insurance coverage is provided in a unit of coverage.
And, to make things even more confusing, a unit of final expense life insurance coverage is based on the age of the applicant. A "unit" of coverage under the guaranteed acceptance plan starts at $1,669 coverage amount at age 50.  The same unit for an 85 year old decreases to $418 of coverage. So then, a 50-year-old wanting 10 units of coverage would have a total death benefit of $16,690 and would pay $99.50 per month for the policy. The 85 year old wanting 10 units of coverage would have $4,180 of coverage with the same cost of $99.50.
Here is a comparison of Colonial Penn with our two most affordable carriers. The rates listed are for a $10,000 guaranteed issue life insurance policy for a male non-smoker:
Applicant Age
Colonial Penn
Gerber Life
AIG
Great Western
50
$59.70
$44.09
$55.99
$59.56
60
$89.55
$63.89
$68.14
$75.39
70
$149.25
$99.18
$106.00
$119.54
80
Not available
$247.32
$206.32
$227.83
We used a $10,000 policy for our comparison because the average funeral cost in America is between $8,000 and $12,000. Unfortunately for some consumers who need life insurance to cover funeral expenses, Colonial Penn does not offer $10,000 in coverage. If you are 71 years old or older, you cant buy $10,000 from Colonial Penn. You can from Gerber Life, AIG and Great Western.
As you can see from the chart shown above, Gerber Life and AIG and Great Western are priced lower than Colonial Penn. These rates certainly indicate that eliminating the agent advocate from the transaction does not save the consumer money.
Other red flags we discovered are the way Colonial Penn sells by the unit which is unlike any other insurance company and as explained above, very confusing. They also make a big deal out of their 30-day money back guarantee. Colonial Penn calls this the Try-it-on Period.  Sounds great but all life insurance policies offer this and call it the free look period.
If you happen to live in New York, your policy will be underwritten by Bankers Conseco Life Insurance Company.
Colonial Penn Rates
Colonial Penn Life Insurance has its own unique way of selling policies.
Life insurance rates are based on "units of coverage" instead of selling policies by face amount.
Life Insurance Starting at $9.95 per Month
Colonial Penn only sells guaranteed issue policies, which it sells by units of coverage instead of by dollar amount of coverage.
Selling insurance by "units" lets the company charge a simple price — $9.95 per unit, per month.
The problem with this approach is that the shopper may not know what a unit is worth — what they're getting for their $9.95 a month.
How Much Insurance Coverage Do You Get for $9.95 with Colonial Penn?
Actually, the value of a unit of coverage changes as you age.
For example, a $9.95 unit provides $1,669 in coverage for a 50-year-old. The same $9.95 unit provides only $418 in coverage for an 85-year-old.
As an 85 year old, if you buy the maximum, you could buy up to 15 units, which would cost $149.25 per month and you would get only $6,270 in life insurance coverage.
For reference, a 50-year-old in good health could buy a 20 year term policy for $500,000 from Banner Life Insurance and it would cost 83.15 per month.
Unless you are uninsurable, you will save money by purchasing a fully underwritten life insurance policy.
Is Colonial Penn Life Insurance A Good Deal?
The short answer, as you can probably tell, is no.
While you will not be denied coverage from Colonial Penn, you will pay more for your policy.
Colonial Penn's guaranteed acceptance drives up the prices you'll pay. If you're healthy, look elswhere for lower premiums and more coverage.
Colonial Penn Customer Reviews
The Better Business Bureau (BBB) currently gives Colonial Penn an A+ because the company responds to every complaint.
Still, the company has been sued countless times for various reasons.
As mentioned, the company offers a 30-day money-back guarantee if you change your mind about the coverage.
However, many customers don't become upset with their life insurance plan until a few years go by — long after the 30-day full refund period has expired.
Is Colonial Penn Life Insurance a Scam?
Despite my problems with Colonial Penn's marketing tactics, the company is not fraudulent. It's not part of a scam.
In fact, the company has a reputable past and is financially stable with an A.M. Best rating of A (Excellent).
Alternatives to Colonial Penn Life Insurance
Yes, having a Colonial Penn plan is better than having no life insurance at all, but it's still not the best choice.
Who do we recommend instead of Colonial Penn?
Here are 3 quality companies that offer guaranteed issue life insurance at lower rates:
Gerber Life
AIG
Great Western
Is Colonial Penn Life Insurance Best For You?
Colonial Penn only sells guaranteed acceptance life insurance policies that do not require a medical exam and do not ask health questions.
If you really do need guaranteed issue coverage, a Colonial Penn life insurance policy may be a quick and easy way.
But if you do not have a serious health condition, you can get coverage for less money — normally a lot less money.
Why Guaranteed Acceptance Insurance is Not Ideal
Insurance companies take a lot more risk with guaranteed acceptance.
Higher Risk = Higher Rates
Since it requires no medical exam and asks no questions about your health, Colonial Penn doesn't know whether you're at risk of dying next week or in 20 years. To stay in business, it has to assume everyone's high risk and charge accordingly.
If you're familiar with life insurance already, you know that your premiums are impacted by coverage amount and your health.
How Much Life Insurance Do You Need?
A Colonial Penn Guaranteed Acceptance policy will pay out only a fraction of the death benefit you could get with a medically underwritten term policy or even many whole life insurance policies.
So one of the first questions to answer is how much coverage do you need?
Many people buy a life insurance plan to provide financial stability for their loved ones after they die. The death benefit from your policy could pay off credit cards, pay off a mortgage or auto loan, or prepare for future needs.
If this is true for you, a Colonial Penn policy probably won't be large enough for you.
If you're buying life insurance for final expenses, you may need only $10,000 to $15,000 in coverage. A Colonial Penn policy could do the job, but as I said above, you could find better coverage for less if you're in average health or better.
Should You Buy Colonial Penn Life Insurance?
Like I said above, Colonial Penn may be fine for someone in poor health and who can't qualify for a better policy with another company.
The life insurance industry has many better options for people of average, good, or excellent health who don't smoke. Even shoppers with health problems can often find better coverage from other life insurance companies.
Famous spokespeople such Alex Trebek, Ed McMahon, and Joe Theismann help assure TV audiences Colonial Penn offers them the coverage they need.
These ads don't lie. Anyone ages 50-85 can qualify for this kind of life insurance. But they fail to mention Colonial Penn's high costs and low coverage amounts.
They also don't inform viewers that an independent life insurance agent could find them more coverage for less money — and with no waiting periods or medical exams.
There's a reason insurance agents call guaranteed issue the last resort for coverage.