The Land Rover Defender 110 V8 Is Fantastic, Actually
Some people were kind of salty about Land Rover reimagining the Defender a few years ago. They were mad that it was bigger and more modern and had features like independent suspension and infotainment. They lamented the new car's complexity, and while on some level, I get that nostalgia for a simpler past, the thing is that the new Defender is awesome and arguably a better vehicle in every way.
My First Car: Luke Evans and his Loaned Land Rover
Seriously. It's really good. Land Rover nailed the mix of rugged aesthetics with enough creature comforts to justify its price. It also did an excellent job of keeping it functional off-road but still really nice to drive on-road. This is especially true with the 2023 Defender 110 SE V8, which, despite being really pricey at over $107,000, is an incredible car to live with.
Photo: Land Rover
The beating heart of my test vehicle is its now-ancient, but always lovely 5.0-liter supercharged AJ133 V8. It's been around since 2009, and while it's on its way out, the 518 hp and 461 lb-ft of torque it produces still feel relevant, even if it will never really light your hair on fire. It's not slow or ponderous, but it never feels as eager to do anything as its power numbers would have you believe.
That engine is paired with a nicely-tuned eight-speed automatic transmission and full-time four-wheel drive with electronically selectable low-range. This thing is still a Land Rover, after all. In addition to its off-road hardware, you also get Land Rover's excellent terrain response system that lets you select the type of ground you're trying to traverse, and then let the SUV sort things out for you. It's very cool.
The Defender's suspension is, unsurprisingly, a height-adjustable air suspension system. It's really well-tuned here and offers excellent ride comfort and a huge range of height adjustment that makes getting into and out of the SUV a lot easier while also offering decent ground clearance when you leave the pavement.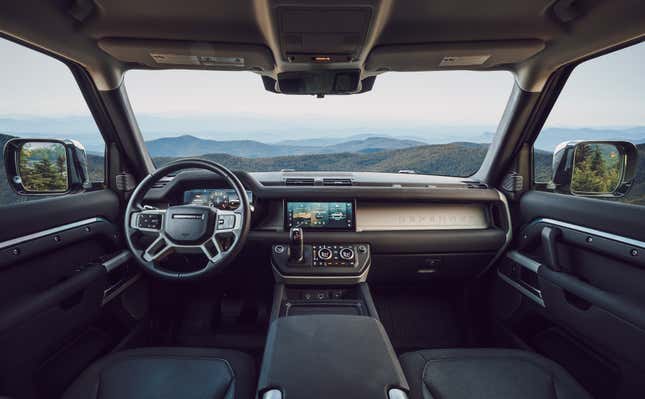 Photo: Land Rover
Apart from all its capabilities and the history of its nameplate, what sells me on the Defender is its presence. Presence in a Land Rover product is absolutely critical to its success, particularly in America. Buyers here can buy lots of cars that will do what a Defender or Discovery or Range Rover will do on or off-road, often for less money, but the reason that people go back to the brand is the way it makes you look and feel while you're in it.
The Defender has been successful here because, more than anything else in Land Rover's lineup short of the full-fat Range Rover, it gives that sense of being effortlessly better than the cars around it. It straddles that line of sophistication, style and capability that Land Rover really got right with the LR3 and LR4 models but lost with the fifth-generation Discovery. Driving the Defender, especially one with a velvety-smooth V8 burble, makes you feel special.
Would I necessarily trust this new Defender to get me across Africa and back? No, but I can't say I'd have trusted the old one to do that either. That's why people buy Land Cruisers, after all. But that's also not how most people use their SUVs most of the time, and the Defender feels like a car that understands that and has adapted accordingly. It pays homage to the past with enough winks and nods to be convincing without being completely accountable to it. If you want the most brutal, barebones SUV capable of climbing over anything, go buy a Jeep Wrangler or, even better, an Ineos Grenadier.