The W Series Hasn't Paid Drivers' Prize Money: Report
What is a championship trophy worth without any prize money?Photo: Dan Istitene (Getty Images)
A racing driver's road to Formula 1 is rough and costly. Nearly every driver on the junior ladder has to pay their teams to compete, and the vast majority of drivers are also male. W Series aimed to flip the script by recruiting a field of drivers to compete in a fully-funded championship for a $1.5 million prize purse. However, the women's-only series ran into financial difficulties which cut its 2022 season short and led to the organization's bankruptcy early this month. Now, several drivers have stated that they haven't received any prize money for last season.
Broadway Star Wendell Pierce Is a True Formula 1 Fan
Alice Powell and Abbi Pulling confirmed to TopGear.com that they didn't receive any prize money for their results in the 2022 season. Powell is owed $125,000 for her third-place finish in the championship. Pulling is owed $100,000 after she secured fourth in the standings. TopGear.com also reports that Jamie Chadwick hasn't been paid $500,000 for winning her third consecutive W Series championship. Other drivers have been hesitant to speak out worrying that it would damage their future career prospects in motorsports.
W Series entered administration in the United Kingdom earlier this month, an insolvency procedure similar to bankruptcy in the United States. There is a search underway to find a prospective buyer to salvage the unique competition. The sale proceeds would then be used to pay creditors, presumably including the drivers. Again, that would only happen if a buyer is found and it's decided to pay out prize money.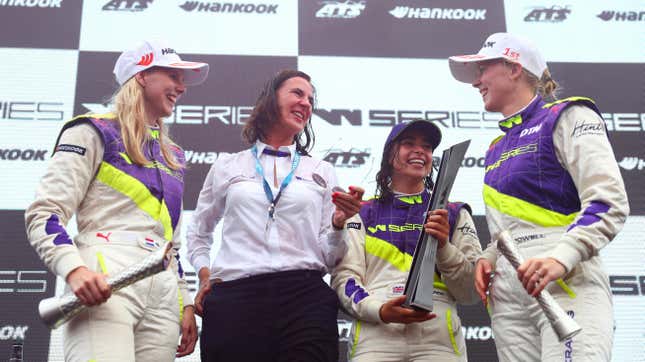 Photo: Dan Istitene (Getty Images)
While the prospect of W Series being revived is appealing to its dedicated core of fans, the competition is flawed as a commercial product. The competition aimed to capitalize on the swell of new young F1 fans and investment into women's sports while somehow overcoming the obvious shortfalls of its position in the racing landscape.
W Series was openly a developmental series. It was positioned to develop and advance female drivers up the ladder to Formula 1. It also needed to be an attractive product from television broadcasters and corporate sponsors, but the drivers are the most marketable aspect of any racing series. How was W Series supposed to be financially sustainable while hoping its best talent moved on toward F1 as quickly as possible?
The demise of W Series isn't surprising, but it's definitely disappointing. Formula 1 has created F1 Academy to fill the void, but it was originally intended to serve as a cost-controlled feeder category for W Series. Driver development isn't financially self-sustaining, and the demographic makeup of the drivers who make it to F1 unless vested interests at the top want to spend the money to change it.