We Want A Worry-Free Car With A Balance Of Power And Payload! What Should We Buy?
Jon and his wife share their time between Abu Dhabi and a new home in Charlotte, NC. They are tired of renting cars when they come back to the States and want a comfortable ride, with reasonable power, hauling capacity, and reliability. With a budget of about $25,000, what should they buy?
The 2025 Ram 1500 REV Electric Truck Promises 500 Miles of Range
(Welcome back to What Car Should You Buy? Where we give real people real advice about buying cars. Do you want us to help you find a car? Submit your story on our form.)
Here is the scenario.
My wife and I live in Abu Dhabi and we bought a small house back in North Carolina where her mom lives which serves as our home base (although we've never lived in NC full-time, we're Philly folks). We are back about twice a year for at least a few weeks at a time but during all seasons. We often borrow or rent a car (usually a small crossover or wagon) when we're back in the States, but sorting that first thing when we arrive is a hassle and we want to get something cheap and reliable for the time we're back.
We'd like something that has a decent payload, decent power, not too high off the ground (so her 89 y.o. mom can get in), very reliable – we want it to just be there, not be a headache in any way, comfortable seats for long drives (bad back), AWD or 4WD for east coast winter road trips, and good highway performance.
Looking to spend about $25,000
Quick Facts:
Budget: up to $25,000
Location: Charlotte, NC
Daily Driver: Yes
Wants: Reliable, decent power, ability to haul some stuff
Doesn't want: Something too expensive to maintain
Expert 1: Tom McParland – Buick To The Rescue
Image: Autotrader.com
Constantly lining up car rentals when you are back in town can be a hassle and expensive in the long run, so there is comfort in knowing that you have reliable transport ready. There is a solid selection of quality crossovers and compacts for around $25,000, but the tricky part is that you probably want a bit more punch than most of the four-cylinder motors are offering, since they tend to be optimized for maximum fuel economy.
However, there is one car that checks all of your boxes if you are willing to try what is a bit of an odd-duck. The Buick Regal TourX was GM's answer to the incredibly popular Subaru Outback, but in typical GM fashion, the automaker did a poor job of marketing the car and had a strange bundling of option packages. It was a really good wagon that is essentially a re-badged import from one of GM's international brands. Under the hood is a two-liter turbo-four that makes a respectable 250 hp. It's not a rocket ship, but that's plenty of punch for highway passing. The storage capacity is massive, making this wagon perfect for long road trips and of course, the seats are super comfy, as you would expect from a Buick. In terms of reliability, Buick models tend to hold up pretty well, and due to the GM parts bin service should be pretty easy.
The only real downside to these cars is that they can be a bit rare, especially in that mid-$20,000 price range, but I did manage to find one with about 50,000 miles not terribly far from you in Myrtle Beach.
Expert 2: Collin Woodard – Become a Van Man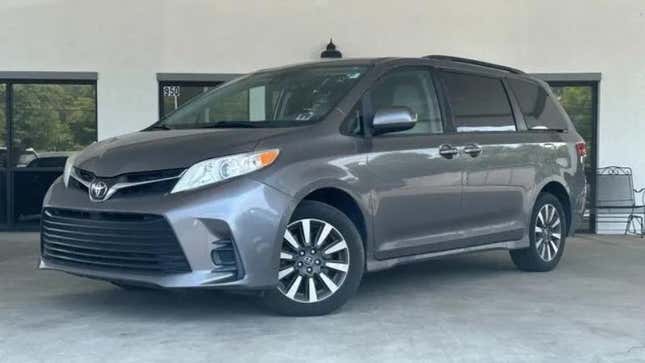 Photo: Brandon Reeves Auto World
I'm not going to lie, Jon. The Buick Regal TourX is a lot cooler than what I'm about to recommend. Normal people may not think a Buick station wagon is cool, but enthusiasts will love it if you show up in a Regal TourX. If you want something practical with enthusiast cred, that's the way to go. But do you really trust a Buick to sit for most of the year and then be dependable and reliable on an East Coast winter road trip?
If you do, more power to you. But I'd argue what you really want is a Toyota. But not a RAV4 or Highlander. Those are too obvious. Instead, I say get an all-wheel-drive Sienna. Yes, a minivan, even though you don't mention having kids. Siennas are road trip warriors that will eat up the miles comfortably and reliably, and even better, it's going to be super easy for your mother-in-law to get into the second row. If she ends up needing to travel with any medical equipment, you'll have plenty of room for it. If she ends up needing a wheelchair, you can easily just toss it in the back
It'll be useful for more than just road trips and carting around your MIL, too. If you show up in Charlotte for a visit and notice that something's broken while you were out of town, you'll be able to use your minivan like a truck to bring home that new washing machine, plywood, flooring or anything else your local Lowe's has that you need. Minivans are just that practical. Plus, it has a V6 that makes nearly 300 hp, which is more than you'll get in the Buick.
Since Toyota's made the Sienna for so long, you shouldn't have a problem finding one in your area for less than $25,000. Basically, just buy the nicest one that fits into your budget. One possible option among many is this 2020 Sienna that's been driven a lot over the past three years but should still have plenty of life left in it. It's also probably a lot newer than most of the other Siennas in your budget. But if that's too many miles for you to stomach in just a couple of years, I totally get that.
Expert 3: José Rodríguez Jr. – The Odd Duck Pickup Truck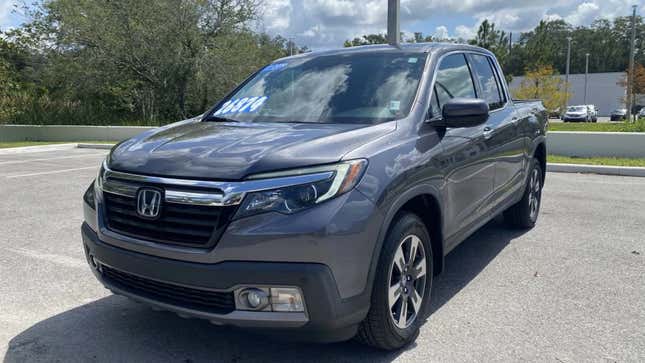 Jon, the first thing I thought of for you was the Ford Maverick. The little 'Mav checks most of your boxes, but the problem is going to be finding one within your budget. A new Ford Maverick ostensibly starts under $25,000, but good luck finding one without markups and other dealer shenanigans due to lower stock. In lieu of the Maverick, I'm going to recommend this CPO 2019 Honda Ridgeline, which comes in at just under your budget, though it's a bit far away.
The Honda Ridgeline is a truck for people who are more reasonable than susceptible to truck trends today. These people want reasonable towing capacity, reasonable payload capacity, reasonable performance, and reasonable fuel economy considering that the Ridgeline comes with a 3.5-liter V6.
All of this in a Honda, by the way, whose six-cylinder engines are reliable and beyond reproach. Not to mention, the Honda Ridgeline will be an extremely comfortable ride — much more, at least, than other comparable trucks. Well, it may not be easy to compare, since the Ridgeline is unlike most other pickups. Detractors would say it's unlike most others in a negative way, but they would be wrong. The Ridgeline will make for a comfy, reasonable hauler on the highway and still make for a fantastic family car.