Zalma's Insurance Fraud Letter – August 15, 2022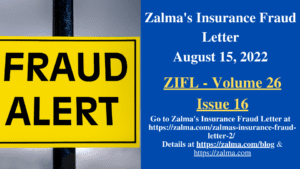 ZIFL Volume 26, Issue 16
See the full video at https://rumble.com/v1fv6q7-zalmas-insurance-fraud-letter-august-15-2022.html and at https://youtu.be/lnmoKpDhBp8
How the UK Deals with the Scheme
Timothy Schools, 61, a corrupt non-litigating lawyer called a "solicitor" in the U.K. who lived a life of luxury on an estate in Cumbria as he fleeced investors out of more than £25m is facing jail.
Southwark Crown Court heard how Schools, ran a scheme financing loans to law firms in "no win no fee" cases between December 2008 and October 2012. The jury reached a verdict on the case only after 28 hours' deliberation.
Schools will be sentenced at Southwark Crown Court on Thursday 18th August and remains in custody until that date. Judge Beddoe was quoted as saying to Schools: "I simply don't trust you to turn up. I refuse bail and you will remain in custody until Thursday."
Insurers licensed or operating in California must file their SIU annual reports by Wednesday, Sept. 28, Insurance Commissioner Ricardo Lara reminded insurers recently.  Failing to file by the 11:59 pm deadline may lead to fines or other regulatory actions. Information about the annual report requirement is available on the CDI website. Insurers may access an electronic portal to file reports.
Insurers licensed or operating in California must ascertain that their entire claims staff has read, understood or be trained about the California Fair Claims Settlement Practices Regulations by September 1 of Each Year and be ready to swear under oath that the Regulation has been complied with by the insurer.
"California Fair Claims Settlement Practices Regulations 2022" which is now available as a Kindle Book and available as a Paper Back.
"Soft Fraud"
Insurance Soft fraud, of course, is a misnomer. Fraud is fraud – a misrepresentation or concealment of material fact, made to deceive an insurer, that actually deceives the insurer to its detriment. Those who use the term "soft fraud" attribute it to fraud of opportunity – like adding to a legitimate claim to recover deductibles or premiums paid over the years – while "hard fraud" is fraud that is pre-meditated.
In the U.S., fraud attempts have risen about 22%, an amount much lower than the global average but still on plus side.
Weston Property & Casualty Insurance Co. is insolvent and should be placed into receivership, making it the fifth Florida property insurer this year to be dissolved, according to state regulators.
The Florida Office of Insurance Regulation  (OIR) on August 2, 2022 filed notice with the Department of Financial Services that the 10-year-old Weston, with about 22,000 policies in the state, "is insolvent or about to become insolvent," and DFS should initiate delinquency proceedings.
For example: Inform Diagnostics Agrees to Pay $16 Million to Resolve False Claims Act Allegations of Medically Unnecessary Tests
Inform Diagnostics, Inc., (Inform) formerly known as Miraca Life Sciences, Inc. (Inform), has agreed to pay $16 million to resolve allegations that it submitted false claims for payment to Medicare and other federal health care programs. 
Inform is a clinical laboratory headquartered in Irving, Texas, that provides anatomic pathology services to physician practices throughout the United States. On April 27, 2022, Fulgent Genetics purchased Inform, and the company is now a wholly owned subsidiary of Fulgent Genetics.
For example: Wellman Dynamics, a Creston company that manufactures large metal castings used by military contractors including Bell Helicopter, Sikorsky Aircraft and Boeing Co. will pay $500,000 in restitution to the U.S. government to settle  allegations that the southwest Iowa company that makes metal castings used by military contractors in helicopters and other equipment has reached a settlement in a lawsuit alleging the company failed to test the castings and falsely certified test results over seven years.
In Fremont Indemnity Co. v. Superior Court (1982) 137 Cal.App.3d 554, 559, 187 Cal.Rptr. 137 the Court of Appeal concluded that the privilege against self-incrimination as to factual issues, especially application of arson exclusion, waived by filing suit over rights under fire insurance policy.  The reasoning of cases such as these is that "'[t]he gravamen of [the] lawsuit is so inconsistent with the continued assertion of [a] privilege as to compel the conclusion that the privilege has in fact been waived.'"
While the Fifth Amendment privilege of a criminal defendant is absolute, a party or witness in a civil proceeding "may be required either to waive the privilege or accept the civil consequences of silence if he or she does exercise it. [Citations.]" There is a broad range of civil sanctions that may be imposed on a litigant who asserts his or her Fifth Amendment right, but the severity of such sanctions generally depends on whether the party invoking the privilege is the plaintiff or the defendant. Where the plaintiff in a civil action claims the privilege and refuses to testify, the court may dismiss the action on the basis that "`[o]ne may not invoke the judicial process seeking affirmative relief and at the same time use the privileges granted by that process to avoid development of proof having a bearing upon his rights to such relief.' [Citation.]" [Gunderson v. Wall, B204268 (Cal. App. 11/17/2009) (Cal. App. 2009)]
Some Common Types of Health Care Fraud
Fraud Committed by Medical Providers
Double billing: Submitting multiple claims for the same service
Phantom billing: Billing for a service visit or supplies the patient never received
Unbundling: Submitting multiple bills for the same service
Upcoding: Billing for a more expensive service than the patient actually received
Fraud Convictions In Detail
Barry Zalma, Esq., CFE
Barry Zalma, Esq., CFE, now limits his practice to service as an insurance consultant specializing in insurance coverage, insurance claims handling, insurance bad faith and insurance fraud almost equally for insurers and policyholders. He also serves as an arbitrator or mediator for insurance related disputes. He practiced law in California for more than 44 years as an insurance coverage and claims handling lawyer and more than 54 years in the insurance business. He is available at http://www.zalma.com and zalma@zalma.com.
Over the last 54 years Barry Zalma has dedicated his life to insurance, insurance claims and the need to defeat insurance fraud. He has created the following library of books and other materials to make it possible for insurers and their claims staff to become insurance claims professionals.
Barry Zalma, Inc., 4441 Sepulveda Boulevard, CULVER CITY CA 90230-4847, 310-390-4455;
Subscribe to Zalma on Insurance at locals.com https://zalmaoninsurance.local.com/subscribe. Subscribe to Excellence in Claims Handling at https://barryzalma.substack.com/welcome. Write to Mr. Zalma at zalma@zalma.com; http://www.zalma.com; http://zalma.com/blog; I publish daily articles at https://zalma.substack.com, Go to the podcast Zalma On Insurance at https://anchor.fm/barry-zalma; Follow Mr. Zalma on Twitter at https://twitter.com/bzalma; Go to Barry Zalma videos at Rumble.com at https://rumble.com/c/c-262921
Like this:
Like Loading…
Related