Zalma's Insurance Fraud Letter – January 1, 2023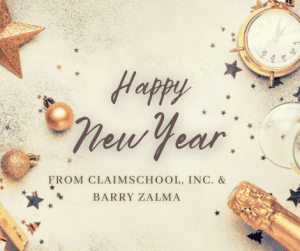 See the full video at https://rumble.com/v22yi88-zalmas-insurance-fraud-letter-january-1-2023.html  and at  https://youtu.be/MTvEb1uU8pE
The Source for the Insurance Fraud Professional
Starting the 27th year of publication of Zalma's Insurance Fraud Letter, ClaimSchool, Inc., Barry Zalma and the Zalma family wish you a happy and prosperous new year.
Read the full pdf version of ZIFL at ZIFL-01-01-2023
Volume 27 Issue 1 contains articles including:
New Florida Statutes
The state of Florida proposed new statute to make insurance and insurance claims more fair is over 105 pages available at https://www.flsenate.gov/Session/Bill/2022A/2A/BillText/er/PDF.
Lawmakers in Florida passed legislation to abolish controversial assignments of benefits on property claims, eliminate the one-way attorney-fee recovery provision that is unique to Florida law, and require that binding appraisals included in a policy be stated in a separate endorsement and include a premium reduction. Bad-faith litigation for failure to settle a property claim also may not be filed until after a court determines the insurer breached the contract and a final judgment is rendered against the insurer. Other provisions include shortening the time period to file property claims from two years to one, and requiring insurers to reduce the period to pay or deny a claim from 90 days to 60. Anyone insured with the state's Citizens Insurance must also carry flood insurance. The provisions become law when signed by the Governor, which is expected as early as today. For those wishing more information on the new law, Coalition Against Insurance Fraud law firm member Greenberg Traurig has provided a detailed summary.
Read the full pdf version of ZIFL at ZIFL-01-01-2023
Report From the California Department of Insurance About New Law Relating to Fraud

A press release from the California Department of Insurance edited to report only new laws relating to insurance fraud:
Beginning January 1, 2023, Californians will benefit from newly created consumer protections as eleven new state laws sponsored by Insurance Commissioner Ricardo Lara this past legislative session take effect. The new laws address climate change, expand health access and reproductive care, preserve health protections, protect against fraud, and ensure public safety.
"Protecting consumers is my number one priority," said Commissioner Lara. "Partnership with the Legislature and Governor Newsom is essential to my Department's mission of bringing fairness for all in our oversight of the nation's largest insurance market. I look forward to putting these eleven new laws into effect while taking further actions that benefit California consumers."
Read the full pdf version of ZIFL at ZIFL-01-01-2023
How to Add to the Professionalism of Insurance Claims Professionals
Scot Strems Disbarred & Public Adjuster Facing Loss of License
Florida Lawyer Who Used Cappers & Runners to Build a Practice Failed to Serve the Clients
The Supreme Court of Florida on December 22, 2022, disbarred attorney Scott Strems who it found guilty of professional misconduct. You can read the full opinion here. The court's reasoning included:
Strems was the sole partner and owner of the Strems Law Firm, P.A. (SLF), and the firm's caseload grew significantly from its inception. By 2016, the firm had only three litigation attorneys, with each managing approximately 700 cases. SLF's inadequate staffing and lack of sufficient office procedures resulted in client neglect, case dismissals, frustrated judges, and costly sanctions on a near weekly basis.
Read the full pdf version of ZIFL at ZIFL-01-01-2023
Health Insurance Fraud Convictions
Woman Sentenced In Death Of 86-Year-Old
Letticia Martinez, 28, pleaded guilty to neglect in the death of a resident at the Cappella Assisted Living and Memory Care facility in Grand Junction. She was sentenced to three years' probation, 100 hours of community service and 30 days in jail.
An investigation by the Medicaid Fraud Control Unit of the Colorado Department of Law and the Grand Junction Police Department found that Martinez, Jamie Johnston, 31, and Jenny Logan, 52, were responsible for the death of Hazel Place on June 14, 2021, after she was left outside alone in the heat for six hours.
Martinez pleaded guilty to one count of caretaker neglect, a class 1 misdemeanor, and to a deferred sentence of negligent homicide, a class 5 felony. Johnston and Logan's cases are ongoing.
This is followed by dozens more reports of health insurance fraud convictions.
Read the full pdf version of ZIFL at ZIFL-01-01-2023
The Genuine Dispute & Fairly Debatable Doctrines
Defenses to the Tort of Bad Faith
Insurers in states where the tort of bad faith exists (almost every state) who deny fraudulent insurance claims with fear and trembling. The specter of punitive damages has worked to make multi-millionaires of many insurance criminals who convince insurers to settle rather than take a chance on a trial of a suit alleging the insurer acted in bad faith. Every person working on a potential fraudulent claim must understand this important defense to the tort of bad faith.
Read the full pdf version of ZIFL at ZIFL-01-01-2023
Other Insurance Fraud Convictions
Buffalo Bus Driver Gets 5 Years Probation for Workers' Compensation Claims Fraud
Antoinette Laney of Kenmore, New York, a former bus driver for the Niagara Frontier Transportation Authority (NFTA) was sentenced to five years of probation for fraudulently obtaining workers' compensation benefits by misrepresenting her injuries. She must also pay full restitution to the NFTA for money she was paid through workers' compensation.
Laney claimed that she was unable to perform her work as a bus driver at the NFTA and fraudulently obtained $30,212.69 in pay between September 2018 and February 2020 through workers' compensation benefits. The defendant initially claimed that she was unable to work due to a right knee injury, but later amended the claim to a lower back and left knee injury.
The district attorney's office said its investigation also revealed that Laney performed work through Instacart and Ebay while continuing to collect workers' compensation pay.
Laney pleaded guilty to one count of grand larceny on September 26, 2022. She was sentenced this week before Erie County Court Judge Kenneth Case.

Followed by many more other than health insurance fraud convictions.
Read the full pdf version of ZIFL at ZIFL-01-01-2023
It's Time to Subscribe to Locals or Substack
For Subscribers Only I Have Published Special Insurance Videos
I have published on Locals.com more than 25 videos and two webinars to subscribers and more than 400 free videos. I also published on Substack.com hundreds of free videos and webinars of the Excellence in Claims Handling Program available only to Subscribers. The subscribers have access to all the videos and a webinar on "The Examination Under Oath A Tool Available to Insurers to Thoroughly Investigate Claims and Work to Defeat Fraud" among others.
The videos start with the history of insurance and work their way through various types of insurance and how to obtain and deal with insurance claims.
Subscribe and receive videos limited to subscribers of Excellence in Claims Handling at locals.com https://zalmaoninsurance.locals.com/subscribe.
Subscribe to my publications at substack at substack.com/refer/barryzalma
Go to substack at substack.com/refer/barryzalma
Read the full pdf version of ZIFL at ZIFL-01-01-2023
(c) 2023 Barry Zalma & ClaimSchool, Inc.
Barry Zalma, Esq., CFE, now limits his practice to service as an insurance consultant specializing in insurance coverage, insurance claims handling, insurance bad faith and insurance fraud almost equally for insurers and policyholders. He practiced law in California for more than 44 years as an insurance coverage and claims handling lawyer and more than 54 years in the insurance business. He is available at http://www.zalma.com and zalma@zalma.com
Write to Mr. Zalma at zalma@zalma.com; http://www.zalma.com; http://zalma.com/blog; daily articles are published at https://zalma.substack.com. Go to the podcast Zalma On Insurance at https://anchor.fm/barry-zalma; Follow Mr. Zalma on Twitter at https://twitter.com/bzalma; Go to Barry Zalma videos at Rumble.com at https://rumble.com/c/c-262921; Go to Barry Zalma on YouTube- https://www.youtube.com/channel/UCysiZklEtxZsSF9DfC0Expg; Go to the Insurance Claims Library – https://zalma.com/blog/insurance-claims-library; and @Zalma on Truth Social.
Like this:
Like Loading…
Related