Zenvo's Aurora shows up at Monterey with stunning V12 motors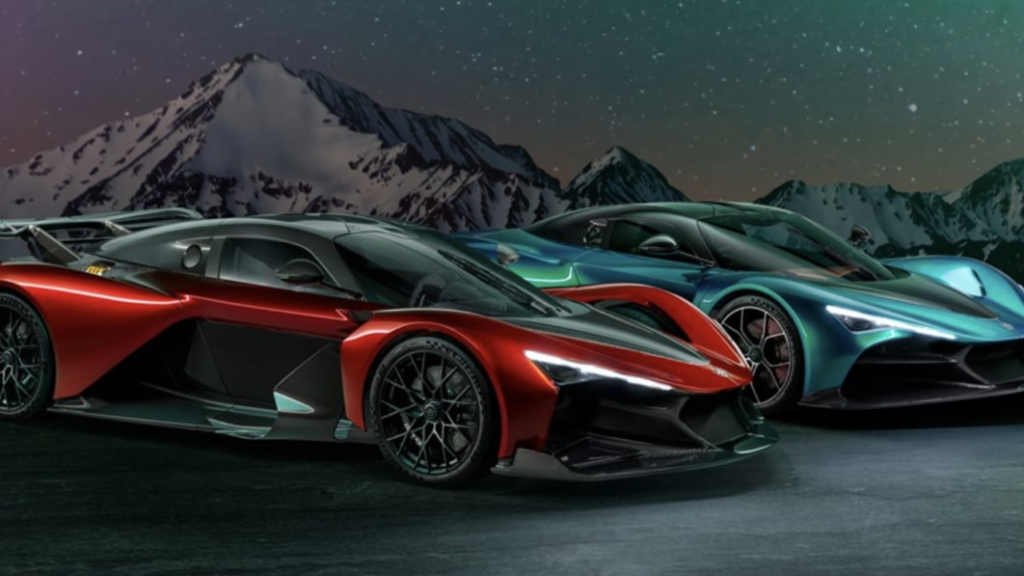 The Zenvo Aurora has arrived at Monterey Car Week, and it's being offered in two supercar flavors by the Danish car builder.
Both are being powered by a new V12, a 6.6-liter quad-turbo hybrid behemoth developed by the Germans at Mahle Powertrain. The all-wheel-drive Tur (for "touring") version puts out a total of 1,850 horsepower and 1,254 lb-ft. with electric motors on the front wheels, Tur reaches 62 mph in 2.3 seconds, and the top speed is 280 mph.
The more sedate, rear-wheel-drive track-variant Agil model has a single electric motor that brings the total output to 1,450 hp and 1,033 pound-feet of torque. The car hits 62 miles per hour in 2.5 seconds and 125 mph in 4.6 seconds. The top speed is 227 mph.
Both engines connect to a seven-speed gearbox that are set up differently depending on the model.
Zenvo says it won't make more than 100 cars total. Production of the Aurora cars begins in 2026, and prices start at the equivalent of $2.83 million.
Both variants have a severe, low-to-the-ground shape with an aggressive front end. The Agil has a large wing. "The chassis and the components of Aurora are all works of art, and we made a very definite decision that we did not want to hide these details away under a monolithic design," said Zenvo Chief Designer Christian Brandt.
Zenvo uses the same carbon-fiber monocoque chassis for both Agil and Tur, and both use the same basic push-rod double-wishbone suspension all around. The Aurora's powertrain, referred to as the ZM1, uses carbon fiber not only for the passenger cell but also the front and rear subframes. Both cars use 20-inch front and 21-inch rear center-lock magnesium wheels, and both come standard with Michelin Pilot Sport Cup 2 tires.
Extensive use of carbon fiber means the Agil model has a dry weight of less than 2,866 pounds, with the tri-motor Tur model clocking in at 3,197. ''You could argue that the most expensive parts of the development were the monocoque and the engine,' said Brandt. 'Being a small manufacturer, we can't just trash that in six years time or something – we've developed in a modular way where we can use it again for future projects."
The supplied photos show a sampling of the interior. One can spot a tiny infotainment screen on the left, a large tachometer in the center, and a combination fuel and battery gauge on the right.