Catastrophe bond market heading for record year in 2023: Aon Securities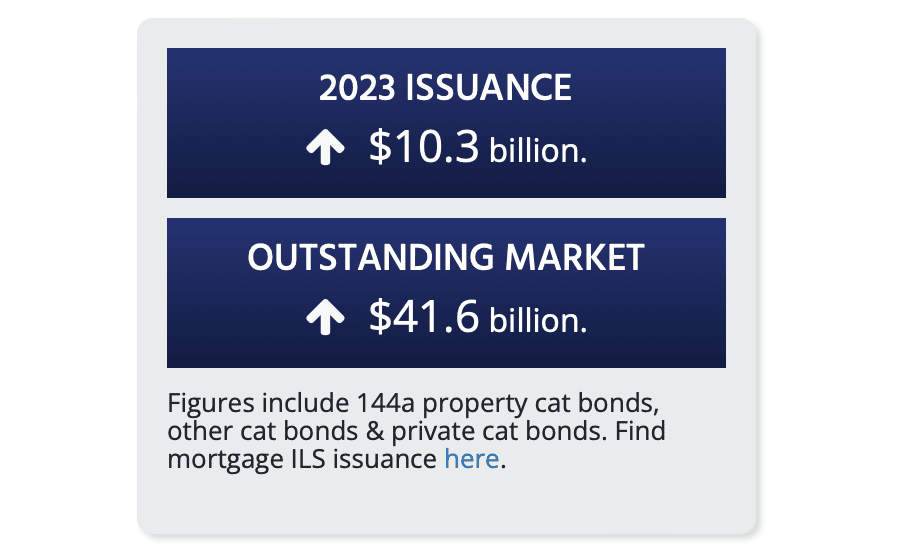 With significant new issuance volumes seen of late, the catastrophe bond market is tracking towards a record year in 2023, Aon Securities has said.

The investment banking and insurance-linked securities (ILS) specialist arm of the insurance and reinsurance broker believes full-year records could be set.
As we reported earlier this week, half-year records are already guaranteed, with Artemis' Deal Directory data showing that almost $9.7 billion of property cat bonds have been issued in the first-half, breaking the record for any half-year period.
Add in the cat bonds covering other lines of business and the private cat bonds that Artemis has tracked and the figure rises to over $10.3 billion, which is also a record for any half-year.
So a stunning start to 2023 and with investor demand still high and capital among cat bond fund managers having risen, the overall size of the market has grown and further expansion could be ahead.
At the half-year, the cat bond market has grown by almost $3.7 billion, which is not far off a 10% expansion of risk capital outstanding, taking Artemis' data.
Aon Securities said that, "As a result of significant new issuance volumes, 2023 is tracking towards a record year."
Aon's latest reinsurance renewals report was written prior to the end of the first-half, so does not yet include every cat bond that settled in June.
"While several deals are still being marketed at the time of this publication, we anticipate June will also close out one of the largest quarters we've seen with respect to total issuance volume historically," Aon Securities said.
Adding that, "In light of the above market dynamics, Aon Securities envisions a vibrant marketplace through the remainder of 2023."
The broker continued to say that the cat bond market has helped to make the mid-year reinsurance renewals more orderly.
"The rebound in the catastrophe bond market this year alleviated some demand-supply pressures at mid-year, with catastrophe bond capacity at an all-time high.
"The catastrophe bond market has grown with outstanding notional increasing by $3.8 billion in 2023 to date and continues to trend upward as widening spreads and heightened rates make insurance-linked securities an increasingly attractive asset class for investors. Recent deals have achieved significant capacity and favorable pricing at the low end of guidance," Aon explained.