Maserati GT2 turns the MC20 into a real race car
Maserati previewed a racing version of the MC20 super car last year, and now it's finally showing the real thing. The car has dropped the MC20 name altogether, becoming just the Maserati GT2. That's a bit odd, considering it's still an MC20 at its core, but regardless, the race car is still pretty sweet.
Significant exterior changes have been made to become a GT2 race car. Vents, louvres and intakes are all over and much larger. It's all in service of increased downforce, as well as increased cooling. And besides adding more holes, the GT2 features a flat undercarriage, bigger diffuser and a giant adjustable rear wing.
The carbon fiber chassis is the same as the MC20, and it continues to use double-wishbone suspension front and rear. But geometry has been updated, and it uses unique shocks, springs and anti-roll bars. And of course, they're all adjustable. Stopping power is provided by six-piston front calipers, four-piston rears, and ventilated steel rotors.
The engine is also pretty much what you would expect in a regular MC20, and Maserati even quotes the same 621 horsepower and 538 pound-feet of torque. But the output of the twin-turbo Nettuno V6 can be adjusted based on balance of performance needs for races. It also is capable of greater overall boost pressure and reduced back pressure in the opened-up exhaust. It does ditch the eight-speed automatic in favor of a six-speed sequential manual transmission, plus a competition-ready limited-slip differential.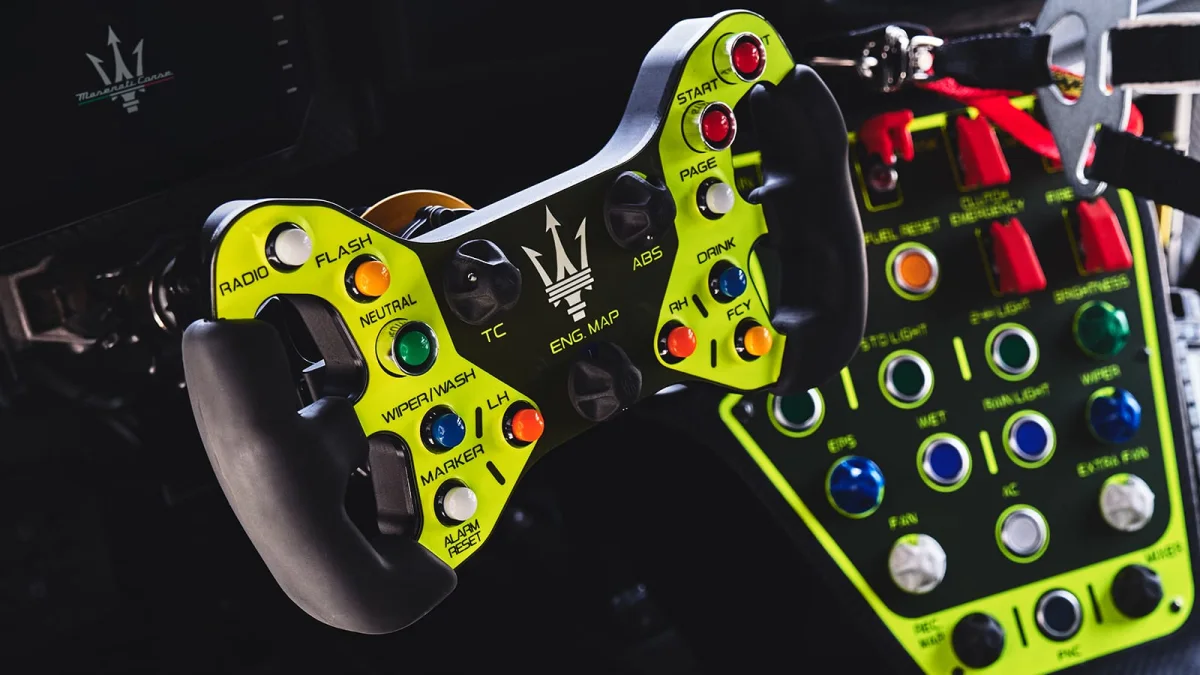 The interior is expectedly gutted. In place of the more luxurious MC20 cockpit, the GT2 gets race-spec seats, a multifunction steering wheel and control stack and a screen for instruments. It also has a roll cage and six-point racing harness. While many niceties are gone, the GT2 does still have air conditioning.
Maserati will be offering the GT2 to professional racing teams for regular competition and private owners for track and occasional racing use. The company expects the car to start appearing in the Fanatec GT2 European Series this year, with full-year competition starting next year.
Related Video: