Challenger Life grows insurance-linked portfolio 27%

Australian life insurance and retirement income underwriter and investor Challenger Life grew its insurance-linked strategies portfolio by roughly 27% over the last financial year.

Managing some AU $115 billion of assets, Challenger Life has been allocating to insurance-linked securities (ILS) and reinsurance related investments for a number of years, with investments on both the life and non-life side of the market.
Catastrophe bonds had been an initial focus for Challenger Life, as it looked for diversifying sources of income and return that were relatively uncorrelated to broader economic conditions and markets.
Explaining why it appreciates the returns it gets from non-life insurance-linked investments, Challenger Life had said back in 2019 that its catastrophe bond portfolio delivered particularly attractive relative returns for its business.
The life insurer and pension investor takes a sophisticated approach to measuring the performance of its alternative assets, looking at their return relative to the capital required to support an investment in them.
Here, ILS and catastrophe bonds featured particularly strongly, as its highest returning asset class relative to the capital requirements needed to support it.
So, that's the rationale, and Challenger Life has grown its non-life insurance-linked investments in the last year.
At the end of June 2021, Challenger Life reported that its general insurance investments were AU $155 million in size, and its life insurance investments were AU $100 million.
A year later, at the end of June 2022, the general insurance-linked investments portfolio had increased in size to AU $212 million, while life insurance investments were AU $112 million.
So the insurance-related investments portfolio, sitting in Challenger Life's alternative assets bucket, had increased by roughly 27%, from AU $255 million, to AU $324 million (roughly US $230 million).
Challenger Life said that increases in its alternatives bucket over the last year were partly driven by general insurance related investments, suggesting the investor may have allocated more to the ILS asset class over the last year.
Challenger Life is just one of the numerous pension fund and major institutional ILS investors we track in our directories here.
———————————————————————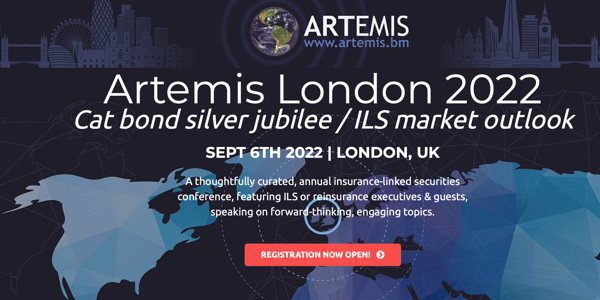 Tickets are selling fast for Artemis London 2022, our first ILS conference in London. Sept 6th, 2022.
Register soon to ensure you can attend.
Secure your place at the event here!
—————————————