Dover Firebombing: Post-Incident Report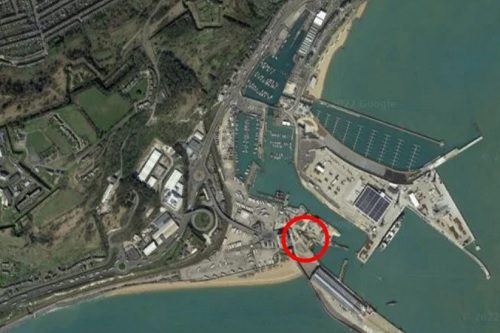 Authored by Pool Re
When: 11:20 GMT, 30 October 2022
What: 3 crude incendiary devices
Where: Dover, UK
Who: Andrew Leak; motivated by extreme right-wing ideology
Deaths: 0 (perpetrator consequently committed suicide)
Injuries: 2
Type: Fire-as-a-weapon attack
Exec Summary
On 30 October, a right-wing extremist attacked an immigration centre in Dover. The perpetrator threw homemade incendiary devices out of his car towards the target before taking his own life. There was limited property damage and no casualties resulted from the attack. Later confirmed by Counter Terrorism Police as an act of terrorism, this incident follows HMG's ongoing concerns of the increased threat posed by far-right extremism in the UK.
Incident: At 11:20 on Sunday 30 October, 66-year-old Andrew Leak drove up to the Western Jet Foil immigration centre in Dover before throwing up to three petrol bombs with fireworks attached towards the immigration facility. Leak subsequently killed himself; there were no other fatalities. Two members of staff within the facility suffered minor injuries. A fourth device was located within the attacker's vehicle and was later made safe by the Explosive Ordnance Disposal Unit. Almost a week after the incident, police confirmed it was an act of terrorism.
A Reuters photographer was at the site at the time of the incident and photographed Leak with a lighter in his hand throwing the petrol bombs out of the car window before they burst into flames. Leak then drove to a nearby petrol station where he killed himself in the car park.
It was later determined that the individual had driven 120 miles to the attack site on the morning of the incident. Searches of a property in High Wycombe found "a number of items of interest" and several digital media devices were seized. Whilst there are indications that mental health played a role, Counter-Terrorism Police South East (CTPSE) determined that the attack was primarily motivated by an extreme right-wing ideology. The incident was later confirmed as terrorism by CTPSE following the search of the perpetrator's home and interviews with significant witnesses.
Perpetrator: Leak was not known to Counter-Terrorism police or the security services prior to the attack. However, a Twitter account and now-deleted Facebook account belonging to Leak both contained anti-Muslim and anti-immigration rhetoric and demonstrated engagement with far-right online content.
CTPSE confirmed that Leak was acting alone and that no wider threat was posed to the public following the incident. Leak is assessed to have been a self-initiated terrorist (S-IT), acting without guidance or instruction from any particular group. This is consistent with HMG assessments that the current terrorist threat to the UK comes primarily from S-ITs.
This attack comes amidst an evident increase in right-wing extremism within the UK. In 2021, over 40% of terrorism related arrests were related to suspected extreme right-wing terrorism. Whilst the number of successful far-right attacks in the UK has remained low, of the 32 plots foiled by security services between 2017 and 2021, 12 were motivated by an extreme right-wing ideology, demonstrating the growing intent for violence from those in the far right. 
Tactics: The rudimentary construction of the incendiary devices – small plastic petrol containers with fireworks attached – demonstrates the low complexity of the plot. This follows the recent trend of low-sophistication terrorist attacks in the UK. Fire-as-a-weapon requires very little prior training or planning.
Fire-as-a-weapon can be used as part of a complex attack to complicate the emergency and security services' response to an event. Fire and smoke may be used to disorientate first-responders, slow their response time to a target, create structural hazards in the surrounding area, and potentially increase the number of casualties that need responding to. As a result, fire-as-a-weapon may cause considerable casualties and property damage that leads to long-term interruption for impacted businesses. Following the 2017 Borough Market attack, police found 14 petrol cans and four constructed petrol bombs in the perpetrators' van. It is likely that these were intended to be used on nearby sites, including Borough Market, and illustrate the possible use of Fire as a Weapon to increase the number of casualties, damage caused, and possibly delay the security services' response to the event.
An example of a Fire-as-a-weapon attack in the UK is the arson attack at a police firearms training centre in Portishead in 2013. The group, "Angry Foxes", attempted to burn down the £16m police training centre, leading to a claim of almost £11m which was subsequently paid by Pool Re.
Target: Leak's chosen target illustrates the continued desire of right-wing extremists to target ethnic minorities and immigrants in the UK. As a result of the ongoing immigration crisis, such centres are likely to remain at the forefront of national news and therefore may be deemed as inviting targets by such actors.
Lessons Identified
Andrew Leak was able to build incendiary devices through the purchase of precursor materials that were available to him over the counter. The use of fire-as-a-weapon, particularly in the form of crude incendiary devices, will likely continue to pose a threat to the UK in the near future. Due to the ease at which an actor can purchase precursor materials and the limited knowledge or planning necessary to construct a device, it is incredibly difficult for security services to identify fire-as-a-weapon attack preparations.
Although the devices did not cause any notable property damage or severe injuries, it is likely that Leak aimed to start a larger fire which would have likely resulted in property damage and possible business interruption for nearby businesses.
The incident in Dover also supports the view that increasing right-wing arrests in recent years is a precursor to right wing activities manifesting into violence. Despite there being a recent trend of younger individuals being drawn into right-wing extremism, Jonathan Hall KC, the UK's independent reviewer of terrorism, noted that older men are more likely to execute such plots successfully. As Hall suggests, children may be more likely to give away their attack plans, be less capable, or show a lack of intent to go through with an attack.