How does comprehensive car insurance work?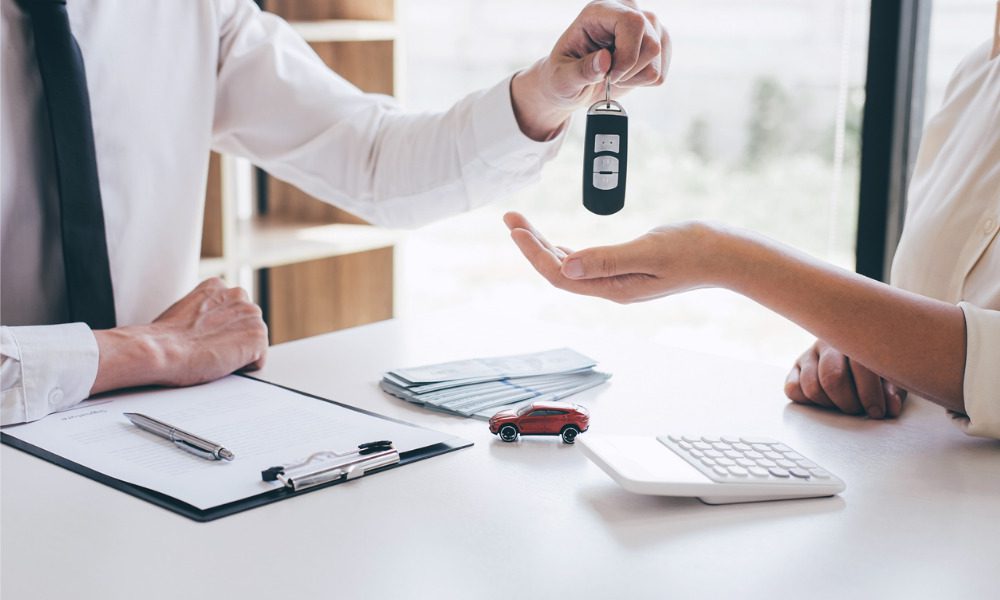 How does comprehensive car insurance work? | Insurance Business America
Guides
How does comprehensive car insurance work?
Comprehensive car insurance is among several auto policies that cover vehicular damage. But how exactly does it work? Find out in this guide
Comprehensive car insurance is among the several types of policies that protect you financially if your vehicle gets damaged. This form of coverage is not mandatory; whether it suits you depends on your personal preferences and circumstances.
So, how does comprehensive coverage work and when do you need it? How does it differ from collision insurance? How about full coverage? Can you purchase it as a standalone policy? Insurance Business answers these questions and more in this guide.
A comprehensive car insurance policy covers the cost of repairing or replacing your vehicle if it is lost or damaged because of non-traffic-related accidents. These include man-made incidents such as arson, theft, and vandalism, and natural disasters like hailstorms and hurricanes.
It doesn't pay out if your car collides with another vehicle or object. That's why it is often called "other than collision" coverage.
Comprehensive coverage is not compulsory, although car dealerships, banks, and other lenders require it if you're financing or leasing your vehicle.
If you own your car outright, taking out the policy is entirely up to you.
Auto insurers often package comprehensive car insurance with collision coverage, but some carriers give you the option to take out either one. However, both cannot be purchased as standalone policies. You will need to add them to your existing car insurance, which should carry all state-mandated coverage.
Comprehensive insurance can cover not just your car, but also other types of motorized vehicles. These include boats, motorcycles, RVs, and yachts. Your policy will pay out for your vehicle's actual cash value (ACV). This is the market value of your car before an accident occurs.

Just like many types of policies, comprehensive car insurance comes with a deductible. An insurance deductible is the amount you need to pay for coverage before your auto insurer picks the tab. This often comes in $500 increments, so you can choose from $500, $1,000, $1,500, and so on. 
Let's say you picked a $1,000 deductible, and your car was later struck by a huge tree branch causing $2,500 in damage. You will then be on the hook for the first $1,000 and your insurer will cover the remaining $1,500.  

A higher deductible means lower premiums as your insurance company takes on less risk. But you also need to make sure that the amount you select is something that you can afford to pay.
Comprehensive car insurance covers damage caused by unexpected non-traffic-related incidents. This means anything that isn't a result of a vehicle collision. Such events include:

Car theft
Civil disobedience such as riots
Damage caused by animals
Fire and explosions
Falling objects, including tree limbs
Glass breakage
Natural disasters such as earthquake and volcanic eruption
Vandalism
Weather-related events, including hailstorms, hurricanes, flooding, lightning, and tornadoes
If you're from Florida, you know how damaging weather-related events can be. Find out how auto coverage can protect you in this guide to car insurance in Florida.
Although comprehensive car insurance provides protection against an extensive list of incidents, it doesn't include what collision coverage and other types of auto insurance policies already cover. Among the exclusions from comprehensive coverage are:

Damage to your vehicle caused by a collision or potholes, which is covered under collision car insurance
Damage you caused to another person's vehicle, which is covered under property damage liability insurance
Injuries you have caused others, which are covered under bodily injury liability coverage
Your and your passengers' medical expenses incurred due to an accident, which can be covered by personal injury protection coverage, also called medical payments coverage in no-fault states
Legal expenses resulting from an accident, which are covered by your policy's liability coverage
Stolen property from your vehicle, which may be covered by your homeowner's or renter's insurance policy
Comprehensive car insurance also doesn't cover damage resulting from normal wear and tear.
If you swerve to avoid hitting an animal and strike a fence, comprehensive insurance will not cover the damage to your vehicle. Instead, this is covered under your collision insurance policy. 
The table below sums up what's covered and what's not under comprehensive auto policies.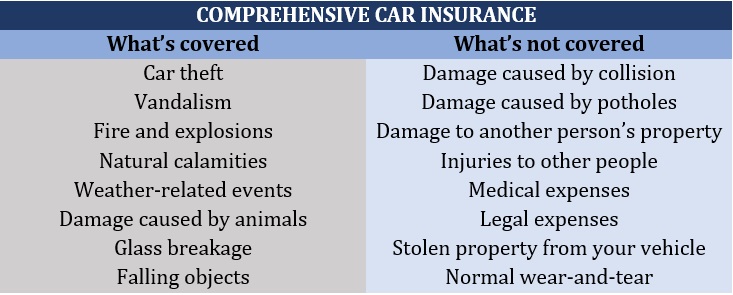 The main difference between comprehensive car insurance and collision coverage is what these policies cover.
As the name suggests, collision car insurance pays out for damages if you collide with another vehicle or object. It also covers damage caused by potholes or if your car rolls over.
Comprehensive policies, meanwhile, provide coverage for non-traffic-related damage or those not resulting from vehicular collision. That's why it is sometimes called "other than collision" coverage.  
Comprehensive coverage and collision coverage are often mistaken for each other because of their similarities. Both are optional. Both cover the cost of repairing or replacing a vehicle after an accident. Both also have deductibles that you need to pay before coverage kicks in. Both pay out the actual cash value of the vehicle. And both may be required if you're financing and leasing your car.
The table below sums up the differences and similarities between these two types of car insurance policies.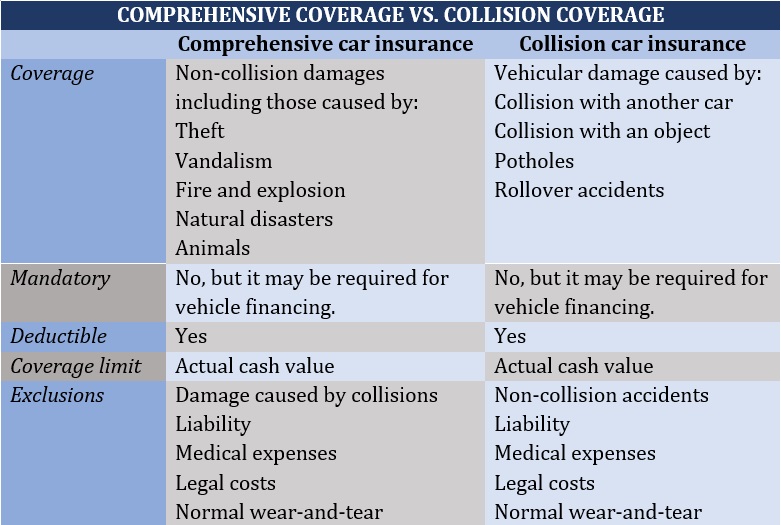 Comprehensive car insurance is also often confused with full coverage car insurance because of the terms used.
Technically, however, full coverage car insurance is not an actual policy.
Instead, it is a combination of state-mandated coverage – which can include liability, medical payments, and uninsured/underinsured motorist coverage – plus comprehensive and collision insurance. Combined, these policies provide you and your vehicle with full protection, thus the name.
Comprehensive car insurance costs about $174 annually, according to the latest data gathered by the National Association of Insurance Commissioners (NAIC). This is less than half of how much collision coverage costs, which is around $370.
These amounts are paid on top of your state's mandatory coverage. You cannot purchase comprehensive and collision insurance as standalone policies. Often, you will also need to purchase these policies together.
Just like other types of insurance, there are steps to follow when filing a claim under your comprehensive car insurance policy.
Let's say you ended up driving through a heavy hailstorm. While you were able to take yourself to safety, the storm caused serious dents and dings on your car's body. It also cracked your windshield badly.
Here are the steps to follow when filing a claim, according to the Insurance Information Institute (Triple-I).

Notify your insurer as soon as possible: Let them know about the damage. If you can, document the damage by taking photos. This can help your insurer in assessing the damage.
Access the company's mobile app to file a claim: Most insurers now have apps where you can report a claim, upload documentary evidence, and check your claim's status.
Find out what documents are required to support a claim: Generally, these include a "proof of claim" form and, for vehicular collisions, a copy of the police report.
Be aware of the deadline: Insurers impose strict timeframes for filing insurance claims. This is done to prevent fraud.
Find out if your policy covers rental cars: This is important if you need another vehicle while yours is being repaired.
Disclose all information the insurance company asks for: Fill in the claims forms carefully to avoid delays in processing. Keep "thorough and organized records" of anything related to your claim.
It also helps to always have the contact number of your insurance agent or broker. While a general phone number for the agent's office is good, having the exact phone number and extension of your agent helps facilitate the insurance claims process. 
Once you have successfully completed the steps above, a claims adjuster will inspect the damage and give you an initial estimate of the repair costs.
If you are fine with the estimate, your car will be taken to your insurer's preferred repair shop. The workshop will then notify you when your vehicle is ready for pick up.
Your insurer will shoulder the costs, subject to your coverage limits and minus the deductible, which you need to pay.
One drawback of filing a claim is that it can cause your renewal rates to go up. However, there are certain measures you can take to slash premiums. Find out what they are in this guide to cheap car insurance.
Car dealerships, banks, and other lenders set comprehensive car insurance, along with collision coverage, as a condition for your car loan. So, if you're leasing or financing your vehicle, there's no way around it. You need to take out coverage.
But if you already own your vehicle, the question of whether you need comprehensive coverage boils down to the value of your car and your financial circumstances.
If you own a high-value ride and cannot afford the cost of repairing or replacing it, then comprehensive insurance may be a smart investment.
On the flipside, if you have an older vehicle with low actual cash value, then getting coverage may not be worthwhile. You often need to purchase comprehensive insurance with collision coverage. These policies can drive up your annual auto premiums considerably. 
Comprehensive car insurance covers incidents that don't always involve your driving, and you have little control over. Another benefit of getting coverage is peace of mind. If these accidents happen, you have the financial cushion to help you get back on the road faster.
Comprehensive car insurance is just one of the many types of auto policies that can keep you and your vehicle protected. If you want to learn more about other types of auto coverage you can access, check out our extensive car insurance primer.
Do you think comprehensive car insurance is a smart investment? Have you experienced filing a claim against your comprehensive policy? How was it? Feel free to share your story below.
Keep up with the latest news and events
Join our mailing list, it's free!