2024 Acura ZDX: This Is It
Just over a decade after it was discontinued, the Acura ZDX has returned. It's not the swoopy, concept car-like crossover thing it once was, though. This time around it's a powerful performance EV that's helping usher in Acura's EV era.
The Future of Acura's Supercar Factory
The ZDX is the second Honda/Acura EV (the other being the Honda Prologue) that's a result of a partnership between Honda and GM. Using a platform developed by the two companies, the ZDX uses GM Ultium batteries. Beyond that, it tries to be an Acura through and through.
2024 Acura ZDX A-SpecImage: Acura
The 2024 ZDX will be available in two trims. Base ZDXs will be A-Spec. Acura says starting prices for the A-Spec will be in the $60,000 range. Customers will be able to choose between single-motor rear-wheel-drive and dual-motor all-wheel-drive configurations. This will get drivers 340 horsepower. Acura says that with a near 50/50 weight distribution, a low center of gravity, and multi-link suspension setup front and rear, the ZDX will deliver a "premium driving experience." That kind of setup should make for pretty decent handling.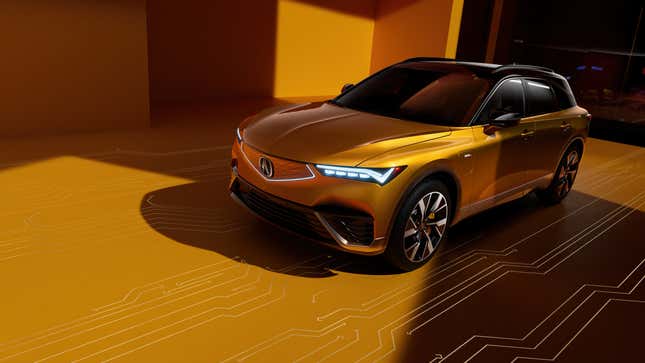 2024 Acura ZDX Type SImage: Acura
If you want all-out electric performance, the one to get may be the ZDX Type S. Pricing for the Type S will start in the $70,000 range. Acura says that the Type S elevates the ZDX's performance with every element, from acceleration to braking enhanced. Power output increases to 500 hp; there's also a height-adjustable air suspension with performance-tuned dampers.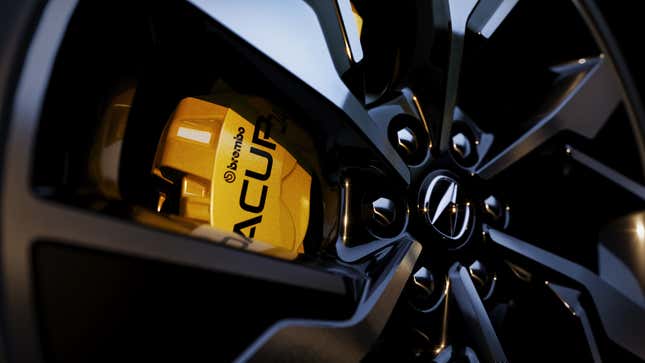 2024 Acura ZDX Type S brakesImage: Acura
Braking is handled by 15.6-inch Brembo brakes with bright yellow six-piston calipers. Those brakes sit within 22-inch wheels on 275/40ZR22 self-sealing tires; high-performance summer tires with black wheels are an option. And it wouldn't be a proper performance model without selectable drive modes.
Acura promises DC fast charging capability up to 190 kW with the ZDX. Acura says that using a fast charger for 10 minutes will fill the ZDX A-Spec's 102-kWh battery pack with enough juice for 81 miles of range in 10 minutes. Range varies depending on single- or dual-motor configuration. Acura says the A-Spec single motor will get 325 miles of range; you lose 10 miles of range if you go with the dual motor setup. The Type S' power and wheel size eats its range, meanwhile, only available in the dual motor configuration good for 288 miles of range.
Buyers will get access to a new online marketplace for charging installation called Acura Home Electrification. There, ZDX owners will be connected with local installers through a concierge called Expert Energy Advisors who Acura says are pre-vetted installers and help owners find one that best fits their needs. There's also an Acura app for finding charging stations and handling charging payments.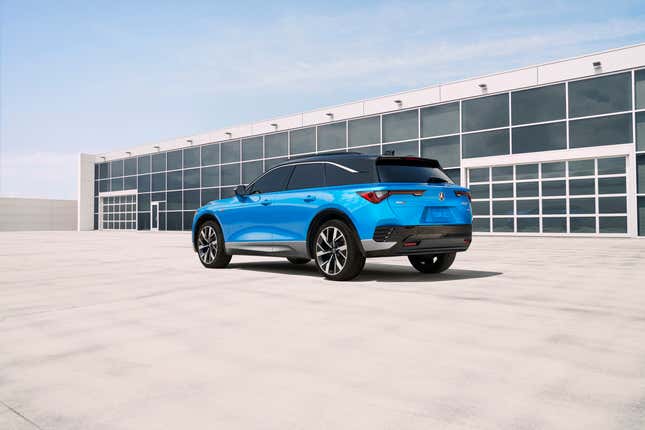 2024 Acura ZDX Type SImage: Acura
It's great to see that Acura stayed true to the Precision EV Concept's design. The ZDX's exterior is nearly identical to the concept save for the show car stuff like the light-up grille and pillar-less windows.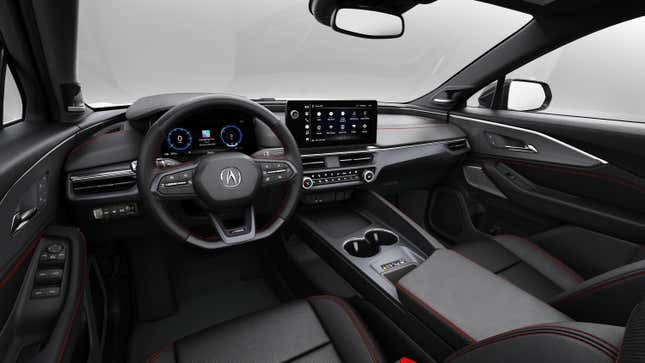 2024 Acura ZDX A-SpecImage: Acura
Inside is…nice. But not as impressive as the exterior and not nearly as impressive as the concept. Its not bad though. It's just a typical modern Honda/Acura interior that wouldn't look out of place in a CR-V or Accord. It's a bit surprising as it seems to be on a different page than the interiors of Acura's own TLX and MDX models, especially in their Type S trims. But all the usual tech you'd expect in an EV is there. There are 22-inches of total screen area inside: an 11-inch cluster for the driver and an 11.3-inch screen for the center stack. Apple CarPlay and Android Auto are both present as well as a native Google system for the infotainment. There's a suite of driver safety assistance systems as well as hands-free cruise tech Acura calls AcuraWatch 360+. There's also an 18-speaker Bang & Olufsen sound system.
Customer deliveries are expected to start in early 2024.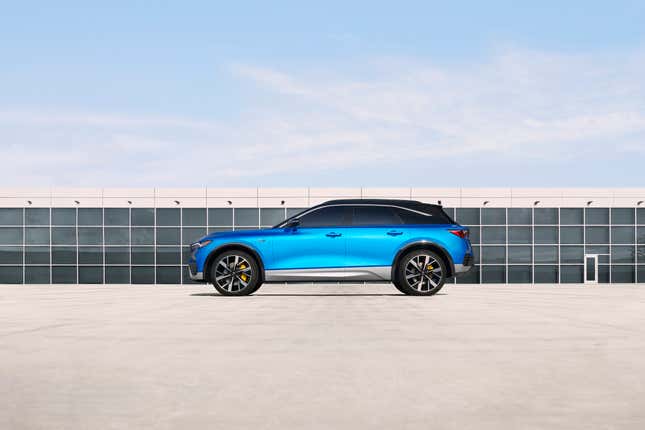 2024 Acura ZDX Type SImage: Acura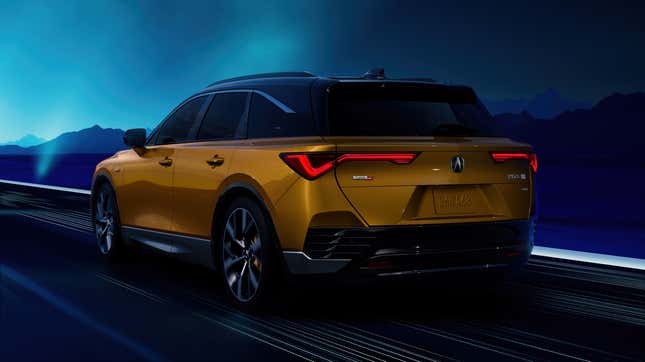 2024 Acura ZDX Type SImage: Acura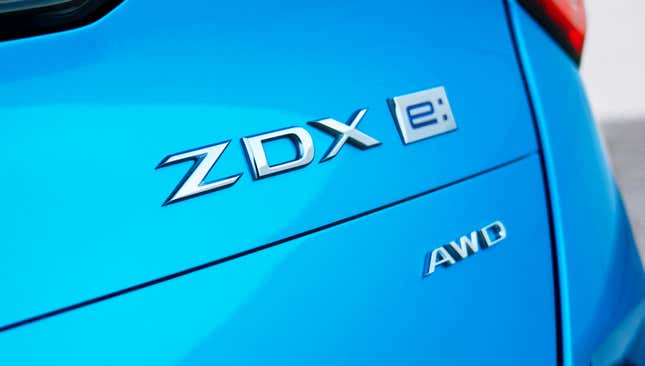 2024 Acura ZDX Type SImage: Acura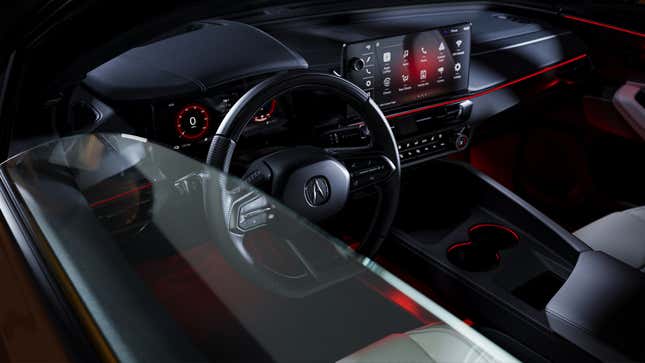 2024 Acura ZDX Type S interiorImage: Acura