Cybertruck cat bed is Tesla's latest strange merchandise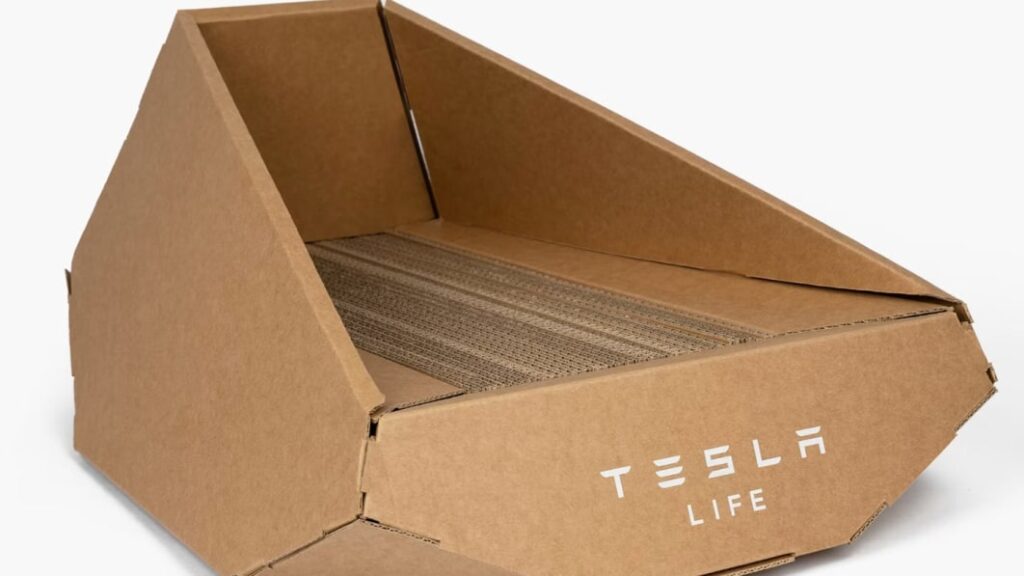 The Cybertruck cat box mimics the design of
Tesla's electric pick-up
truck.
Tesla
Tesla's newest merch is a "multifunctional cat nest" inspired by the Cybertruck's angular design.
Other Musk company merch has included flamethrowers, perfume, and surf boards.
Tesla says that the first Cybertrucks will be delivered to customers later this year.
A Cybertruck-themed cat box has joined the ranks of weird Elon Musk-company merchandise.
So far only for sale on the Chinese Tesla website, the "Cybertruck Multifunctional Corrugated Cat Nest" is made of cardboard with an angular shape apparently inspired by the design of the company's upcoming electric pickup truck. It has a weight capacity of 15 kilograms — about 33 pounds — to support even heftier cats, and is made of moisture-resistant cardboard.
Though he's still probably better known for selling cars and building rockets, Musk is no stranger to releasing strange or quirky merchandise.
Tesla has sold $250 tequila in a lightning bolt-shaped bottle after Musk tweeted about "Teslaquilla." The company famously sold red satin short shorts branded across the back with "S3XY" in a taunt to Tesla short-sellers. On the Tesla website now (though currently out of stock) is a Cybertruck-shaped dog whistle, which it's selling for 1000 Dogecoin.
Musk's Boring Company has also gotten in on the fun, selling flamethrowers in 2018 that have since become a collector's item. In October, the tunneling company launched a perfume called "Burnt Hair," describing the scent as "the essence of repugnant desire" — opinions were divided on this one when we passed the perfume around the Insider newsroom for a blind scent test.
The Cybertruck cat nest is one of the more affordable lifestyle items being sold right now on the Tesla site, listed for 89 Chinese Yuan, or about $13 USD. Pricewise, it even competes with the greater cardboard cat bed market — one of the more popular cardboard cat beds for sale on Amazon will run you about $20, while a cardboard hot dog truck for cats will cost you $38. Compared to the $100 giant Tesla-branded belt buckle or the $70 Tesla branding iron also for sale right now, it's downright cheap.
Buyers beware though, the product requires assembly. And after it's folded and put together, it can't be returned, according to the listing.