The Ferrari 550 Maranello Is The Last Truly Great Ferrari
I'm just going to come out and say it: the 550 Maranello is the last truly great Ferrari. It's also the only modern Ferrari I've ever wanted to own. That car's gated manual transmission and 478 horsepower 5.5-liter V12 mounted in the front are reason enough to love the "Tipo F133" in theory, but I'd always wondered what it would be like to drive.
Ferrari Recalls Thousands of Cars
In fact, growing up as a car enthusiast, I always dreamed of what it would be like to drive any Ferrari. I bet a lot of you did as well. I imagined it would be nosebleed-inducingly fast with epic brakes and a sharp racecar-like suspension. Then I drove one — a 488 Spyder – back in 2019 — and it ended up living up to all those expectations but didn't give me that fizzing feeling that I'd always expected. It was fast but numb.
Photo: Forest Casey/RM Sotheby's
Despite that experience, in all this time, there's been one Ferrari that's stuck with me and which I'd love to own. That's the 550 Maranello. In many ways, it's the antithesis of newer cars like the 812 or the SF90 with their stratospheric power outputs and alien hive-looking interiors. It's a simple car with a clear sense of purpose, and now, thanks to RM Sothebys, I've finally gotten the chance to drive one.
So, what is it like? If I had to describe the 550 Maranello in one word, it would be pleasant. Seriously, the car is relentlessly pleasant. The engine makes a pleasant sound without being over the top. The interior is a pleasant place to be with comfy seats and sensibly laid out (for a car developed in Italy in the 90s) controls. It's pleasant to look at, too. It's just really goddamned pleasant.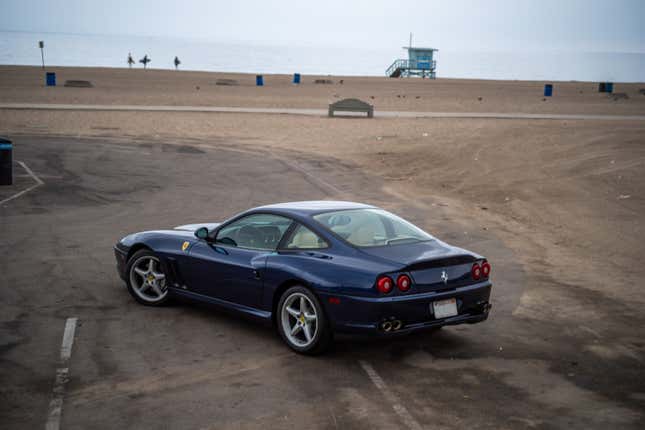 Photo: Forest Casey/RM Sotheby's
Being in LA, I see 550s and 575Ms not infrequently, and I will say that despite not being a particularly large or aggressively styled car by today's standards, it has real presence. The long, low hood that was designed before pedestrian crash standards were a big consideration, combined with the short rear overhang, gives the car classic sports car proportions. This particular example's gorgeous Tour De France Blue paint adds to that presence. After all, the best color for any Ferrari is pretty much anything that's not Rosso Corsa.
The car is low, but not so low that you'd scrape it everywhere. The wheels are beautiful five spokes shod in tires with actual sidewalls. This looks incredible and makes the ride a whole lot better than it would be with low-profile rubber. The side gills and hood scoop are functional and beautiful. I even love the asymmetric cooling vent on the left side of the car. The view from the rear is timeless, with no model badging, just the Cavallino Rampante and a Ferrari badge on top of the decklid. The four round tail lights will never look dated, nor will the quad-tip exhaust.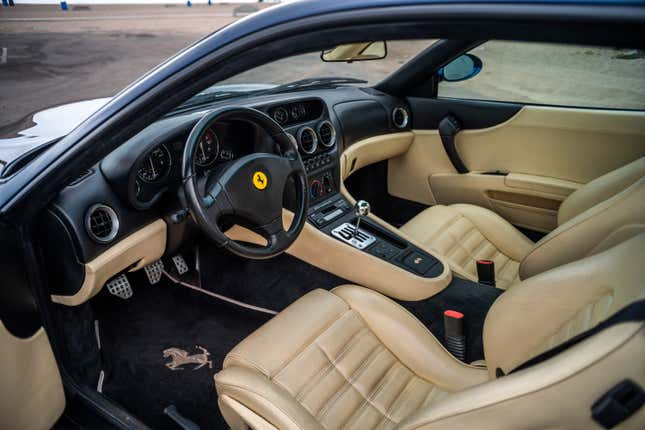 Photo: Forest Casey/RM Sotheby's
Inside, the car looks luxe but feels basic in a really wonderful way. There are no screens, and the gauges are clear analog units that give you all the data you could need on your drive. The only really dated part of the interior is the annoying beeping engine immobilizer Ferrari installed at the factory. Still, even that's not a big deal provided the battery in the fob isn't dead. Sinking down into the leather bucket seats reveals the car's purpose. The seats are soft but supportive and lack big bolsters, which makes it easy to get in and out of. This is a car for long drives, for crushing entire continents at a pace that seems to disprove the laws of physics. It's very, very comfortable. This car's super pale beige leather has aged nicely, showing some wear but not appearing thrashed. It works well with the TdF blue paint too. It's all elegant AF.
Visibility out of the car is good, which is a major plus in LA traffic. It's also another thing that I love about cars from this era. Sure, the car's roof will likely crumple like an empty beer can if you manage to flip the thing, but being able to see out of the vehicle is a great way to avoid accidents where ending up on the roof is a possibility.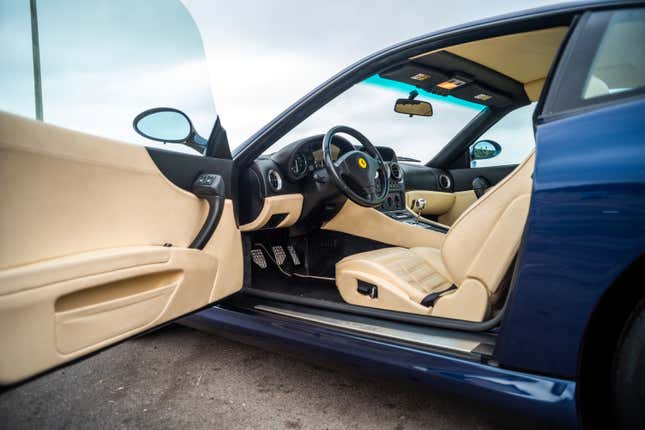 Photo: Forest Casey/RM Sotheby's
Once seated, and once that horrible beeping immobilizer has been sated, twisting the key reveals an engine that sort of insinuates itself into life. There's no massive shouty bark that will annoy your neighbors. It just turns over with a high-pitched starter motor sound, and then it's running. If it weren't for the low but powerful hum, you'd almost never know it was on; the engine is so smooth. Slotting the car into first gear when cold takes a little effort and is helped by a momentary dip into second. The clutch is heavy, but the take-up is smooth and pulling away from a stop in the 550 feels almost EV-like thanks to the smoothness of the powertrain.
Once moving, the car offers up a ride that's not overly soft or wallowy but not harsh or super sporty either. Let's call the ride "taut." It soaks up road imperfections thanks to those big tire sidewalls, and even though it's a car that weighs around 3,700 pounds, the springs and dampers do a good job of keeping the body controlled. That said, the 550 is definitely not a sports car in stock form – though they're capable of absolutely dominating a racetrack – it's a grand touring car, in the truest sense.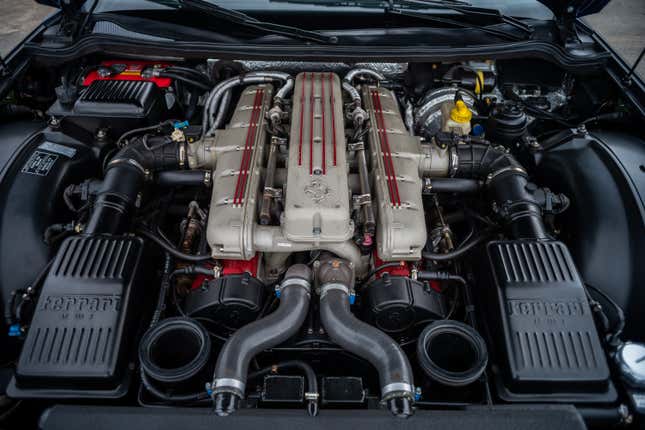 Photo: Forest Casey/RM Sotheby's
The 5.5-liter V12 produces 478 hp, which isn't that impressive-sounding today, but in the mid-nineties, when the car debuted was basically all the horsepower in the world. It's not a headline figure today, but the car still feels fast. The engine revs to around 7,500 rpm, and peak power comes in at 7,000 rpm, so you have to wind it out a little to get the most out of it. The engine has a dual-stage intake that helps broaden the torque curve, which peaks at 419 pound-feet at 5,000 rpm.
Just driving the car casually with no temperamental behaviors, no getting hot when idling, etc., then winding it out when there's a bit of straight road, hearing the little *tink tink* noise of the gearstick as you shift, and seeing the view out over that long hood; it all works to make you feel good and very, very cool. In a 550, you don't look like a nouveau riche douchebag. Instead, you look like a connoisseur. It's a Ferrari for people who know, not people who want to show off.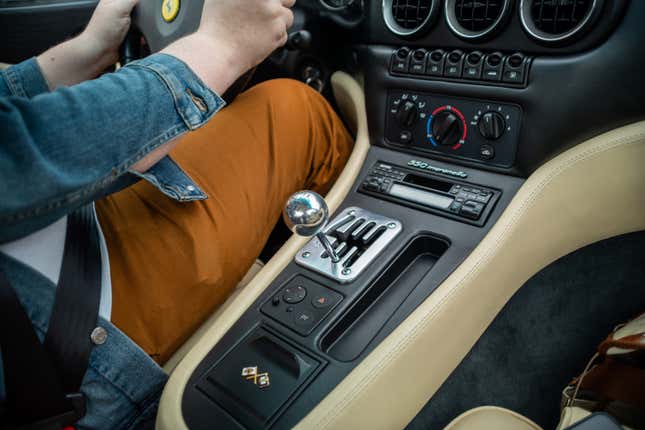 Photo: Forest Casey/RM Sotheby's
Driving this 550 has been one of the high points of my year, and it's been a pretty good year where car stuff is concerned. Everything about the experience came together to remind me why I used to get excited about Ferraris as a kid, and the only really bad thing about it all is the fact that these cars have gone way, way up in value.
With a great color combo and under 20,000 miles, this example is expected to sell for between $200,000 and $250,000 when it crosses the auction block in Monterey this Thursday with RM Sothebys. That's a lot of money to pay for a car from 1999, but it offers an experience you can't replicate with any modern Ferrari without going to the aftermarket. It's also a car that, by Ferrari standards, will be reliable and cheap to service. It's as good as Ferrari gets for me, and while the 550 Maranello may not be a perfect car, it's a perfect Ferrari.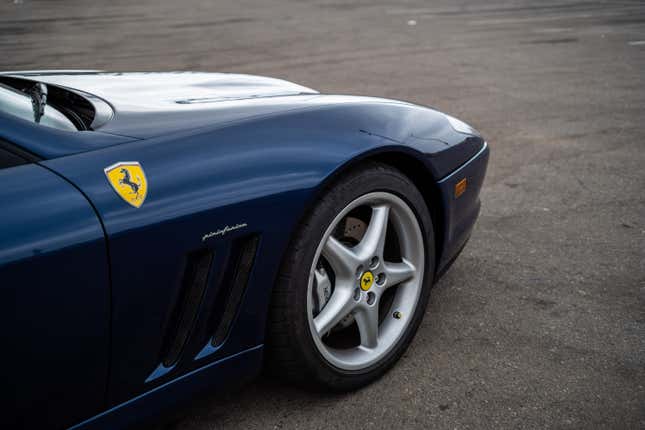 Photo: Forest Casey/RM Sotheby's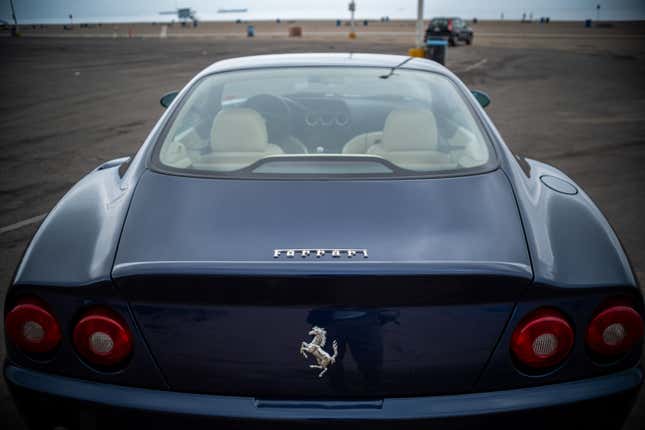 Photo: Forest Casey/RM Sotheby's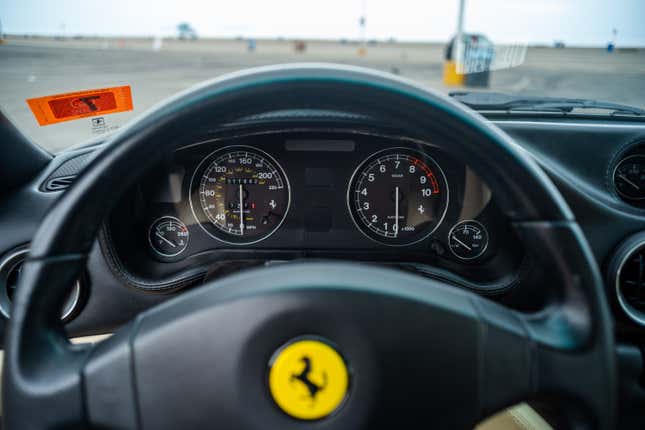 Photo: Forest Casey/RM Sotheby's
Photo: Forest Casey/RM Sotheby's