The UAW Has Opened Its Robe On Contract Negotiations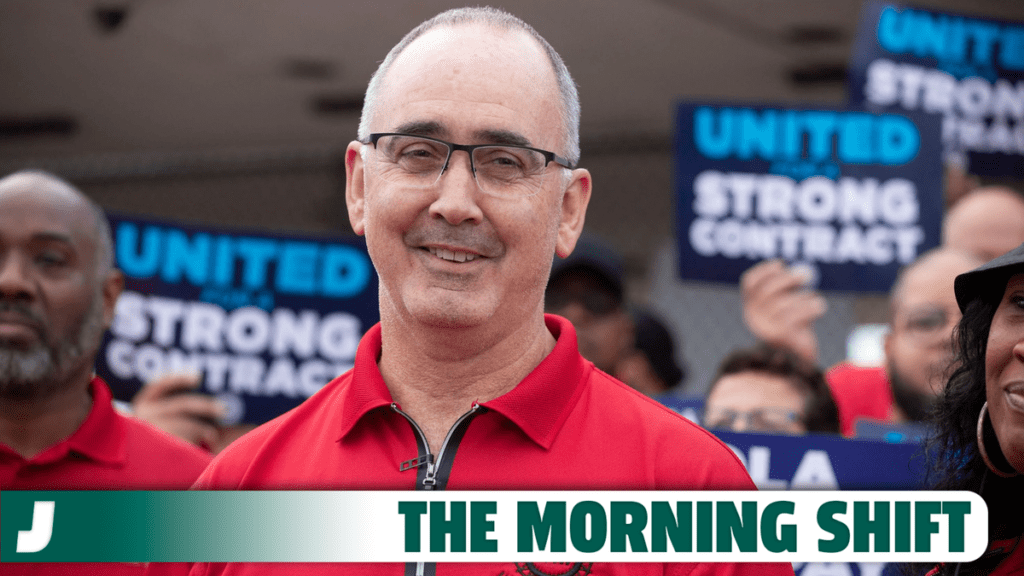 Good morning! It's August 4, 2023, and this is The Morning Shift, your daily roundup of the top automotive headlines from around the world, in one place.
It's Time To Upgrade To Four-Door Performance Practicality | What Car Should You Buy?
1st Gear: The UAW
The UAW represents around 146,000 workers at the Big Three, and their contracts with GM, Ford, and Stellantis all expire on September 14, or a little over a month from now. The UAW's president, Shawn Fain, has been making a lot of noise about this for months now, hopefully because he believes that that is the best way to get a good deal for his members. There was even a painfully midwestern kerfuffle over a handshake.
Still, this is par for the course, really, and none of it means much until the eleventh hour of negotiations, when the rubber hits the road and last, best, and final offers are submitted and then strikes happen or they don't.
Anyway, last night, multiple news organizations reported that the UAW has unveiled some specifics of its demands. The top line number is that they want a 40 percent rise in pay over the life of a four-year deal. The UAW also wants a four-day work week, instead of five.
If you think 40 percent over four years is a lot, consider how much UAW workers are paid, according to The Wall Street Journal:
Currently, unionized factory workers at the Detroit car companies start at about $18 an hour. The top wage, achieved over a period of years, is about $32 an hour.
The 40% pay hike would be a general increase over the life of the next four-year contract. It would be broken up into a 20% increase upon the contract's ratification, and four additional 5% wage increases given each year, according to a person familiar with the matter.
A UAW spokesperson said that during the current contract, the average CEO salary at the Detroit car companies has increased 40%. "We believe UAW members deserve the same if not more."
Via Automotive News, GM already sounds mad:
GM, in a statement Thursday, indicated it did not like what the union was proposing.
"The breadth and scope of the Presidential Demands, at face value, would threaten our ability to do what's right for the long-term benefit of the team," the company said. "A fair agreement rewards our employees and also enables GM to maintain our momentum now and into the future."
Fain on Thursday also told Automotive News the union would seek "a 32-hour workweek with 40 hours' worth of pay," elaborating on comments he made earlier in the week.
He said the truncated workweek could spur the Detroit 3 to hire more union workers.
"I think it will create more jobs, more opportunities for people to get their share in the economy," he said.
Ultimately, this won't come down to what leadership at the Big Three or the UAW want but what the UAW's membership wants, and what they are willing to do to get it, including walk off the job. You can expect more bluster in the meantime, though.
2nd Gear: BMW
Here's a photo of a BMW concept, the i Vision Dee, released in January:
Photo: BMW
The car looks… good? But it is just a concept, surely nothing like this would ever reach production. And yet in September, BMW will come out with something else in this vein, the Vision Neue Klasse, another concept that will probably also look future-y as well, except BMW is now saying that the Vision Neue Klasse will be pretty close to production. Or at least the production version of that car is close.
From Automotive News:
The production version will be on roads soon, [BMW CEO Oliver Zipse] added during an earnings call on Thursday.
Zipse described the Neue Klasse battery-electric platform as a "megaproject" within BMW. "It is about nothing less than the future of the BMW brand, the BMW Group and our portfolio," he said.
Zipse did not give further details on which model the concept will preview. The concept will be revealed on Sept. 2 ahead of the IAA Mobility show in Munich that starts Sept. 4.
The car will be the third Vision concept BMW is creating to highlight its future technologies. It follows the sustainability-focused i Vision Circular shown at the 2021 Munich show and the digital-focused i Vision Dee shown at the CES in Las Vegas in January.
It's easy to make a concept, and harder to make a production car, and even harder to make production cars at scale, though BMW has been building and building here. This will be even more exciting when BMW announces that the cool new car it is building is for every market except America.
3rd Gear: Lucid
Lucid is going to report its earnings on Monday for the second quarter of 2023, and they are likely to be quite bad, because Lucid has been on Struggle Street for months now in combatting a combination of falling demand for its Air and trouble meeting existing demand for the Air. It looks like a downward spiral from the outside, but from the inside, Lucid still thinks it has an ace up its sleeve.
From Automotive News:
CEO Peter Rawlinson said in mid-June that the automaker is in a unique financial position because of continuing support by its majority shareholder, the Public Investment Fund of Saudi Arabia.
"A key differentiator for us as a business is that we have this strong strategic partnership and alignment with the Public Investment Fund of Saudi Arabia," Rawlinson said during a live event with The Wall Street Journal. He referenced a recent $3 billion stock offering that was mostly purchased by the Saudi fund.
[…]
One question submitted by investors for consideration on Monday's earnings call asks whether delivery numbers will increase in the third quarter. Another asks when Lucid will start building its second model, the Gravity crossover, which is scheduled for 2024.
Lucid executives were also asked to comment on collaborations with other EV makers.
Even if Lucid has a bit more runway thanks to the Public Investment Fund of Saudi Arabia, the fundamental numbers — 1,404 cars delivered in the second quarter this year — are troubling. Perhaps worse, Lucid doesn't seem to have much *buzz* around it, despite having a decent product. Few people are getting Lucids, and few people are talking about them, too.
4th Gear: Fisker
Fisker said Friday that it only thinks it will make up to 23,000 cars this year, down significantly from the 36,000 cars it previously said it might make in 2023, most of which it is blaming on supply chain issues.
Reuters reports that there may even be some light at the end of this tunnel, however:
The California-based company said it lost $87.9 million during the second quarter, slightly less than the $88.6 million it lost during the same quarter last year.
Fisker, however, recorded its first quarterly revenue from sales — $825,000 — as the EV maker kicked off deliveries in Europe and the U.S.
Fisker made 1,022 units of its Ocean compact crossovers in the second quarter — missing its target of 1,400 to 1,700 units due to a shortage of components.
Analysts expect the company to record an operating profit in the fourth quarter of the year, according to Refinitiv.
Fisker had actually previously said it might make up to 42,400 cars in 2023, so, directionally, this isn't great, but everyone starts somewhere.
5th Gear: Nikola
Nikola, the troubled EV truck startup, reported Friday that it lost less money in the second quarter than it did in the same time period last year, but still many millions. Perhaps more importantly for investors, Nikola also disclosed that its CEO, a guy named Michael Lohscheller, will be stepping down at the end of August, to be replaced by a guy named Stephen Girsky, who used to be on the board of an automaker called General Motors.
Reuters says that shares in Nikola fell premarket, while apparently the startup's founder, who was found guilty last year of fraud, still has opinions on the company.
Nikola has been struggling with dwindling cash reserves as it burns through cash to ramp up production of its trucks.
Its investors on Thursday, however, approved a proposal that allows the truckmaker to issue more shares to raise funds.
"The company does not need new shares, they need new leadership," founder, Trevor Milton, said in a LinkedIn post in June.
Milton stepped down as CEO of the company in 2020 after a short seller Hindenburg issued a scathing report that labeled Nikola a "fraud."
I'm sure this will all end well.
Reverse: Talladega
I've never seen this movie, though that wasn't an intentional choice. At this point, I've absorbed it enough through other means that I probably never will.
Neutral: Happy Friday
I've got huge plans this weekend to fix the side mirror on the Fit, the glass of which mysteriously went missing a few weeks ago. Really big plans. Some might say enormous.