Rental business insurance: a comprehensive guide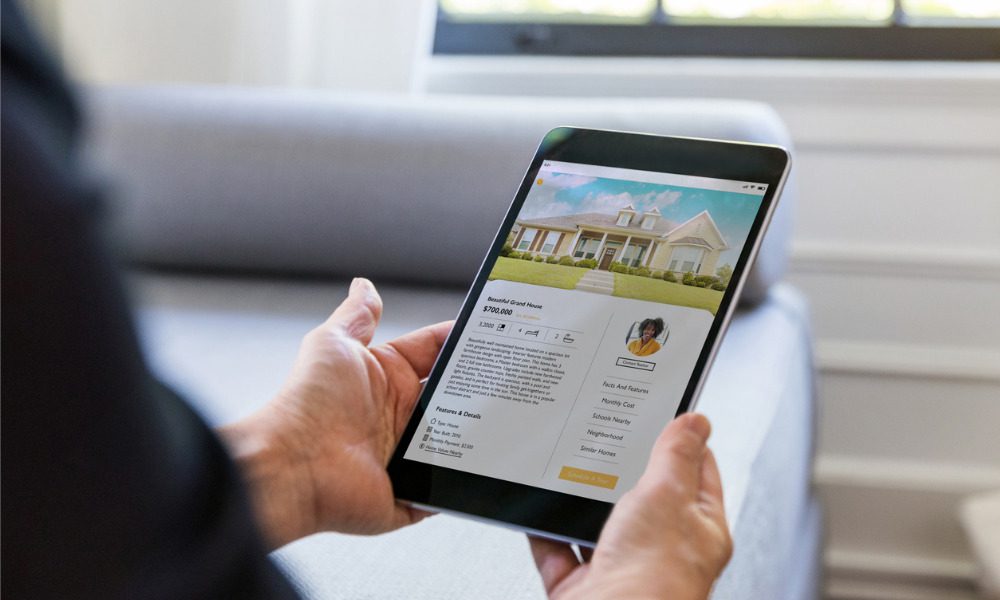 Rental business insurance: a comprehensive guide | Insurance Business America
Guides
Rental business insurance: a comprehensive guide
Rental business insurance is a broad type of coverage for the items you rent out. But which policies do you need? Check out this article to learn more
If you own a rental business, then you know how any loss or damage to the items you rent out can impact your operations. To keep your business running smoothly when such incidents occur, you need a specific form of cover called rental business insurance.
But how does this type of coverage work? Insurance Business answers this question and more in this guide. This article can give you an idea about which policies suit your business and how much you need to spend on each one. Read on and find out how rental business insurance can protect your business' assets and investments.
Rental business insurance is a broad type of coverage encompassing different policies designed to protect – as the name suggests – your rental business. This form of insurance works slightly differently depending on the items a business rents out. But generally, it provides protection against the following:

Loss or damage your client causes that they refuse to pay out
Loss or damage occurring while the items are being transported or stored in your premises
Loss or damage your client suffers because the items are in poor condition
Rental business insurance also comes in different names depending on the nature of the business. It is also called equipment rental insurance for businesses that rent out tools and equipment. These include recreational gear, party supplies, construction machinery, and audio and video recording equipment.
Commercial fleets can also take out car rental insurance. Property owners, meanwhile, need property rental insurance, more popularly known as landlord insurance.
Rental businesses can access a range of policies, with each providing varying levels of protection. Here are some of the most essential coverages to keep your business protected:
1. General liability insurance
Your business needs protection in situations where the items you rent out or your day-to-day operations cause loss or damage to your clients. This is where general liability insurance comes into play.
Also called rental liability coverage, it is one of the most popular forms of rental business insurance because of the level of protection it offers. This type of policy covers your business from lawsuits claiming bodily injury, property damage, or financial losses resulting from your daily operations.
Rental liability insurance pays out the legal and settlement costs you incur because of these claims. Some policies also cover medical expenses for client injuries caused by the items you rent out or those sustained within your business premises. This is regardless of who is at fault or whether your business has been sued.
You can purchase general liability insurance as a standalone product or bundled with commercial property insurance in a business owner's policy (BOP). It is not a legal requirement for your rental business to operate, but given the benefits, it may be worth considering.
Premiums for general liability insurance vary depending on a range of factors. If you want to know how much general liability insurance costs for different businesses, our comprehensive guide can give you an accurate estimate.
2. Equipment insurance
Equipment insurance is designed to cover the costs to repair and replace tools and equipment that you use for your business if these are lost, damaged, or vandalized. These include items that you rent out like:

Sports equipment and recreational gear
Party and events supplies
Construction tools and equipment
TV and film production equipment
Equipment insurance also provides coverage for damage caused by your clients or weather-related incidents such as storms, flooding, and hail. Some policies even pay out for cleanup expenses resulting from a covered event.
Equipment coverage is a form of inland marine insurance, which covers goods transported over land. You may choose to take out this type of policy instead, but bear in mind that this only covers your rental equipment while it is being transported.
If you want a more extensive policy that covers items your clients use onsite or those in storage, it is best to purchase tools and equipment insurance. You can learn more about this type of coverage in our comprehensive guide to equipment insurance.    
3. Commercial property insurance 
If your business operates from a physical space such as an office or building, another important type of rental business insurance to have is commercial property coverage. This policy helps lessen the financial impact of the damage to your physical assets caused by man-made and natural calamities. It protects:

The property or building your rental business operates in
Equipment and items that your business uses and rents out
Inventory of items that your business stores within the property
Commercial property insurance minimizes the disruption of unforeseen disasters to your daily operations by compensating you for the losses and damages. Some policies also pay out a part of lost income if the damage prevents your business from conducting its usual operations.
Many policies, however, do not provide cover for assets with a unique set of risks or those that are hard to value. These include:

Business records
Electronic data
Money
Securities
Accounts
Bills
Paved surfaces like walkways and roads
Commercial property insurance is not mandatory. However, it is typically required in commercial leasing arrangements and mortgage applications.
Commercial property coverage is often bundled with general liability insurance in a business owner's policy, but it can also be purchased as a separate policy.
4. Workers' compensation insurance
Workers' compensation insurance is required for businesses with a certain number of employees in almost all US states. It protects your rental business from the financial liability of having to shoulder expenses resulting from work-related injuries and illnesses.
Workers' compensation covers the cost of medical care and a portion of the lost income of employees who get sick or injured while doing their jobs. Policies also pay out disability benefits for workers who suffer temporary or permanent disability and death benefits to the family of a deceased staff. 
Since workers' compensation insurance is compulsory, getting caught without one can have serious legal and financial ramifications. Penalties vary by state.
In Florida, for instance, if your rental business is found to be operating without coverage, you will be issued a stop-work order. This requires you to shut down operations until you can purchase insurance and pay a fine. The penalty is equal to twice the amount the employer would have paid in annual premiums for the period they were without coverage. You can find out more about workers' compensation rules in Florida in this guide.
5. Excess liability insurance
Excess liability insurance is a good complement to your liability insurance coverage. It protects your rental business from catastrophic claims and losses that exceed your coverage limits. This is especially beneficial if you're a small business owner and want to reduce the risk of a disaster or lawsuit causing your company to go bankrupt.
Excess liability coverage is also called commercial umbrella liability insurance. Although not mandatory, some businesses make it a condition for leasing arrangements or client contracts.
Here are the other types of rental business insurance policies suited for more specialized operations:
Commercial fleet insurance
If you operate a car rental company with multiple vehicles and drivers, you are required to take out commercial fleet insurance. It provides the same protection as private auto insurance, but mainly covers commercial vehicles and company cars.
Because of heightened risks associated with business-use vehicles, commercial fleet insurance premiums generally cost higher compared to those for personal car policies.
Rental property insurance
Rental property insurance, commonly referred to as landlord insurance, functions just like a standard homeowners' insurance policy with a few key differences:

Landlord insurance provides coverage to properties rented out to tenants, not to owner-occupied homes, which homeowners' policies cover.
Rental property insurance has higher liability limits as owners face more risks than those who occupy their own homes.
Landlord insurance pays out for lost income, which homeowners' insurance doesn't.
Contrary to popular belief, rental property insurance doesn't cover the tenants' belongings. These are protected under a different kind of policy called renters' insurance. If you rent out your property, it is best to require your tenants to take out this form of coverage. This way, their possessions will be covered in case of loss or damage. It also prevents the financial ramifications from bouncing back to you.
Business owner's policy
Business owner's policy (BOP) is a form of small business insurance that combines general liability insurance and commercial property coverage. Some policies also include business interruption insurance. This policy compensates you for the losses your rental business suffers due to the disruption of your operations.
BOPs, however, can only be accessed by businesses with fewer than 100 employees and below $1 million in revenue. Startups and small enterprises have unique needs that require certain types of protection. Find out which policies fit your needs in this comprehensive guide to small business insurance.
Here's a summary of the types of rental business insurance policies you can purchase: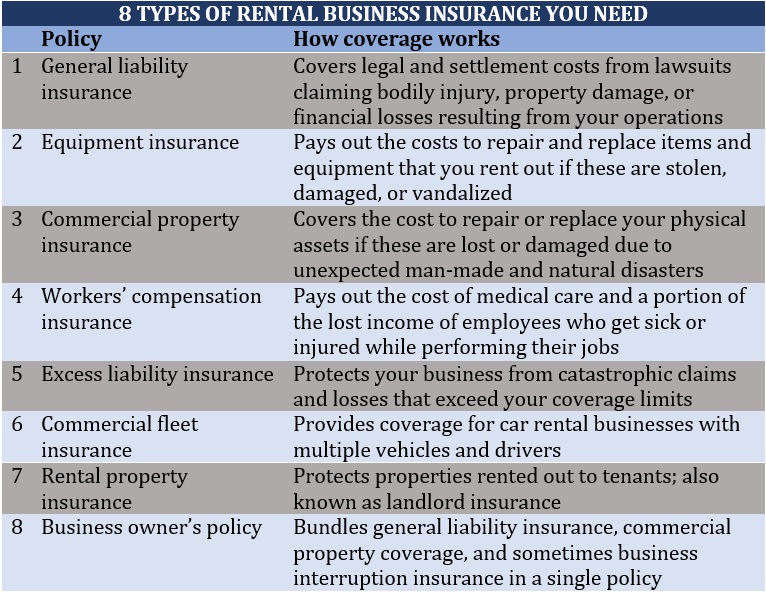 How much does rental business insurance cost?
Here's a breakdown of how much average premiums cost for the different types of rental business insurance. The data comes from the various price comparison and insurer websites Insurance Business checked out.
Rental business insurance cost – breakdown by policy
HOW MUCH DOES RENTAL BUSINESS INSURANCE COST?
Type of policy
Average monthly premiums
Average annual premiums
General liability insurance
$40 to $55
$480 to $660
Equipment insurance
($10,000 coverage limit)
$15 to $38
$175 to $450
Commercial property insurance
$65 to $70
$780 to $840
Workers' compensation insurance
(Small business with 3 to 5 staff)
$30 to $60
$360 to $720
Excess liability insurance
($1 million umbrella coverage)
$60 to $75
$720 to $900
Commercial fleet insurance
About $150
About $1,800
Rental property insurance
$65 to $70
$780 to $840
Business owner's policy
(General liability + commercial property)
$55 to $65
$660 to $780
If you already have existing policies and noticed that your premiums are significantly lower or higher than these figures, it is because these are just estimates. There are a range of factors that can drive up or push down your rental business insurance costs, including:

The type of equipment or property you rent out
The number of years you've been in business
Your business' claims history
Your annual revenue
Your policy's coverage limits
Different business entities require different types of coverage. If you're operating a limited liability company, you can learn more about the different policies that can protect your business in this guide to liability insurance for LLC.
Rental businesses operate in a highly competitive market. The key to keeping your business running smoothly is having proper coverage. With the myriad of rental business insurance policies available, it can be challenging to find the right insurance for your needs. That's why it's crucial that you understand the unique risks that your business faces. An experienced insurance agent or broker can also help you make an informed decision on the types of coverage to take.
Business insurance comes in many forms, catering to different enterprises. Rental business insurance is just one of them. You can learn more about how business insurance works in this comprehensive guide.
Do you think rental business insurance is a worthwhile investment? Can your business survive without it? Share your thoughts in the comments section below.
Keep up with the latest news and events
Join our mailing list, it's free!