Waiver of UIM Coverage is Effective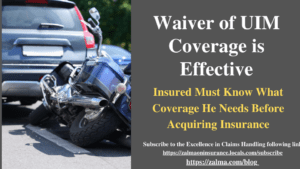 See the full video at https://rumble.com/v1f8tx5-waiver-of-uim-coverage-is-effective.html at https://youtu.be/vrj1NEPM1Bo
Progressive Direct Insurance Company ("Progressive Direct") appealed the order entered by the trial court denying its motion for summary judgment and granting the cross motion for summary judgment filed by the Appellee. In Bryan D. Koch, Executor Of The Estate Of Rhea Lynn Koch, Deceased, And Bryan D. Koch, In His Own Right v. Progressive Direct Insurance Company, 2022 PA Super 131, No. 1302 MDA 2021, No. J-A14036-22 Superior Court of Pennsylvania (August 4, 2022)
FACTS
On June 7, 2015, Bryan Koch ("Koch") was driving his 2013 Harley Davidson motorcycle while his wife, Rhea Lynn Koch ("Mrs. Koch") was riding with him as a passenger. Their motorcycle was struck by a 1997 Ford Explorer driven by Sean Eyrick, who was later determined to be driving under the influence of alcohol when the accident occurred. Mrs. Koch was killed in the accident and Koch suffered injuries that required the amputation of his left leg above his knee.
The parties do not dispute that Eyrick was solely at fault for causing the accident. Ultimately, Koch decided to settle the claims against Eyrich for his available policy limits of $15,000.00 for each plaintiff. The damages that Koch sustained from the accident in relation to the fatal injuries of his wife, Rhea Koch, and the injuries he sustained in his own right exceeded the liability coverage of Eyrich, who was an underinsured motorist (UIM).
At the time of the accident, Koch's motorcycle had been insured by Progressive Direct under a policy which provided bodily injury coverage of $100,000 each person and $300,000 each accident. Koch presented a demand to Progressive Direct for bodily injury and UIM benefits. Progressive Direct refused to pay the requested UIM benefits based on its allegation that Koch had signed a waiver form rejecting UIM coverage.
On September 9, 2019, Koch sued alleging breach of contract by  Progressive Direct by failing to properly and timely evaluate the claim and pay the insured's UIM policy limits. Koch claimed that he as an individual and the Estate were each entitled to available UIM benefits in the amount of $100,000.00.
On February 25, 2021, Progressive Direct filed a motion for summary judgment, alleging Koch had originally rejected UIM coverage in the inception of a policy held by Progressive Halcyon Insurance Co. that was issued in February 2004 for Koch's 2002 Honda motorcycle. Progressive Direct argued that Koch's rejection of UIM coverage in 2004 was still effective and carried forward through the addition and deletion of different motorcycles to the policy as Koch never affirmatively changed this designation rejecting UIM coverage.
Koch filed a cross motion for summary judgment and, in support of this motion, Koch presented evidence of a telephonic conversation he had with a representative of Progressive Direct, on or about August 20, 2014, nine months before the accident, during which he sought to purchase additional coverage for his 2013 Harley Davidson motorcycle. After the  conversation Koch added uninsured motorist (UM) coverage to his policy. The Progressive Direct representative never discussed the availability of underinsured motorist (UIM) coverage and it was not acquired..
The trial court entered an order granting summary judgment in favor of Koch. As a result, the trial court concluded that Appellant had not made a "knowing waiver" of UIM coverage and found the Rejection of UIM form that Koch signed in 2004 during the inception of the policy was void pursuant to the Motor Vehicle Financial Responsibility Law (MVFRL). Further, the trial court determined that there is a total of $200,000.00 of available UIM coverage under Koch's policy in place at the time of the accident.
ISSUES
Whether a rejection of underinsured motorist coverage made at the delivery of the policy remains valid until affirmatively changed by the insured.
Whether the telephone conversation between the Progressive representative and [Koch], discussing different coverages, created a duty on behalf of Progressive to advise [Koch] about underinsured motorist coverage.
Whether the trial court erred in finding that the Progressive representative's failure to offer underinsured motorist coverage to [Koch] required reformation of the policy to allow for underinsured motorist coverage?
ANALYSIS
As an initial matter to the extent that the trial court found the Progressive Direct representative "misled" Koch when she advised him about the availability of uninsured motorist coverage but did not discuss the option of underinsured motorist protection, Koch's complaint does not seek to find Progressive Direct liable on a tort theory of misrepresentation, but rather is based on a claim of breach of contract.
Although the purchase of uninsured motorist and underinsured motorist coverages are optional, a Pennsylvania statute provides that the insured must be provided with specific information to explain the separate purposes of UI/UIM coverage and must sign written rejection forms with certain stated language in prominent type and location in order to knowingly and voluntarily reject each type of coverage.
The insured must sign and date separate forms to reject UI and UIM coverage.
The record supports the trial court's finding that Koch signed a valid rejection of UI/UIM coverage form on February 14, 2004, upon the initial delivery of the Progressive Halcyon policy for his 2002 Honda motorcycle.
Progressive Direct presented evidence that it had consistently sent Koch policy renewals which stated that Koch had rejected UIM coverage. After Koch had contacted Progressive Direct on August 20, 2014, increased his coverage, and purchased UI insurance, Progressive Direct sent Koch a policy renewal on January 3, 2015, which stated that the policy now included uninsured motorist coverage in the amount of $100,000 each person and $300,000 each accident and listed the corresponding premium for this coverage. This policy renewal listed the "underinsured motorist bodily injury" coverage as "rejected."
These coverage selections were in place at the time of the accident at issue that subsequently occurred on June 7, 2015.
The language of Section 1731 specifically provides that any individual who completes valid waiver forms rejecting UI and/or UIM protection under Sections 1731(b)-(c) is precluded from claiming liability of any person based upon inadequate information. Further, Section 1791 of the MVFRL provides that  "[i]t shall be presumed that the insured has been advised of the benefits and limits available under this chapter provided the following notice in bold print of at least ten-point type is given to the applicant at the time of application for original coverage, and no other notice or rejection shall be required."
Koch executed a valid waiver of UI and UIM benefits upon the delivery of the original policy in February 2004. When Koch contacted Progressive Direct on August 20, 2014 and indicated that he wished to obtain more coverage on the existing policy, the Progressive Direct representative was not required to give Koch additional notice of a particular benefit or to obtain another UIM rejection form.
The relevant statutory provision applies to circumstances in which UIM coverage has been wholly waived, does not contain the same "purchase" requirement as set forth in Section 1738 or contain any language entitling the insured to another opportunity to waive UI or UIM coverage.
The UIM rejection form signed by Koch at the delivery of the policy in 2004 remained was valid such that Koch was not entitled to UIM coverage at the time of the accident. Accordingly the Pennsylvania appellate court reversed the trial court's decision to grant Koch's motion for summary judgment and deny Progressive Direct's motion for summary judgment.
The case remanded for judgment to be entered in favor of Progressive Direct on all issues.
Some insurers believe those they insure know what insurance they need and can select or not select important coverages. Mr. Koch knew he needed protection from uninsured motorists but did not know he needed underinsured motorist coverages. The court had no choice but to follow the statutory law of Pennsylvania and refuse to allow him a coverage for which he did not order, did not pay for the coverage, and had waived the right to the coverage. As much as we would like 20/20 hindsight does not make a coverage that is not there.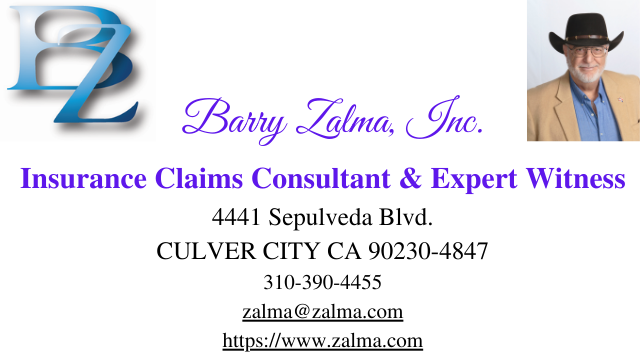 (c) 2022 Barry Zalma & ClaimSchool, Inc.
Barry Zalma, Esq., CFE, now limits his practice to service as an insurance consultant specializing in insurance coverage, insurance claims handling, insurance bad faith and insurance fraud almost equally for insurers and policyholders. He practiced law in California for more than 44 years as an insurance coverage and claims handling lawyer and more than 54 years in the insurance business. He is available at http://www.zalma.com and zalma@zalma.com.
Subscribe and receive videos limited to subscribers of Excellence in Claims Handling at locals.com https://zalmaoninsurance.locals.com/subscribe.
Subscribe to Excellence in Claims Handling at https://barryzalma.substack.com/welcome.
Write to Mr. Zalma at zalma@zalma.com; http://www.zalma.com; http://zalma.com/blog; daily articles are published at https://zalma.substack.com. Go to the podcast Zalma On Insurance at https://anchor.fm/barry-zalma; Follow Mr. Zalma on Twitter at https://twitter.com/bzalma; Go to Barry Zalma videos at Rumble.com at https://rumble.com/c/c-262921; Go to Barry Zalma on YouTube- https://www.youtube.com/channel/UCysiZklEtxZsSF9DfC0Expg; Go to the Insurance Claims Library – https://zalma.com/blog/insurance-claims-library/
Like this:
Like Loading…
Related